The Malted Barley Juno Beach Gets Full Liquor License
The Malted Barley Juno Beach Gets Full Liquor License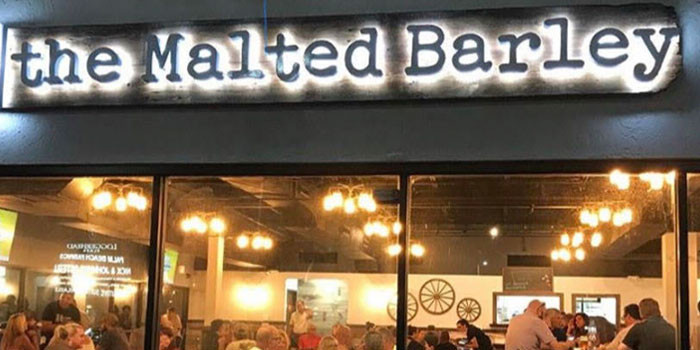 Juno Beach, FL - November 13, 2020 – The Malted Barley, known for its craft beer, wine, and made-from-scratch gourmet pretzels, announced this week that its Juno Beach restaurant now serves full liquor.
The Malted Barley is a young franchise that currently has two locations in Rhode Island. Donald and Susan Kehl, local owners of the Juno Beach location, say they are excited about this new addition to their menu. Donald likes the fact that their drink menu now has something for everyone.
"Our beverage menu already features a rotating selection of 37 craft brews on tap, a variety of bottled and canned craft beer, and a well-rounded wine list," he said. "Now we can offer our customers full liquor including mixed drinks, cocktails, shots, and more – we even have our own unique signature cocktails."
Susan added that their drink menu also includes a variety of family-friendly, non-alcoholic selections that appeal to kids, kids at heart – and even dogs.
"We offer draft root beer served in old-fashioned mugs, soft drinks, and a unique selection of bottled craft soda," she said. "We have crazy-sounding – but delicious – 'SODAsgusting' craft sodas named by kids – like Zombie Brain Juice, Unicorn Yak, and Monster Mucus. We even have beer especially brewed for dogs."
The Malted Barley's soft pretzel-inspired food menu includes made-from-scratch appetizer pretzels, a variety of accompanying dipping sauces, pretzel sandwiches, vegan/gluten-free pretzels, salads, soup, and dessert. Appetizer pretzels range from the classic salted pretzel to stuffed pretzels and topped pretzels. Sandwiches include options like California chicken with house-made guacamole, mahi-mahi, BLT with a choice of house-made aioli, meatball, and grilled cheese – all served on hand-rolled, baked-to-order pretzel buns.
"Most pretzel sandwiches are served on factory-made pretzel buns, but The Malted Barley's sandwiches are served on actual pretzels that we roll by hand every day – they're baked when you order them," Susan said. "All of our pretzels are made from scratch – and so are our dipping sauces like beer-cheese, apricot butter, marinara, spinach-artichoke, cookie dough…we even make our own spicy brown beer mustard."
The Kehls, Jupiter locals since 2008, said that although operating a newly established restaurant during a global pandemic hasn't been easy, they were happy to celebrate a major milestone when The Malted Barley Juno Beach celebrated its first anniversary in late September. They agree that getting their full liquor license is another milestone worth celebrating.
"When my family and I were thinking about opening a restaurant, a global pandemic definitely wasn't on our list of 'might happens,' Donald said. "But the whole world is in this together, and we have faith that we will all get through it. We are just going to keep doing our best to make sure that everybody who comes to The Malted Barley leaves happier than when they came in."
The Malted Barley Juno Beach is located in the Loggerhead Plaza at 11421 U.S. Highway 1 in Juno Beach.
Contact Details
Name: Susan Kehl
Email: Email Us
Phone No: (954) 614-7825
The Malted Barley Juno Beach Gets Full Liquor License