Big Voice, Little Smiles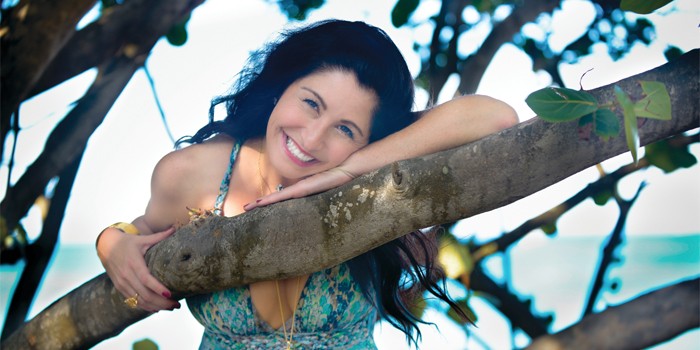 JUPITER, FL – August 28, 2017 – When the day begins, a number of routines unfold in Palm Beach County: The businessman getting in his car to go to work with a cup of coffee in tow while adjusting his tie in the rearview mirror before taking off; the proactive mother running errands with her children along for the ride; or even the stay-at-home parent squeezing in a workout prior to attending to an array of pressing matters. One thing that connects these individuals is the desire to engage themselves in the world that surrounds them, and for this, they turn their radio dial or select on their touch-screen 97.9, and surrender their ears to Virginia Sinicki, the charismatic DJ from the KVJ Morning Show on WRMF.

A bona-fide companion within the multi-tasking efforts of the community at large, Virginia's distinctive voice, spunky personality, and signature booming laughter has ingrained itself in the hearts and minds of her faithful listeners. Compounded by her co-host radio counterparts, Kevin Rolston and Jason "J-Bird" Pennington (the "K" and the "J," if that was somehow lost on you), Virginia has become an entertainment source for an uplifting morning drive, and for her audience, she is—without question—a part of their day.


FROM BAYOUS TO PALM TREES

Virginia is a true southern girl. She grew up amidst the bayous, cajun cuisine, and signature jazz music of New Orleans, where she remained until college. After that, she made a slight jump over to Baton Rouge to attend LSU. At age 19, she obtained her first job at a local radio station, and once she got behind the microphone, she instantly ascertained her place in the world.

"I immediately fell in love," admits Virginia. "I was hooked for life. It was so much fun, and I got to work with such amazing people starting out that I was lucky enough to be set up in the right direction."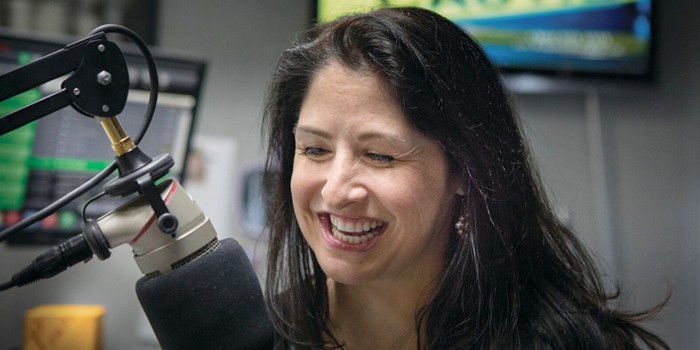 ON THE RADIO: Virginia has been making people laugh from behind the mic since she was only 19 years old


After her first stint in the broadcast radio world, Virginia's path took her to many different stations in different locations, such as Huntsville, Alabama, and Biloxi, Mississippi. She then shifted gears and tested her chops in New York City, where she worked for WMXV, and, outside of the studio, she was the first and last female DJ to spin at the world famous Country nightclub, Denim and Diamonds in Manhattan.

Then, in 1999, Virginia was faced with a tough decision: She had received a job offer to work in her hometown of New Orleans for WEZB, the station she had always listened to while coming of age. But just before she accepted the position, there was a phone call—from Kevin, her current colleague. He proposed to Virginia an alternative job, route, and lifestyle, all which lead to West Palm Beach.

"I wanted to see if we were on the same page and if we had the same ideas, and we just clicked," recounts Kevin. "We had very similar personalities and it was as if we had the same vision."

Virginia notes that the job in New Orleans not only paid more, but would have been an easier transition for her because it meant going back home. Yet in a twist of fate, there was an indescribable chemistry in that phone call that made Virginia ponder her options, evaluate her initial decision, and yield to the opportunity of working
in Florida.

"My story is not unlike a lot of people in radio," says Virginia. "Moving around a lot is common until you find that ideal place for yourself, and mine happened to be beautiful Palm Beach County. The station we started on had hired Kevin first, and then he hired me. They didn't want to pay for a trip to visit the market, so I moved here sight unseen. Thank goodness it worked out."

The phone call that changed everything; the roll-of-the-dice bold move to Florida; the finding of her radio family; and now, 18 years later, Virginia carries no regrets and feels exactly the same way she did on her first day on the job.

"This is the right place and I've got the right people next to me."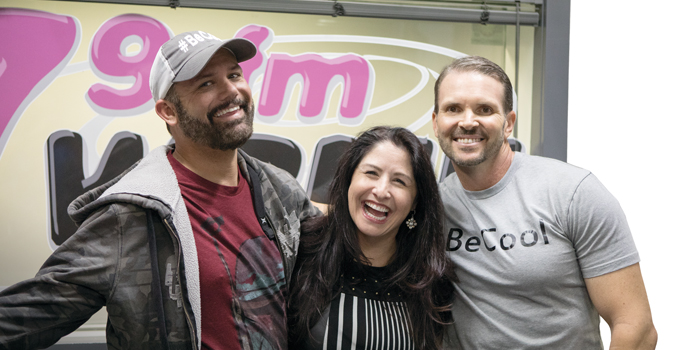 KVJ Virginia's co-hosts, Kevin Rolston (right) and Jason Pennington (left), provide the right mix for an extremely entertaining morning ride

THE AM TRIO

On weekday mornings from 6:00 AM to 10:00 AM, Virginia, Kevin, and Jason might be at work and live on the air, but as Virginia tells it, they are simply being themselves, which goes to show one of the real reasons they've built up a widespread audience and, by the same token, accrued a high-rating base. Of course, there is a distinct talent required to engage their audience for four hours out of the day, and the three DJs excel at that. In each of their quirky elements, they delve into specific topics through various segments. Virginia likes to step outside of herself and into her listeners. She claims that her daily objective with the KVJ Show is to generate smiles for all who are tuning in on their way to work.

"Our show is just people who like being around each other and making each other laugh. We are hoping other people laugh and like it too," says Virginia. "We try to do a topical, relatable, and upbeat show... no politics, no heavy stuff. We want to be your escape from all of that. Life can be stressful and traffic sucks, so we want to make that time a little bit better for people and maybe help them start their day on the right foot."

Each show is different, but Virginia herself habitually regales listeners with the latest on celebrity gossip and pop culture's latest occurrences. "Dirt of the Day" is one of her usual segments, in which she is referred to, in a loving manner, as "Vicious V." If it's making waves; if it's gone viral; if it involves your favorite celebrity personalities; Virginia's got the scoop—and she holds nothing back.

"There's a lot of female DJs on the radio that play it real safe—not Virginia," notes Jason. "She is the queen of the zingers and a true original. She is crazy—good crazy—and owns her craziness, which makes it that much more fun for us."

"She is probably the funniest female I've ever heard on the radio, hands down. If people out there say that women aren't funny, then they haven't heard Virginia," adds Kevin. "But it's not only the humor, she combines attitude and sass in a way that is unique. She really cuts across—and I think that's great. It encourages others to think that they don't have to fit into a role, and I believe Virginia is paving a new path for women in broadcasting."


"This is the right place and I've got the right people next to me."
ACTS OF PHILANTHROPY

Virginia is a steadfast proponent of giving back to those in need. She places major importance on advocacy to local charities, particularly Little Smiles, a nonprofit 501(c)(3) children's charity that is volunteer-driven. Through various events and activities involving gifts, she, Kevin, and Jason set out on a mission to "heal hearts" and bring happiness to children who have been afflicted by personal tragedy, ailments, or homelessness. Virginia currently sits as Vice President on the Board of Directors for Little Smiles.

"We strive to help kids escape their unfortunate circumstances, even if it's only for a short period of time," notes Virginia. "Our ultimate goal is to brighten a child's day and allow them to just be a kid again. We are lucky enough to be connected to some great local charities. We've teamed up with community organizations for beach cleanups, tree planting, and feeding the needy."

She may be a recognizable voice to many, but Virginia is also a familiar face in the crowd as she is often present at numerous community events. A notable act coming up this October is the KVJ 5k 2017, a 3.1-mile run taking place in Waterfront Park in West Palm Beach during the Clematis by Night event. Entry fees and donations will benefit Little Smiles and runners will get to pick which member of the KVJ Show they'd like to run for, so Virginia will not only be running, she will be leading "Team Virginia" alongside her husband Kevin "Panda," and her son Rocco. Her daughter Magnolia might also be lacing up her running shoes to round up the Sinicki family.

In addition to their community involvement, the KVJ team also devised a campaign on social media encouraging others to pay it forward, dubbed #BeCool.

"We are very lucky to do what we do and we are blessed with healthy children," Virginia notes. "We all believe that it's our responsibility to give back and spread the word to do good. So we've started our kindness campaign with #BeCool. We encourage people to do kind acts for others and document them on social media using the hashtag."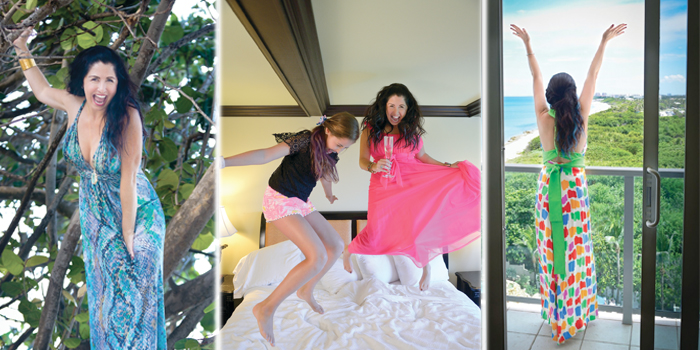 SMILES ALL AROUND For Virginia, producing smiles for her listeners can only be superseded by producing smiles for those in need

LIKE MOTHER, LIKE DAUGHTER Going to work might be fun for Virginia, but never as fun as goofing off with her daughter Magnolia, who also enjoys working as her mom's makeup artist


LIFE & GROWTH
Since she first landed in Palm Beach County, Virginia went from being a jovial, devil-may-care single radio DJ to an accomplished mother and professional, yet the same lightheartedness of days past remains. When she decided to make her move here permanent, Virginia recalls inquiring to a police officer friend: "Where's the best place to raise a family around here?" His response, "Hands down, the Jupiter/Tequesta area." This answer resonated with her and that's where she opted to live and start a family. Her house was showcased in an "MTV Cribs"-fashion video called "KVJ Cribs," which can be found on YouTube.

"We were so lucky to find our house in Tequesta and be near Jupiter where there's amazing beaches and so much to do," Virginia says. "It's the perfect house for us. My husband and his uncle did so much work on it before we moved in to get it perfect. It's actually my favorite place to be, home with the kids and my husband and family and friends. We love to entertain and have people over. We love hosting weekend crawfish boils or football parties, or any parties!"

Entertaining is one of Virginia's passions, and Jason confirms that she throws the best kid birthday parties ever. However, according to Virginia, cooking is perhaps her biggest disposition outside of radio talk. Her Louisiana background has a direct effect on the succulent recipes that she puts together.

"I'm a self-taught amateur chef, by no means an expert, but I've been around great food all my life," says Virginia. "It's amazing what you can learn from cookbooks, the internet, and trial and error in the kitchen. I think anyone can be great in the kitchen... you just have to love food and have a passion to make people happy with your cooking. There are so many amazing reality cooking TV shows now to draw inspiration from too. I just constantly write ideas in my phone when I watch shows like Top Chef."

Even though she is arguably one the most recognized radio voices in Palm Beach County, Virginia recognizes that she draws a lot of her own inspiration from other local and national DJs. She continues to learn and grow in order to be able to come to work every day before the sun comes up with a fresh approach, novel ideas for segments, and witty storytelling so that she can keep her listeners entertained and, perhaps most importantly, smiling.

"I love to listen to what's out there," Virginia affirms. "I think there are some amazing funny shows on radio, satellite, and podcasts. I love great storytellers. It's probably the most underrated skill in our industry. The people I admire the most are the best, funniest, and most creative storytellers. I hope that's who I am to those who listen to the KVJ Show."

Connect with Virginia Sinick
i
Facebook:
www.facebook.com/virginia.sinicki
Twitter:
www.twitter.com/VirginiaKVJ
Instagram: @virginiakvj
LITTLE SMILES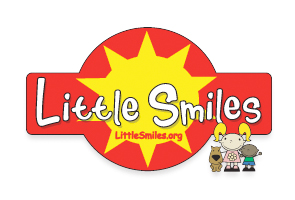 For as little as $20 you can donate to Little Smiles and help out children in need

$20.00
Provide pizza or other 'fun foods" to eight hospital bound children

$50.00
Fill up a treasure chest of toys for an emergency room

$150.00
Help produce a movie night

$300.00
Entertain an entire unit (character visit, party, etc.)

$350.00
Buy breakfast or lunch for pediatric nurses

$500.00
Make a child's wish come true


To Make A Donation:
www.littlesmilesfl.org
or call 561-899-4700