Marinas & Boat Rentals In Florida Guide
Florida Yacht Brokers, Marinas & Boat Rentals Guide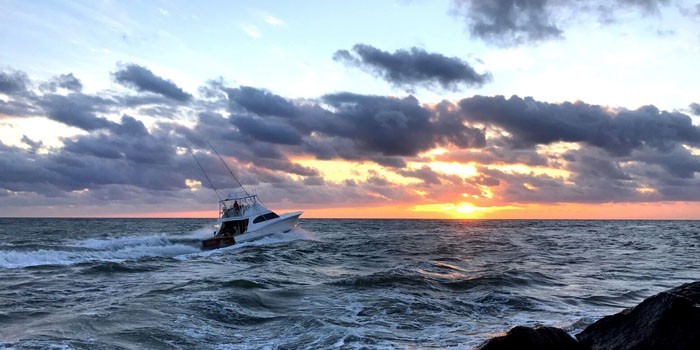 Whether you are visiting Florida and looking for a way to get out on the water, or you are already a resident and need a place for your boat to call home, we've got you covered.
There's no denying that one of the main forms of transportation in our area is often by sea. As the demand for boats and boating access skyrockets in the coastal towns of Palm Beach County, our goal is to make it easier for visitors and residents alike to be able to access the water through our Marina and Rental Directory. Here you will find all the information you need to find a place to call home for your own vessel. If you are without a boat and are looking for something hassle-free, just call up any of the "Charter and Rental" options we've gathered for you, and you can reserve a boat on any fair-weather weekend. This list will make it more convenient to find the perfect fit for anyone looking to play on the water this summer. See you out there!
Yacht Brokers in Palm Beach County
5617464541

Jupiter

,

Florida

888.891.8564

Jupiter

,

Florida

(561) 427-0020

Jupiter

,

Florida
According to Discover Boating and their resources from Statistical Surveys, Inc., Florida holds a significant spot when it comes to boat ownership. On the list that ranks to the top twenty states by the number of registered vessels, not only is Florida on that list, it is in third place. Coming in second to only California and Michigan, Florida has clearly claimed its crown when it comes to naming the major boating hubs of the United States, and it's easy to see why! The activity has become so popular in our area that marinas are gaining more business than ever, and popular waterfront restaurants are adding even more dock space for those traveling to date night via the waterways.
As boats are a true way of life here in Jupiter, waterfront restaurants have significantly catered to this aspect of the dining experience. There are currently many restaurants that focus on bringing in guests by boat, including Guanabanas, Square Grouper, Jetty's, and U-Tiki, just to name a few. Each of these establishments work on running and maintaining efficient dock spaces with enough slips to cater to the weekend rushes of both residents and tourists. In addition to being a bar and restaurant, you'll find Square Grouper is even listed in our directory as an available storage location. The Castaways Marina is available for long-term rental, or if you are heading in from a day out on the water and want to stop by the bar for some food and drinks you can do that as well.
Most of these marinas also operate charter and rentals, which is why we've categorized the directory. As great as boat ownership is, it is also overwhelming at times. We understand that residents might want to utilize the charter option as it is an easy, hassle-free choice provided in many locations across coastal Palm Beach County.
With a charter, you have access to many different tropical excursions. There are packages for fishing, diving, or tours around the area to see the local sights. These sights include the sandbars, islands, beaches, and the historical Jupiter Lighthouse that make up most of the waters of Jupiter, and where most boaters collect when the tide is low. Here you'll find stretches of sand lined by boats of all shapes and sizes buoyed up together, usually blasting music, playing games out on the temporary beach, and breaking Publix subs out of the cooler. This has become quite the weekend tradition here in Palm Beach County, with two extremely popular sandbars in two beautiful locations. The Jupiter Sandbar and the Peanut Island Sandbar are two of the hottest spots on most weekends, attracting hundreds of people who will be there hours before the tide goes out to claim their little slice of paradise. Also known as the Loxahatchee Sandbar, the Jupiter Sandbar hosts a convenient location by both the intracoastal and the inlet. As for the Peanut Island Sandbar, it is just inside the inlet and has a popular counterpart; Peanut Island itself! Between the two spots, there's plenty to take up a whole weekend of fun on the water.
If you're not in need of storage or rentals, there are also numerous boat ramps in Jupiter and the surrounding areas that will cost you little to nothing to use! Most of them will require a boat ramp parking permit, but having the option to use the ramp whenever needed is a huge advantage to those who need the access. In Jupiter alone, residents use Waterway Park, Bert Winters Park, Burt Reynolds Park, and Jonathan Dickinson State Park.
Marinas & Boat Rentals In Florida Guide