A Gem On The Green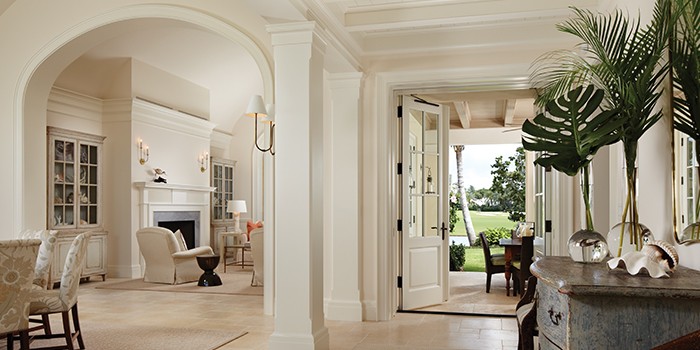 NORTH PALM BEACH, FL – June 27, 2018 – The utopian Florida home can envelop different conceptions—while one person believes being near the ocean and basking in its breeze is the way to go, another imagines waking up by a lake amidst lush greenery as far as the eye can see and playing a round of golf should the mood strike. For our July/August Florida Coast Magazine home tour, we explored the latter notion and found its perfect example tucked away in North Palm Beach.
Located in an affluent and quiet golf community, this house features three large bedrooms, a study, and three-and-a-half bathrooms all within a wide-open floor plan that spans nearly 5,000 square feet. The home includes tasteful interior designs and appliances, as well as a direct lake view with a backdrop of fresh-cut green links. Webb Builders, LLC along with architect Tom Kirchhoff crafted this Bermuda style home, displaying wooden and light-colored archways and gables. Custom interior finishes designed by Morrissey Saypol Interiors provide a light, bright, and classic feel. To gain a deeper insight of the home's characteristics, we spoke to Webb Builders' President Jesse Fors, who was also the project manager of the home, and Kimberly Webb Lague, the company's chief operating officer.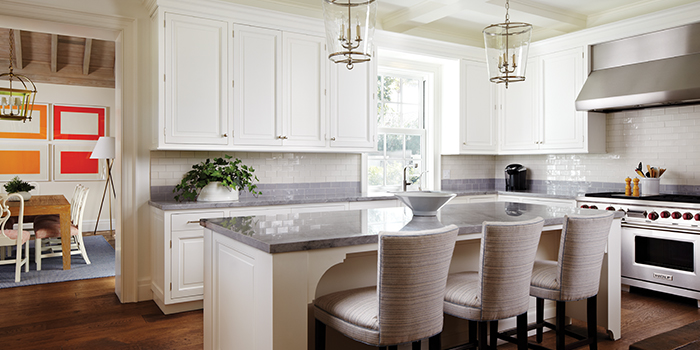 The kitchen is decorated with wood flooring, marble countertops, and all custom-built cabinetry.

"We sought to create a comfortable, casual, and elegant space that feels like you're right at home the minute you walk in," says Fors. "It's not pretentious; it's not overdone. We are very proud of how it turned out—every part of it is excellent."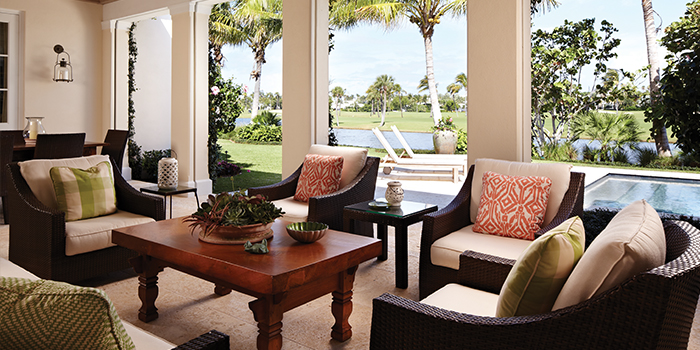 The loggia connects the interior of the home to the backyard and pool, and it is perfect for countless forms of leisure and entertainment.
This excellence, Fors points out, is due in part to a pleasing flow that is seen and felt in every room in the house. Starting with a stunning gourmet kitchen highlighted by custom-built cabinetry, marble countertops, and an inviting hardwood floor it transitions naturally into the main living area with its painted wood ceilings further complemented by Jerusalem stone tile floors. The family room's lime finished cypress ceilings carry through to the beautiful outdoor loggia. It is the quintessential relaxation spot, presenting a stunning view of the backyard's lush vegetation and direct access to the pool. Built-in motorized screens hidden within its arched walls ensure a pleasant setting, and both the loggia and pool deck hardscape areas are finished with Dominican coral stone.
"The ideal homeowner here is looking for the perfect combination of elegance and comfort. Guests see the stunning craftsmanship and yet feel welcomed into the heart of the home. Its tranquility invites them to relax and simply enjoy the moment," affirms Webb Lague. "The home's open floor plan provides an easy-to-walk-through environment and provides the homeowner ample opportunity to entertain with plenty of areas to congregate. This is definitely a 'get away from it all' South Florida home. The Webb Builders family has spent over forty years creating the unique visions of each client dreams for their special retreat and this residence is no exception."

You May Also Like