Nick Peterson Knocks it out of the Park
Nick Peterson Knocks it out of the Park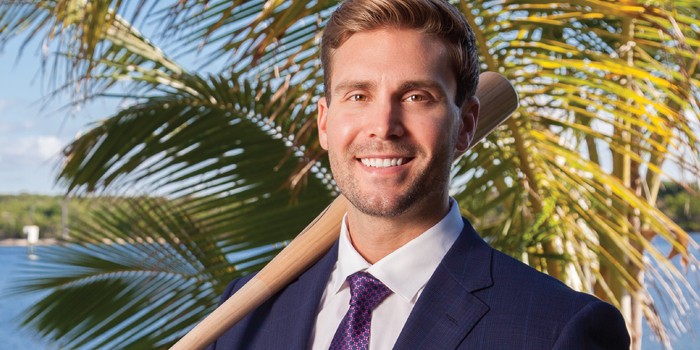 JUPITER, FL – February 26, 2018 – The property was on the market for nearly 10 years with roughly 10 different brokers and no offers.
Understandably, the homeowner moved the listing to yet another real estate agent. Then, more showings took place in less than six months than did in the previous six years. Soon after, the right offer was made and the home sold. What made the difference?
"He's a hustler. I mean that in the best sense of the word. I've sold and purchased at least 10 homes and I've never met anyone who works like Nick." That's Jim McDavid describing working with Waterfront Properties' luxury real estate agent, Nick Peterson. Speaking of his recent purchase of a home on Jupiter's Loxahatchee River, McDavid paid Nick what he called the ultimate compliment: "You either have it or you don't. He rolls up his sleeves and does the work. Nick's got it."
At 28 years old and just three years in the industry, Nick Peterson has already earned tremendous respect from his employer and the man he calls his mentor. Waterfront Properties' Rob Thomson called Nick a phenomenally hard worker, saying Peterson's production speaks for itself. "I've known Nick since he was a kid. So, I'm partial, but numbers do not lie."
Peterson represented Robert Haibi on the sale of his luxury waterfront condominium and the subsequent purchase of his new home, which Peterson found for Haibi in Jupiter's Admirals Cove community. Over the almost year Haibi worked with Peterson, he pointed to two "highlights" as being indicative of Peterson's work ethic.
"Professionalism and patience," Haibi said. "Those are the words. We spent approximately seven months working together while I decided whether or not to sell my condo. Nick helped me search for a new house during the same time. The amount of time he spent with me was incredible."
Haibi continued, "Both transactions were completed flawlessly in 30 days. Nick handled the bulk of the work. My business has me in New York during the week, so I wasn't really here." Haibi also complimented Waterfront Properties' "soup to nuts" services. "Waterfront took care of everything. Insurance, mortgage, closing—Waterfront managed all of it."
Peterson pointed to Rob Thomson and the Waterfront Way model as being fundamental to his early success. "My father and Rob are friends. I grew up around him and always admired him. He's the reason I'm in real estate." Peterson sounded especially grateful for Rob's hands-on approach. "He took me under his wing. I didn't know anything. I just did what he said with the tools Waterfront provided." Peterson sold his first house just three weeks after joining Waterfront.
Rob Thomson commented, "Nick's been consistently knocking it out of the park ever since. Whether it's selling a home or guiding a buyer, Nick's very competitive. He wants to be great." Thomson disputed having taken Nick under his wing any more than he does any other agent, stating, "The tools are here for every agent." "Nick accepts the help that's offered him," Thomson added. "And, he gets the job done for his clients. Nobody should take credit for that except him."
Appropriately, the ultimate winners in this story are Nick's buyers and sellers. He's had the type of bottom up education few others receive. This is because of when and how he began in the business. "I was 25 years old and working exclusively with buyers. I worked with hundreds of them. I got very good at understanding how to meet their needs. In the process I learned so much about what buyers look for when purchasing a home. Now, I use that knowledge to sell homes."
Robert Haibi summed up Peterson's impact on him. "Have you met him? He's a pretty young guy to be doing what he does at this level. I've purchased and sold multiple homes over the last decade. I've worked with a lot of agents. Nick is the best."
# # #

Contact Details
Name: Nick Peterson
Email: Email Us
Phone No: 561.818.5388
---
See the Business Behind the Story

Over the past thirty years, Waterfront Properties has built a dedicated service organization committed to assisting you when you are selling or buying on the water or in club communities.
Jupiter, Florida, United States | 561.746.7272, email us
Nick Peterson Knocks it out of the Park