Taking Expectations to the Next Level
Taking Expectations to the Next Level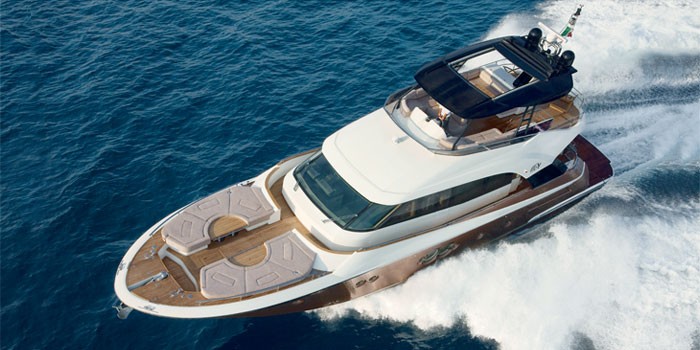 The beautifully different 70' Monte Carlo Yacht is the perfect evolution of the aesthetics and cutting-edge functional qualities expressed by the MCY 76 and MCY 86. With its high-flared bow and previously unseen features, combined with spacious interiors, luxury décor and custom furniture make it the ultimate expression of MCY style. MCY designs a range of classic, distinct models from 65' to 105', which are elegant, but never overstated, innovative but noble; they are timeless classics, built today to sail well into tomorrow.
Creating this super yacht of your dreams requires a great deal of decision-making in the early stages, a time when having a seasoned, experienced yacht dealer by your side is essential. To help you with that very first decision of finding the one dealer that handles this level of distinction throughout the state of Florida, MCY has chosen SYS International Yacht Sales, a boutique-style yacht sales company focused on providing you with complete and personalized service in all aspects of yachting.
Founded in 1986 by Doug Mashke, Sr. as Sarasota Yacht & Ship, the business was built on his conviction of treating clients the way he himself wanted to be treated. Over the years, he and his business partner, Gary Smith, grew the business to become a yacht brokerage firm known for integrity and high levels of customer service throughout the entire Florida Gulf Coast.
As sales grew, and the internet made it possible to work with partners around the world, Sarasota Yacht & Ship was no longer just a "West Coast" business. As the business footprint expanded, the physical presence of the company expanded East. Under the direction of Gary, who became the current sole owner in 2017, Sarasota Yacht & Ship became SYS International Yacht Sales.
Gary chose Jupiter Yacht Club as the company's first Florida East Coast location. Over the past two years, the Jupiter location has expanded with over eight yacht sales professionals led by Sales Director, Dirk Boehmer.
SYS has stayed true to their mission as evidenced by one customer who exclaims, "Your company name and description only scratches the surface of what you really do. Yes, you sell and yes, you service but you did far more than that for me as a long-distance buyer. First, you were extremely helpful and professional in showing me the boat that I was interested in…Second, you thoughtfully took me through the purchase process and effectively helped me negotiate the best deal. And lastly…after the deal was done it didn't even cross your mind to abandon me. You were there for over two months helping me accomplish all the items I needed...thanks for a most pleasant purchasing experience."
SYS was the first in Florida to be designated as an "Endorsed Brokerage" by the prestigious Certified Professional Yacht Broker Program, reflecting an ability to provide comprehensive advice in all areas of yacht sales, including international and domestic rules and regulations.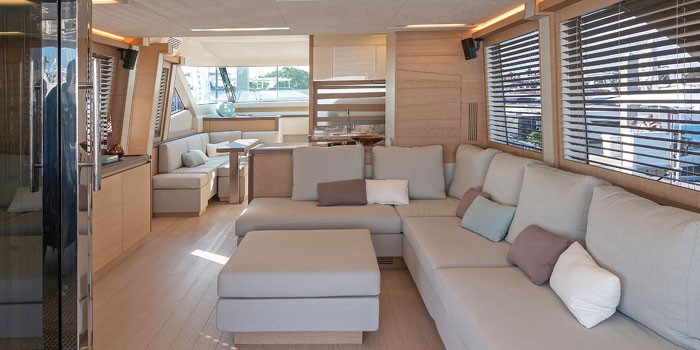 The complete design and production of the furniture is made in-house with high end fabrics selected from the best Italian suppliers.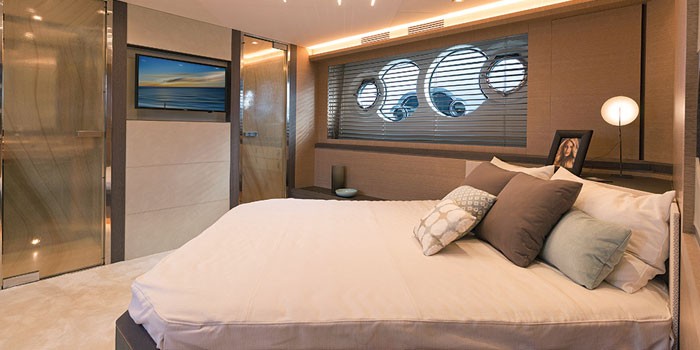 SYS represents new yacht lines like Monte Carlo Yachts (an Italian built yacht ranging from 65 to 105 feet in size), Minorca Yachts (a Spanish builder of Downeast style yachts from 34 to 68 feet) and Vicem Yachts (a Turkish yacht builder with sizes ranging from 46 feet to 151 feet). On the Florida Gulf Coast, SYS also represents Riviera Yachts (an Australian builder of Sport Fish and Luxury Yachts ranging from 39 to 72 feet) and Belize Yachts (A Luxury Cruiser from 54 to 66 feet built in Taiwan). Additionally, SYS continues its mainstay, developed over the last
32 years, with its expertise in brokering of pre-owned yacht sales transactions all over the world.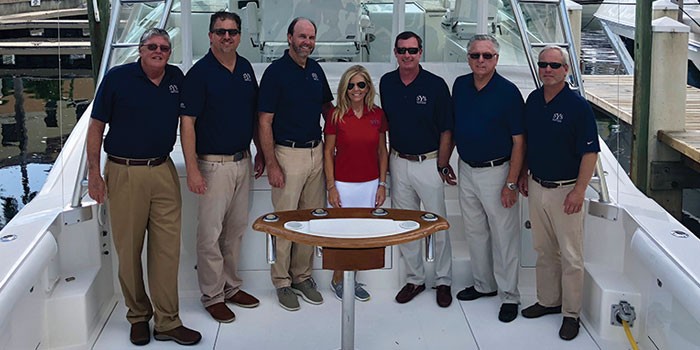 Truly an international brokerage company, the SYS team (from left to right - Andy Harwell, Dirk Boehmer, Doug Ward, Sherry Shropshire, Bobby Randolph, Harry Diener, and John Thomson) is all smiles on a Cabo 48 that was just sold to a client in Japan.
"We are extremely pleased to be part of the Palm Beach and Martin County communities as we continue to do business the same way as our founder, treating people like we want to be treated ourselves. Our professional connections throughout the world, a highly-trained staff, and a company aircraft to meet clients and get parts out fast, allows us to meet those expectations," stated Gary Smith.
The SYS International Yacht Sales office is located directly next to the Dive Bar Restaurant in Jupiter, with the adjacent marina providing the team a perfect location to offer boat and yacht enthusiasts a wonderful environment to discuss the next investment in their time and in their memories. •

Contact Details
Name:
Email: Email Us
Phone No: 561-300-7406
Taking Expectations to the Next Level