Cut From A Different Stone
Cut From A Different Stone

JUPITER, FL – March 5, 2018 – Everyone is drawn to a story where perseverance, love, and passion prevails amongst all odds; and a hard-working, dedicated family, the Briguglios, has just the one. Back in 1993, Giovanni Briguglio, a third-generation Stone Master, living in his hometown of Roccalumera, Sicily, had a vision for his family that extended beyond what his small town could offer. Giovanni, his wife, Josephine, and their three young children took a leap of faith by crossing the Atlantic to settle in Jupiter, Florida. As is the reality, success did not come quick and easy, but after seven challenging years, Giovanni and Josephine opened the doors to their own business: Stone Gallery.
Today, the fourth-generation, family-owned-and-operated company provides limitless choices of natural stone. Giovanni and his son, Dominic, travel to Italy and Brazil year-round to visit their trusted quarries where they hand-select pristine blocks of stones. To ensure quality control, the blocks are shipped to Italy to be cut and polished into slabs.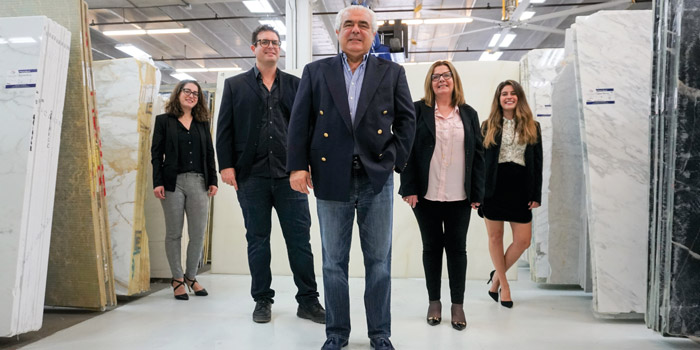 The Briguglio family (from left to right): Anna, Dominic, Giovanni, Josephine, Eliana
"Compromising is not an option; we specialize in unique premium stone in order to provide the best product and service possible," says Josephine.
While working closely with a widely recognized community of builders, designers, architects, as well as the general public, each client is treated like family and catered to personally, from finding the perfect material to custom installation. Whether you are looking to complete a project in two weeks or two years, Stone Gallery presents possibilities and solutions.
Their goal is to ascertain that clients are comfortable, informed, and above all, completely satisfied with their selections. With hundreds of colors of the best quality marble, quartzite, onyx, limestone, granite, as well as a full line of porcelain and quartz to choose from, satisfaction is guaranteed. Whether working on a residential, commercial, in-state, or out-of-state project, they administer business the one way they know best, with family values supporting every step.
If you are a local, you can count on being greeted by Giovanni and Josephine's children, Dominic, Anna, and Eliana as soon as you walk through the doors. Josephine puts it best, "Come in as customers and leave as family."
» For more information, visit www.stonegalleryusa.com or call 561-840-9669 // 3625 A Prospect Ave., West Palm Beach, FL 33404

---
See the Business Behind the Story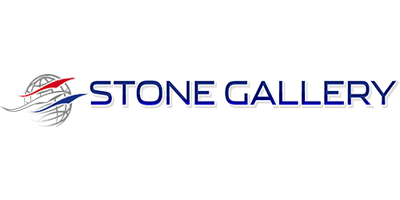 Jupiter, Florida, United States | 561-840-9669, email us
You May Also Like
Cut From A Different Stone