Burt Reynolds: The Man from Jupiter
Burt Reynolds: The Man from Jupiter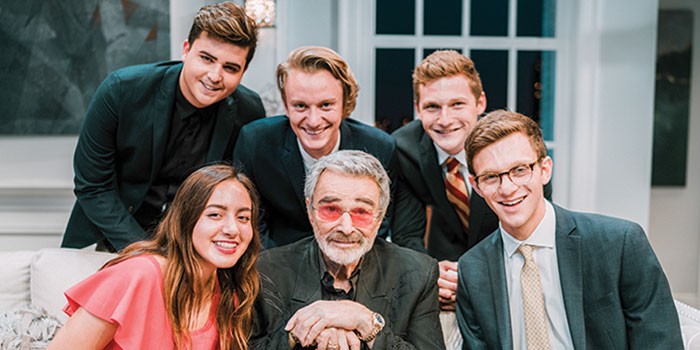 "If you hold on to things long enough, they get back in style. Like me."
JUPITER, FL – April 26, 2017 – In a career punctuated with great lines, this is one of Mr. Burt Reynolds most quoted phrases of late.
But for those of us in Jupiter it is problematic because there never has been a time when he's been out of style.

Hollywood favor may come and go — the Silver Screen, the television screen, in front of the camera and behind it — but the genius of Burt Reynolds is that he has never lost sight of his roots here, in Jupiter. No matter how his career waxes or wanes, here, in the community that has always been his home, he is always in style. Here he isn't The Bandit, Lewis Medlock, B.L. Stryker, Gator McKlusky, or Wood Newton. Here he is simply Mr. Burt Reynolds: The Man From Jupiter.

He has always been unabashed in his love for this community. He famously shot scenes for both "Deliverance" and "B.L. Stryker" at his Jupiter Farms ranch. When he decided to open his dinner theater, it was here, in Jupiter. So it isn't surprising that a large part of Reynolds' latest charity venture played out right here, in Jupiter, at the Maltz Jupiter Theatre.

SUPPORTING YOUTH
In addition to teaching Master Classes in acting at The Burt Reynolds Institute for Film and Theatre, Reynolds reaches out to younger students — those in high school. For years, he has personally endowed The Burt Reynolds Scholarship, which is awarded at the annual Palm Beach International Film Festival's Student Showcase of Films.
When we met with him at the Maltz, it was mid-way through the scholarship application process. He was in the midst of interviewing the five finalists who had been selected from among a pool of talented high school senior applicants from Palm Beach County.

Reynolds says that he started this particular scholarship because "I enjoy encouraging young talent and giving them a hand up." It is important to make the distinction that this scholarship is specifically for the arts because, in the past, the generous Reynolds has endowed other scholarships based on different qualifications.

To apply for this incarnation of the $2,500 Burt Reynolds scholarship, the students have to not only fulfill the traditional scholarship application process and include letters of recommendation, proof of scholarship / GPA, and community service hours, the seniors must also include a letter to Reynolds addressing their long-term goals in the film, digital media, and television industries. They must also provide a five-minute-long compilation reel because this is, after all, a scholarship for students interested in the entertainment industry.

Once selected, the finalists then have an in-person interview with Reynolds.

When asked, Reynolds says that the interviews are actually his favorite part of the process. "I look forward to the interviews, when I can meet the finalists face-to-face and spend a little time getting to know them," he states. "The most difficult part of the process is narrowing the choice to one winner, as they are all extremely talented kids."

This year, the five finalists happened to be from two area schools: Cristian Aguiar, Alexandra Barletta-Chacon, and Dale Peters attend G-Star School of the Arts, while Carsen Jessell and Matthew Nadel attend A.W. Dreyfoos School of the Arts. Both schools are located in West Palm Beach.

On the day of the interviews, a limo arrived at each campus to chauffer the finalists to Jupiter in style. Then, one-by-one they met with Reynolds to explain their hopes and dreams for the future. Many, if not most, of them are seeking college and then careers in New York or Los Angeles, somewhere outside of Florida — the very place that the man to whom they are pitching loves best. It is a pull he understands and supports having felt it himself. He jokes that "the smart ones ask me where the landmines are because I've stepped on them all."

After a full day of interviews with the finalists, Reynolds agreed to one more — with InJupiter.
RELATED Life Lessons & Spray Paint, Believe: The Power Of Theater

GIVING BACK
By this time, the students have departed in the limo, the photo shoot is finished, and we are sitting on a sofa on the stage of the Maltz, the theatre that now stands where his own dinner theatre stood once upon a time.
But although Reynolds will look back fondly at his past, indulging requests for reminiscences from his blockbuster career, he is firmly rooted in the present and always working on future projects. As previously noted, he is a man who has never gone out of style — in large measure because he has never stopped working.

These days, Reynolds indulges his love for live theatre and for teaching just down the road, at The Burt Reynolds Institute for Film and Theatre. Describing the venture, he lights up stating, "The greatest love I have is teaching and nurturing talent. I teach a master acting class, once a week, when I am in town."
For the man who defined the word "macho" in the 1970s and 1980s, who is famous for executing his own stunts, there is a well-spoken thoughtfulness to Reynolds.

He has been quoted as saying that he is more like the character Phil Potter in "Starting Over," a low-key magazine writer, than he is similar to The Bandit or Gator. Actually speaking with him, and seeing the contemplative looks that cross his face, it is easy to understand what he means.

Suzanne Niedland, the Managing Director of BusEye Films, Chairman Emeritus of the Burt Reynolds Institute, and Reynolds' long-time friend agrees, stating, "My favorite Burt Reynolds movie is 'Starting Over' as his acting was quiet, intense, and yet he was still able to be funny. So much acting happens between the lines in his eyes and it is a wonderful lesson for actors to watch."

Niedland's testament to Reynolds' teaching abilities comes from watching him inspire actors at his Institute, of which she served as Chairman for many years. She currently serves on the board for the Palm Beach Film and Television Commission and was at the Maltz as part of the interview panel.

Watching him interact with the students — and with other actors — it is clear that he has a passion for teaching. Establishing his Institute makes perfect sense, but why in Palm Beach County? Why not in the acting "hubs" of New York or Los Angeles?

The answer is quick. As quick as the smile that comes to his face as he says, "Because I want to teach at home."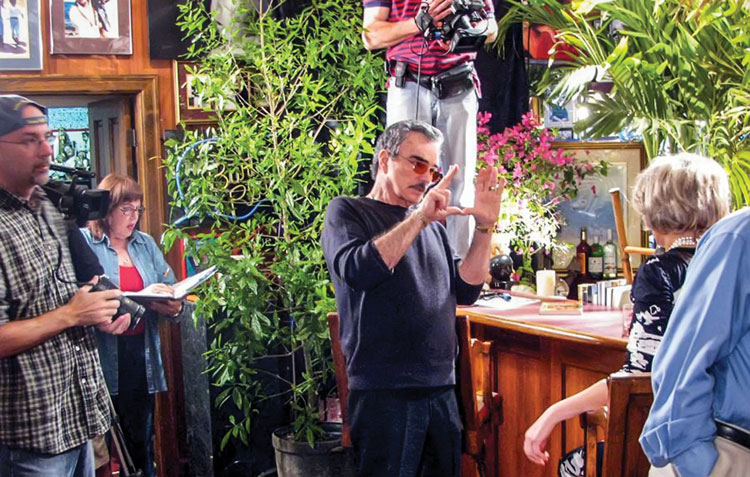 Reynolds is a patient teacher — whether in the class or on set — in addition to giving tips, such as where the landmines are hidden, he also explains subtle nuances of angles and lighting
The next question then begs: What is it about Jupiter that draws you home? You've been all over the world, lived and worked in New York and L.A. and yet you keep returning, specifically to Jupiter.

Watching him as he answers, I notice that Neidland is right about his eyes. They convey worlds of emotions in their depths. One moment they are twinkling behind his rose-colored glasses. The next, they are as deep as the Loxahatchee River as he answers, "Jupiter is my home. I don't know how else to say it, but Jupiter feels good and right and comfortable to me. The people are wonderful and it is an extraordinary town, if you take advantage of all it has to offer. I love the beaches…Jupiter has the most beautiful beaches in all of Florida."

Jupiter also has Burt Reynolds Park, and scores of citizens who admire and respect Reynolds for his years of community involvement. Animal rescues, private charities, and private individuals — it seems that most life-long Jupitarians have a story involving some kindness quietly performed by Burt Reynolds.

"Well, I have been helped by others throughout my life and career and understand the importance of reaching out and paying it forward in any way I can. I have never forgotten my roots or the people who have been such an important part of my journey," he says, explaining his drive to give back to the community he loves.
"Jupiter is my home. I don't know how else to say it, but Jupiter feels good and right and comfortable to me."
THE BEST ROLE IS YET TO COME
In Jupiter and around the world, fans argue over which role is Reynolds greatest: The Bandit ("Smokey & The Bandit"), J.J. McClure ("Cannonball Run"), Lewis Medlock ("Deliverance"), Wood Newton ("Evening Shade"), Phil Potter ("Starting Over"), the list continues on.
Reynolds himself says that his best role is still out there. "Part of the process is the search for the perfect script and the perfect role," he says. When asked if there is any type of role he would prefer, Reynolds stays open, stating, "I will know it when I see it!"
Whatever the role ultimately turns out to be, it is certain that there will be at least a spark of Reynolds' trademark humor. And that humor is not an act. His famous low chuckle that punctuates many of his sentences on screen does so in "real life" conversations as well. He agrees, saying, "A sense of humor is the most important part of life, to laugh at yourself and not take things so seriously. Life can be very difficult and without a sense of humor, you won't survive."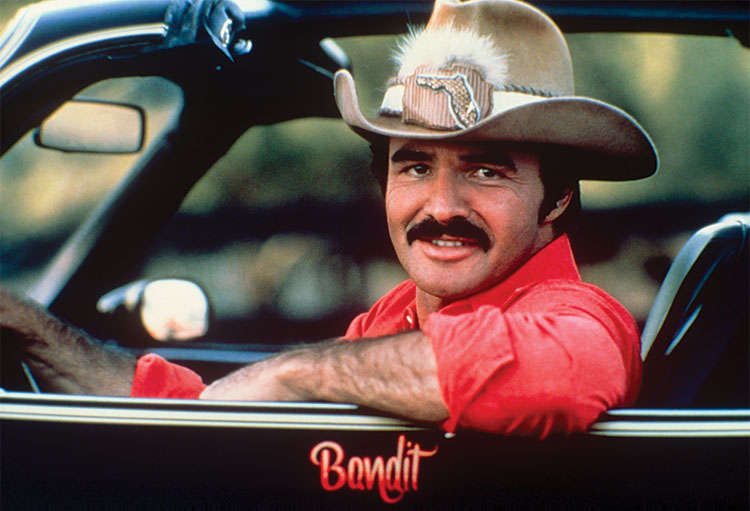 "For the money, for the glory, and for the fun... mostly for the money." – Smokey & The Bandit
AWARDING THE SCHOLARSHIP
Fast-forward a few weeks to March 10th and the 22nd Annual Palm Beach International Film Festival's Student Showcase of Films Award Show, which was held at Lynn University. It is during the Award Show that the Burt Reynolds Scholarship winner is announced.
After speeches by Reynolds and Niedland, the finalists were re-capped in a video presentation, at the end of which, it was revealed that Matthew Nadel was the 2017 winner of the Burt Reynolds Scholarship. Reynolds personally presented Nadel with the scholarship. Nadel was also awarded The Music Video Award presented by Rob Van Winkle (Vanilla Ice) for his video "Young and Dumb." Nadel graduates this year from the Alexander W. Dreyfoos School of the Arts and will be attending Yale University.

Reynolds sums up the scholarship and the event with a big smile, stating, "The impact this event has on these young minds and the opportunity they are being given is priceless. They need to know they can do it and that we support them every step of the way."

It is that dedication to supporting others — maybe even more than his truly impressive resume — that will forever ensure that Mr. Burt Reynolds, the man form Jupiter, will never go out of style. •


---
See the Business Behind the Story

Florida's Largest Professional, Award Winning Not for Profit Regional Theatre
Jupiter, Florida, United States | 561-575-2223, email us
Burt Reynolds: The Man from Jupiter