Ahead of the Curve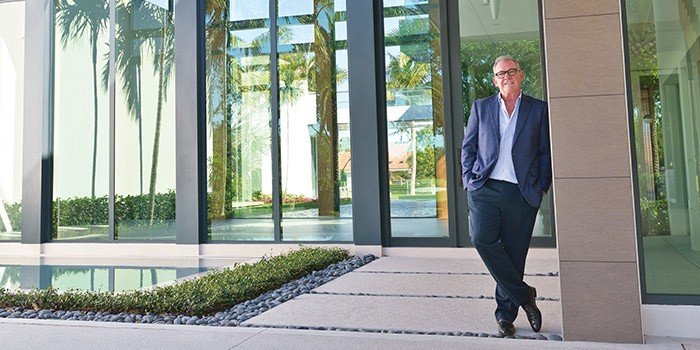 JUPITER, FL – April 30, 2018 – If you continue to do what you've always done, you'll only end up where you are," affirms real estate mogul Rob Thomson from behind his wooden desk nestled on the side of his vast, ultra-modern Jupiter office. "My goal is to constantly evolve and be in line with the changes that are coming. You have to be passionate about it, not just try to make an effort."
This is not a statement to be taken lightly. As a matter of fact, it is with sheer passion that Rob has been able to establish himself, as well as his locally based firm, Waterfront Properties and Club Communities (WFPCC), as one of the leading real estate engines in the Palm Beach and Martin County marketplace—and in the luxury real estate realm altogether.
His list of individual accolades is nothing short of impressive: Rob became the youngest agent to be inducted into Luxury Real Estate's Billionaires Club in 2012, he has been named Top Agent for Real Estate Sales in Northern Palm Beach and Martin Counties several times over a 30-year period, and he was ranked at #26 in Top Sales in the United States by the Wall Street Journal. Rob currently sits on the exclusive Luxury Real Estate Board of Regents and is also a board member on Global Brokerage Network of Who's Who in Luxury Real Estate. During Rob's time as owner and managing partner, WFPCC has grown from three to six state-of-the-art locations in Palm Beach County and the Treasure Coast, including a luxurious Palm Beach Island office that opened its doors last year. And his personal sales record continues to grow. As a matter of fact, a report generated by real estate analytics tool BrokerMetrics as this article is being written reveals that Rob leads the pack as the top-selling agent for all residential waterfront, riverfront, and golf community real estate MLS transactions in the past year within WFPCC's marketplace.
Rob presently directs 100 agents that collectively handle luxury properties of up to $50 million and he proudly proclaims that at the moment WFPCC is 30 percent ahead in sales than its closest competitor in the aforementioned market.
Rob is also affiliated with several prominent companies that complement WFPCC. For instance, in 2015 he started a sister company with seasoned boat captain Joe Kelly called Waterfront Yacht Brokerage, which now empowers Rob to give his agent's clients and his own the option to buy or sell their luxury home and top-shelf boat.
"One of the reasons Waterfront Yacht Brokerage is so efficient is because it acts as an extension of WFPCC," says Joe. "There are pre-qualified, high-net-worth clients that are buying and selling luxury properties are often interested in buying and selling their yacht, powerboat, or sports fishing boat and we facilitate that. It just makes all the sense in the world."
Joe also notes that Waterfront Yacht Brokerage's customers are backed by a customer service staff that will go way beyond cleaning and maintaining their boats; he cites a recent anecdote in Bahamian territory as an example of that level of service.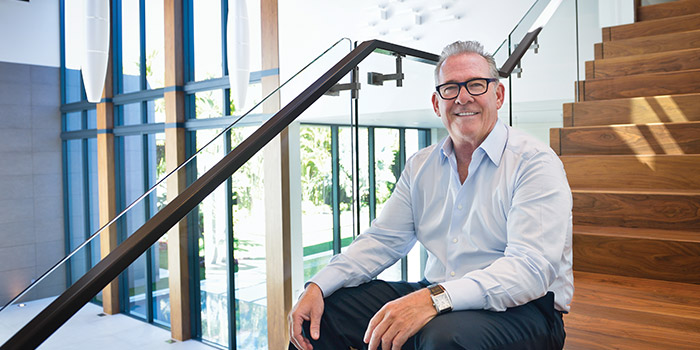 Rob Thomson, managing partner of Waterfront Properties & Club Communities
"One of our clients was in the Bahamas in his 80-foot Viking and had an issue with his crew and called us for help," divulges Joe. "So, naturally we flew out an entirely different crew to that location to replace the existing one at no expense for the owner so that he could carry on with his vacation stress-free."
Rob also created another arm into the boating real estate trade by becoming a partner alongside longtime friends Bob Sparks and Scott Henley at Bahama Boat Works, which crafts top-of-the-line super center console fishing boats. But Rob's business savvy didn't stop at luxury homes and boats. He also partnered with Jeff Platz at First Florida Insurance and Bud Kline at Assured Title Agency, and his involvement with these two companies enables Rob to provide both quality insurance and the closing of transactions for each asset. He makes all of these options available under one umbrella for a seamless experience to the client—and the convenience and accommodation therein cannot be overstated.
"There is a cross-pollination between these companies that is of great value to our customers," explains Rob.
In addition to his real estate ventures, Rob co-owns the Jupiter based-restaurant Shipwreck Bar & Grille with his brother, Scott.
While Rob might be one of the most successful homegrown businessmen in Jupiter, this designation did not come overnight and with no shortage of hard work and dedication.
The adventure that is now an illustrious enterprise with upscale home sales well in the billions actually began with Rob's mom, Joan Thomson. As one of the first realtors in the Jupiter area, Joan primarily focused on the Jupiter Island market and, during her workday car rides, took young Rob along with her. Rob cites these outings as how he inadvertently learned the real estate trade.
"It is an education that started when I was a kid, and it still continues to this day," says Rob.
In 1987, Joan rebranded her business with the name "Waterfront Properties" after she realized that the bulk of her closings consisted of waterfront residences and spaces, and saw a niche opportunity to specialize in that sector of the market full-time. The company began in a one-room operation on Parkway Street in Jupiter. Today, that office is WFPCC's corporate office and it has an expanse of 18,000 feet—and Joan still works there 50 hours a week as a realtor and utilizes her expertise to thoroughly review virtually every customer's contract. »
"She always says: 'Everything that is worth doing is worth doing right,' and that has always hit home. To her, it was either excellence or failure, and she made us live it—and it's a trend that carries on that we instill in every agent that we train. I may own the firm now, but she remains an intrinsic component of it. When she talks, everyone listens," adds Rob.
And so, Joan started and drove WFPCC forward with a foundation consisting of a continuous commitment to satisfying the clients' needs, then Rob helped take it to the next level by focusing and investing on Internet marketing.
"Even as a youngster Rob had a knack of thinking outside the box, cutting through details, and getting to the bottom line; a knack that helped him propel Waterfront Properties' worldwide Internet and digital marketing operation to what is generally considered to be, the world's best," indicates Joan.
So what exactly is the cutting-edge technology that Rob spearheaded and that WFPCC employs that separates them from the rest? Well, for starters, they don't just operate one website—as the average company typically does—they operate nearly 50 state-of-the-art, easy-to-navigate websites that feature each of WFPCC's luxury abodes with live, up-to-the-minute data. Furthermore, Rob has made exclusive digital affiliations with global real estate networks such as Mayfair International Realty based out of London, England—and to date, there are over 6,000 websites worldwide that showcase WFPCC's homes for sale, declares Rob. A web presence of this magnitude equates to WFPCC's listings constantly appearing near or at the top of Google search returns that pertain to affluent home buying in the Palm Beach County and Treasure Coast market, which is why so many luxury property owners that put their home on the market list with WPFCC.
"You have to make sure your seller's listings show up where the buyer is looking," points out Rob. "With 50 sites, we place better for specific search terms and show up at the top of search engine rankings more often than any other brokerage company in our market. We are first to be found by buyers looking at luxury real estate in our area – and that's critical."
As he reveals this, Rob spins in his chair and gets on one of four-integrated, vertically oriented sizable computer screens behind his desk. "Let me show you," he says.
He proceeds to type in two search terms, one after the other: "Waterfront Properties" and "Ocean Front Properties in Palm Beach." For "Waterfront Properties"—a broad and generic term attached to several entities despite the fact that its part of the name of his firm—WFPCC's main website pops up as #1 out of 5,930,000 organic websites that Google reflects compete for that placing. The same result is seen for "Ocean Front Properties in Palm Beach," which is a powerful search ranking when considering the allure of the Palm Beach area around the world. The first website displayed out of 3,550,000 possibilities is a page within WFPCC's portal that lists their available homes in Palm Beach. Rob astutely remarks that this is the first step of how notable sales such as a $36 million dollar mansion in Palm Beach purchased from WFPCC by the late Roger Ailes come to fruition.
On another one of his screens, Rob produces a report containing the number of live buyers leads from some of the agents he manages, "John Nugent: 3,400; Andrea Roth: 2,400; Adam Brown: 1,785—you get the picture."
He continues, "Our name and our Internet model is a magnet for buyers leads. There is no other company in this market that receives the buyer flow from their website like we do. Our platform is a key reason why we capture and deliver luxury buyers from all over the world to their dream homes on our shores."
The main driver behind these results is WFPCC's in-house, 22-person marketing team that includes two-full time programmers. As a unit, this sizable staff is constantly working on improving and polishing the 50-site web portal.
"Our marketing staff consists of high-level professionals that specialize in graphic design, SEO, website developing, and social media branding that fully support our listings," adds David Abernathy, business manager for WFPCC.
Not a single agent at WFPCC handles the marketing side of any of their clients' homes—and that was Joan's vision which Rob put into high gear when he allocated a significant marketing budget and assembled this team 11 years ago.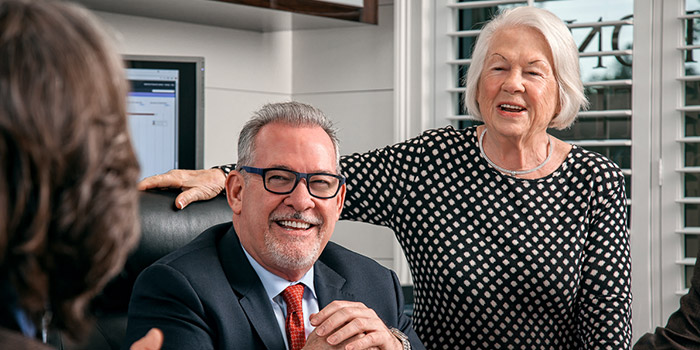 Rob and Joan Thomson continue their collaboration with the ongoing goal of fueling their brand name in the South Florida luxury real estate market.

"Experts, not agents, handle the marketing side," adds Rob. "We want an expert handling the client's advertising instead of an agent trying to do an expert's job."
Rob's visionary marketing platform is not only highly efficient, it's also award-winning. In 2017, the Who's Who in Luxury Real Estate high-end real estate network presented Waterfront Properties with the prestigious Best Innovation Website Award—an accolade that Rob is particularly proud of.
"It is an incredibly difficult award to win because you compete against 6,200 luxury offices in 100 different countries worldwide," points out Rob. "It stands as a testament that what we do works and why we have a marketing budget and staff that is unmatched by anyone in our market."
But Internet marketing is merely part of the equation. The other side of Rob's business model lies within the term "agent specializing." In a nutshell, this entails that Rob coaches his agents to become proficient in specific segments of WFPCC's market, so that when a client inquires about a particular area, Rob can specifically assign them to an agent that is an expert in that area, thereby streamlining the entire process.
"With this system in place, we are able to align a buyer or a seller with an agent that intimately knows the market that they want to look at," clarifies Rob. "Our agents are not jack-of-all-trades and one size doesn't fit all for us. We want the agent to know the ins and outs of every HOA of that area so they can tell the client what they will and will not accept at the time of showing, whether there's any rental restrictions or pet restrictions, or anything else the client needs to know up front. We don't want our agents to have to learn and adapt to what a client is looking at in a moment's notice; we want them to already know that market like the back of their hand so that they can give that client the best representation. That's the secret sauce. Exceptional properties deserve exceptional marketing and service. That is our standard."
"Experts, not agents, handle the marketing side. We want an expert handling the client's advertising instead of an agent trying to do an expert's job."

David notes that Rob's coaching model has always been geared to help his agents reach success.
"Since I first I met him, I know Rob has been more proud of having coached realtors that are now among the top 25 agents in sales in luxury real estate in North Palm Beach County than of his own sales volume or awards," says David.
Combining substantial marketing efforts and an agent staff comprised of area specialists, Rob generated an unstoppable force that has made an impact in Jupiter and its northern and southern areas. He travels the world with his team to attend real estate conferences and meets with top-level luxury brokers to exchange ideas, thus forging first-name basis, long-standing relationships, and an enviable Rolodex to boot. Rob even has top-tier realtors on his speed dial like Dale Sorensen of Sorensen Real Estate, who Rob distinguishes as the number one brokerage firm in the Indian River and Brevard County luxury real estate market. Rob and Dale's relationship has been a catalyst for numerous buyer referrals to each other and their agents across their respective markets while soon-to-be clients ponder the value of living in Palm Beach County or Vero Beach.
"My relationship with Rob is not just one of friendship, he's been a mentor to me during my whole career," says Dale. "From coaching agents to marketing insights, I've never found anybody else who has the knowledge of real estate in all its aspects like Rob does. Since we began working together eight years ago, my business has been on an upward track."
Rob also has a significant presence on social media, but it comes with a dual-purpose. While he does spearhead social media initiatives to further bolster his firm's marketing efforts, he is known for using social media as a tool to bring townspeople together. Case in point: He is an administrator of a Facebook group called Hurricane Forum, which his daughter, Rachel (Rob has six kids in total), began while working in WFPCC's marketing department. The purpose of the group is to keep folks in the know about storm activity information during hurricane season, to make supplies such as batteries, shutters, water, and generators available, and to provide services for folks in need before, during, and after the storm. Rob also operates two Facebook groups called Jupiter Old Days and Jupiter These Days. "Old Days" is a group that is meant to help former and longtime Jupiter residents reconnect through photos and "New Days" is an open forum where members can post events and services to engage the community.
"In today's world, social media is how communities communicate, and we always want to find creative ways to help the people in our town; it's part of our way of giving back" notes Rob.
For Rob, there's no end to his learning experience, and that is what helps him stay ahead of the curve.
"The most important thing for me is to keep learning," acknowledges Rob. "I have been fortunate to share ideas and technologies with the best brokers in the world and that has given me a view of real estate that is not just local, but global. And on the flipside, I've also been able to educate these brokers on what a true paradise South Florida is to live in. I've lived in Jupiter all my life and I love it!"
Learning, growing, and staying tenacious—these are all components ripped out of a page of Rob Thomson's book that we can all heed and apply in our own paths in life. But, after being on the cusp of his profession and raking in almost daily success, I couldn't help but wonder what is it that drives him each day and helps him stay motivated.
Rob thinks for a while before answering, "I have a constant fear of disappointing a client and I absolutely hate being second. I should really see a shrink about that!"
For more information, please visit www.waterfront-properties.com.

---
See the Business Behind the Story

Over the past thirty years, Waterfront Properties has built a dedicated service organization committed to assisting you when you are selling or buying on the water or in club communities.
Jupiter, Florida, United States | 561.746.7272, email us