Tawny's Tastes: French Restaurants
Tawny's Tastes: French Restaurants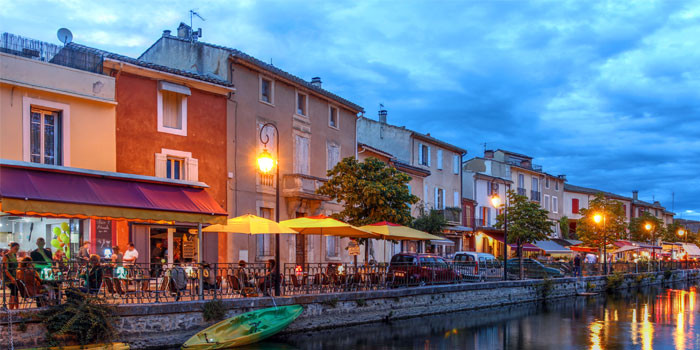 Florida Coast Magazine – Winter Issue 2020 – As we begin January, there is a feeling in the air of new beginnings. Everything is possible and we all look forward to an exciting year ahead. Although some dreams, such as the Miami Dolphins going to the Superbowl, may be out of reach, we definitely have some great things on the horizon.
For our Winter Issue, we looked across the pond to find our featured "food group." Yes, this month we are going to the incredible country of France. Taste is of course, subjective, however, to me, the French have mastered the art of culinary cuisine. The rich simplicity of each meal is enough for me to happily choose French cuisine.
Since I can not take you on a food and wine tour in the town of L'Isle sur la Sorgue on the Sorgue River in Southeastern France, or offer you a beautiful glass of Bordeaux while sitting on the Seine in Paris, let me introduce you to a more convenient alternative, the best French and Continental restaurants in the area. So join us for some beautiful meals. Or, Rejoignex-nous pour de beaux repas!
Tawny's Choice: The Parisian (Jupiter)
As my dinner guest and I walked in the Parisian, we felt as if we have been swept away to Paris. The décor was perfect, complete with tempered colors and rich wood paneling. And a striking painting of Napoleon. The food was divine. We began with the Blue Cheese Mussels. They prepare it several ways, however, I highly recommend this delicious starter. We also shared the Escargot (one of my personal favorites) and it was beautiful, in a white wine and butter sauce whipped to perfection. We went on to enjoy fabulous entrees including Beef Short Ribs in a burgundy sauce and Steak Tartar which had such a clean and beautiful taste to it. Possibly the best part was the dessert, the Crepes were light as air and don't get me started on the Pavlova! It was a beautiful night! I highly recommend the Parisian. And a big thank you to Tarzi!
Jen's Choice: French Corner Bistro & Rotisserie (West Palm Beach)

Mother-daughter duo and French immigrants, Sylvie Augier and daughter Sophie, have owned and operated the French Corner Bistro & Rotisserie for 15 years. Tucked away in a strip mall on Okeechobee Boulevard, they created a local outpost for French cuisine and culture that reminds me so much of the bistros I've visited in Europe. There are only nine tables draped in white tablecloths, so reservations are recommended, but that in no way detracts from the authenticity of the experience.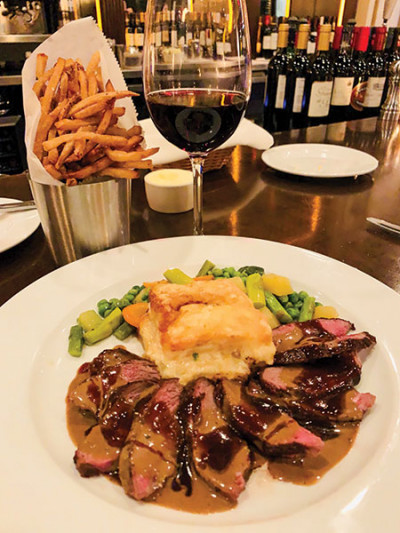 The Parisian
We were greeted with warm baguettes and butter, and soaked in the elegant, yet warmly lit and cozy ambiance. Sylvie was quick to welcome us and was so generous in sharing the story about how she and her late husband, award-winning Chef Guy, came to run this hidden gem in South Florida. Her daughter was equally inviting, and both were so knowledgeable as we asked questions in our difficulty about choosing what to order. Now, onto the food!

We started off with an hors d'oeuvre of escargot–small, soft bites of succulent, buttery goodness. They were served in an indented escargot plate, tiny morsel-spearing fork and all. We did not forget to mop up much of the excess pools of the parsley garlic butter with their fresh French bread—I could live on it!
Next came the ever traditional Beef Bourguignon. We would go back solely to eat this decadent dish again! Fork-tender, fall-apart chunks of beef simmering in a rich gravy filled the air with the most enticing aroma. This dish was loaded with mushrooms and layered with so much flavor and herbs, it's no wonder Sylvie mentioned this was a customer favorite.
For a lamb-lover like myself, I was thrilled to see they offered my ultimate comfort food favorite –Lamb Shank. Plated beautifully, the meat was meltingly tender as it slid right off the bone and braised to perfection with vegetables in a deliciously seasoned red wine broth. For being so simple, this is a wonderfully luxurious meal that I will be craving in the very near future.
We finished off our delightful dinner with their Cherry Jubilee dessert–the perfect combination of cold vanilla ice cream topped with airy whipped cream, warm cherries and toasted almond slices. Sophie even had the chef make a smaller portion for us to try since we were so full from our entrée portions!
For anyone who is looking to experience amazing French cuisine, hospitable service and the relaxed warmth of the dining room, French Corner Bistro & Rotisserie is a must. You can easily feel the love and hard work the Augier family has poured into the establishment over time. This surely was our first, but not only visit to this restaurant.
Le Petit Pain (Boynton Beach)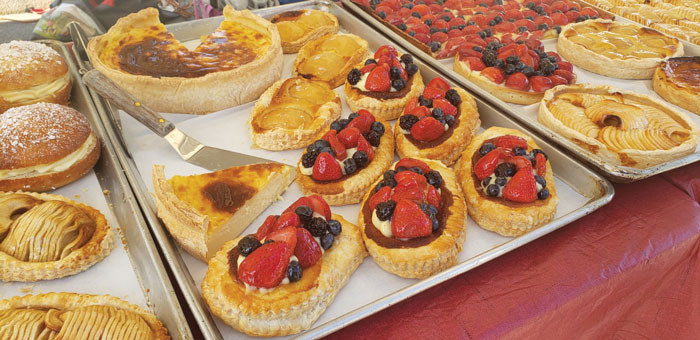 Le Petit Pain
Le Petit Pain translates to "Little Bread" or pistolette in French, a light and fluffy homemade roll used for sandwiches and snacks, and that is exactly what this delightful Authentic French Bakery showcases with delicious ease. Although the bakery is located in Boynton Beach, Le Petit Pain has a large presence every Sunday at The Gardens Green Market.
The owners are originally from Paris and offer fresh breads, sandwiches, croissants, pastries and seven different quiche varieties with vegetarian options for all. The array of vibrantly colored fruit tartelettes, glazed éclairs and the ever delicate mille-feuille are a beautiful sight, but be careful not to let the sweets distract you from the star of the show–the Croque Monsieur!
This treat is a French-originated grilled ham and cheese sandwich, and Le Petit Pain has elevated it to a whole new level. Substituting the traditionally used bread for a buttery, crisp and flaky croissant, this mouth-watering sandwich is layered with toasted ham, smooth and nutty gruyere cheese, a touch of dijon mustard and the showstopper, béchamel sauce–pure, cheesy, unadulterated indulgence. This gem will quite literally melt in your mouth. There is no faking the quality of these authentic dishes, as all of the ingredients are imported from France. Visiting Le Petit Pain's booth has become a Sunday tradition in my household, and we look forward to every rich mouthful each week. Vive la France!
Danielle's Choice: Le Bouchon (Palm Beach Gardens)
Le Bouchon is situated in Downtown at the Gardens, Palm Beach Gardens. The chef/owner Brice Riou is originally from Lyon, France, which is recognized as being one of the world's capitals of gastronomy. The name "bouchon" is given to restaurants in Lyon which serve wholesome, traditional food.
Arriving for dinner was like stepping into a cozy French restaurant in the heart of Lyon. With the smell of shallots filling the air and the clink of wine glasses we quickly dashed to our seats in anticipation. For our hors d'oeuvres, we had the French onion soup gratinée, which was full of flavor without a lingering or strong aftertaste.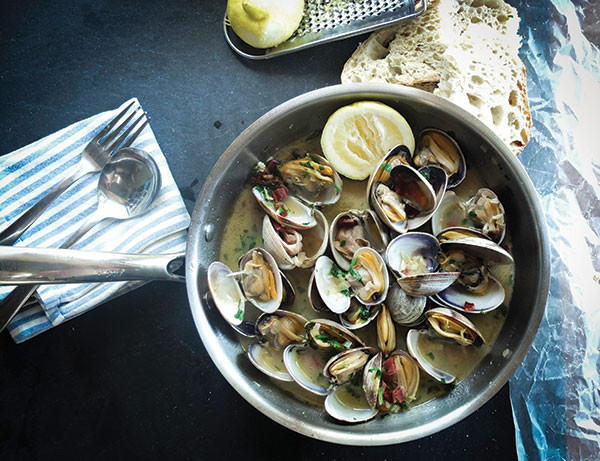 Le Bouchon
Margo followed this with her main, an 8 oz. skirt steak a l'échalote with a side salad. She described the steak as smooth and tender and cutting like butter, with the spices bringing out the natural juicy flavors. I ordered the moules marinières, which tasted ocean fresh with the addition of white wine and hint of parsley supporting their delicate flavor wonderfully. I switched out the regular fries for some truffle oil and parmesan fries, which added a depth of flavor.
For our desserts we had the vanilla crème brûlée which was rich and creamy and a crêpe suzette which was flambé with Grand Marnier tasting decadent and delectable. The ambience and food of Le Bouchon, is a petite slice of unexpected yummy. Visitors will not be lost in translation with an easy to navigate menu and even though the food is not geared towards vegetarians, there are options, like a goat cheese and roasted pepper quiche. The strengths here are the simple fresh ingredients, the ambience and the reasonably priced menu.
Riou previously owned a successful restaurant in Lyon, France before making the move with his family to the U.S. and our taste buds and craving for all things French are very happy that he did.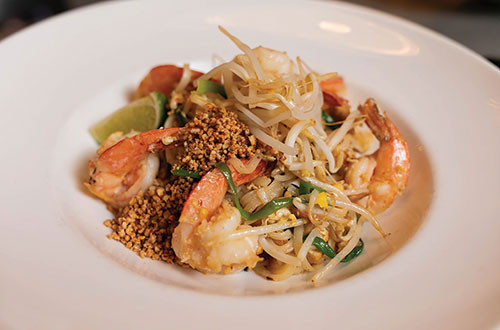 Barcello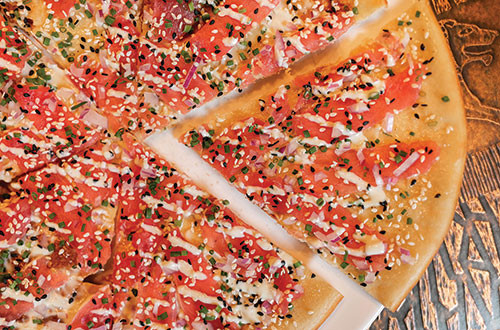 Barcello (North Palm Beach)
The décor of this restaurant will be the first thing that strikes you. The setting changes depending on where in the restaurant you dine. With each and every corner, impeccably decorated and welcoming. Robert, the owner and head chef, greeted my dinner companion and me.
What an eclectic and beautiful meal was served us. The starter was Blistered Shishito Peppers one in twenty are very hot. We got lucky! From there we had the Lamb Lollipop appetizer, which was an explosion of flavor in the mouth. The best was yet to come with their Tuna Sashimi Pizza and then Pad-Thai. The entrees included a Berkshire Double Cut Pork Chop and for my guest Braised Short Ribs. Each dish was very unique and prepared beautifully.
I highly recommend Barcello when you are looking for a unique exciting menu!
So farewell France, it was a beautiful and exciting time for us all. Jusqu'à ce que nous nous revoyions!
Until the next issue where we will be on the hunt for the best Asian Fusion. Happy tastings! – Tawny

Tawny's Tastes: French Restaurants