Protecting the Future of Florida Wildlife
Protecting the Future of Florida Wildlife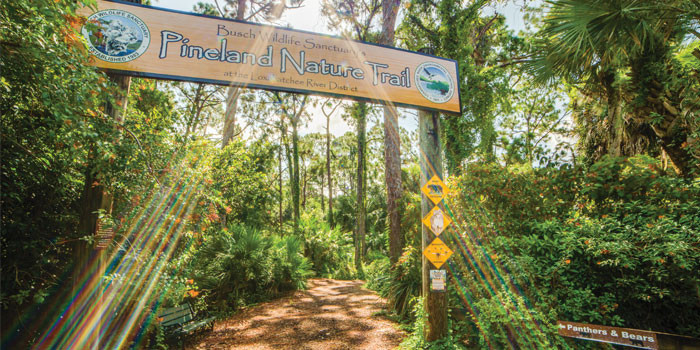 Florida Coast Magazine – Winter Issue 2020 – Florida is home to a thriving ecosystem teeming with critters that come in all shapes and sizes. We are lucky to share this land with such a multitude of different animals. With contrasting landscapes, comes a diverse population of mammals, reptiles, birds, and so on. As construction and land development continue to transpire on a daily basis, our natural areas are shrinking at a rapid rate. Every so often people come across these Florida natives who have sadly been injured in one way or another either by natural causes or due to human interference. Fortunately for these animals, there is a place they can receive hospitality, treatment, and possibly even a new home.
Serving a wide variety of animals at its current location since 1997, Busch Wildlife Sanctuary has become a well-known haven for injured creatures both big and small. From intake to residency, the animals here are treated with top-notch care and supervision. School field trips, families, and avid animal lovers all hail to the Sanctuary to marvel at some of Florida's favorite native inhabitants. For many people, visiting Busch Wildlife is the only chance to see these beautiful creatures up close without risk of harm for either party. From otters, to bears, to birds of prey, and an array of snakes, there is something for everyone to enjoy. Thanks to the passionate, hard-working staff at Busch Wildlife, countless animals have been saved, rehabilitated, and even re-released back into the wild.
Amy Kight, Executive Director since October 2017, has been with Busch Wildlife for 15 years working in various positions. Amy began as a volunteer coordinator, moved on to the education department, then to the animal care department, until eventually being named the interim director in March 2017. Kight holds an Associate's Degree in Veterinary Technology as well as a Bachelor's Degree in Psychology. Amy happily states, "I started volunteering with animals when I was six years old. It's all I know! Everything else has just been a natural progression."
Busch Wildlife Sanctuary hosts nearly 125,000 visitors annually and has even been named the Number One ecotourism destination in Jupiter, Florida by Trip Advisor. To date, there are approximately 200 permanent animals on site at the sanctuary. These precious creatures are unable to be released back into their natural habitats for various mental and physical reasons. On average, Busch Wildlife treats nearly 5,000 patients each year and an estimated 90 percent of these injuries are due to human-related incidents.
The Sanctuary does not charge an admission fee to guests and relies solely on private donations, grants, and proceeds from events. Recently, The Cultural Council of Palm Beach County has designated "eco-grants" to Busch Wildlife to use towards marketing and bringing tourists into Palm Beach County. There are currently 23 staff members working various jobs at the Sanctuary. Thanks to these benevolent men and women, the animals receive the treatment and attentive care they require and we humans are privileged to come visit this special place.
Volunteer groups are a major support system for the Sanctuary. Visitors in town for season and students coming for community service hours are just a couple of examples of individuals who give their time to help around the facility. There are also youth programs available at certain times of the year. The "Mini Naturalist Program" is for children from ages five to eight to learn about nature and conservation through games, arts & crafts, and animal interaction. The "Junior Naturalist Program" for those between nine and 14 years old, is an educational resource to learn about the animals, get trained to manage the wildlife enclosures, and get hands-on experience around the premises.
Not too far away from the Sanctuary, on the property that many locals remember as Burt Reynolds's Ranch, Amy and her husband Paul keep and tend to animals on their private property that are not native to Florida. Some of these "personal pets" include two Kinkajous, an African Crested Porcupine, and three African Spur Thigh Tortoises. The couple pays for the animals' upkeep and housing out of their own pockets. Amy remarks, "We had no idea of the history of this property when we first became interested. We just saw a really unique house with a small footprint on the property. Therefore, it would leave the most land for our rescue animals to have the best life we can offer them." It brings back memories of the Swiss Family Robinson living in their treehouse while tending to their animal family. But to Amy and Paul, it's just another day in paradise
The importance of protecting and conserving our area's wildlife and ecosystem is often swept under the rug. Thanks to places like Busch Wildlife Sanctuary, animals in need can receive the treatment they require and hopefully be returned to their natural habitat one day. Let's do our part in taking care of our land and its inhabitants. It is our duty.

---
See the Business Behind the Story

Parks
Jupiter, Florida, United States | 561-575-3399, email us
Protecting the Future of Florida Wildlife