As Good As It Gets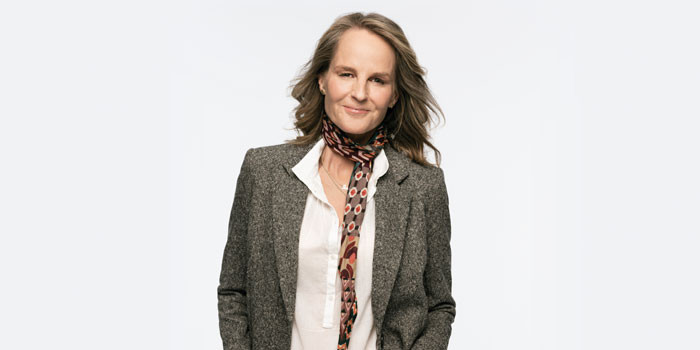 Florida Coast Magazine – Winter Issue 2020 – There's a good reason why many Hollywood stars vacation or actually live in Palm Beach County. With its year round sunshine, fabulous beaches, galleries, museums, and five star restaurants, the place is definitely star worthy. There is, however, one Hollywood star who has never visited the area before. We had the honor to interview Helen Hunt to find out what was bringing her to the Palm Beaches for the first time and to give her a few bits of local advice on the places she must visit during her stay.
Helen Hunt has enjoyed a distinguished career, not only as an award-winning actress, but as an accomplished writer, director, and producer. She's an incredibly diverse actress, whose work has spanned across theater, television, and film. Many remember her best as the character Jamie Buchman from the hit television series Mad About You. Helen collected four Emmy Awards, four Golden Globe Awards (three as lead actress and one as Producer for Best Comedy), and a Screen Actors Guild Award for this role alone.
Born in 1963 in Culver City, California, Helen comes from a line of artists—with her grandmother being a voice coach, her mother, Jane, was a photographer and her father, Gordon Hunt, was a theater and film actor, as well as an acting coach. We asked Helen who her greatest influence was when it came to her career and she didn't hesitate, "My father has been the greatest influence in my life. His dedication to kindness, art, and the art of reinventing oneself has been the great gift of my life."
She started acting professionally at the tender age of nine appearing in shows like The Swiss Family Robinson and The Mary Tyler Moore Show. When we quizzed her if there was any other occupation she may have chosen, she stated, "I never considered another profession seriously because I started working at this one at a young age. Periods of not working helped force me into writing two movies and developing a new TV series that I am preparing for now. Directing came out of my desire to have my hands on every part of the stories I wrote. Luckily I have been kept busy with this profession and haven't had time to pick another."
One of the highlights of her well-decorated career was her Oscar win in 1998 for Best Actress for her role in As Good As It Gets. When asked how it felt when her name was called, Helen recalls, "It was an out-of-body experience and I'm lucky I got to experience it."
We were interested in where she keeps her Oscar now. She says, "On a shelf above my desk. If we have an earthquake it's possible it will kill me." Throughout the interview, there is a sense of someone who really relishes her craft and its process with a dry sense of humor and her inquisitive mind projecting through the characters she plays. Helen is well established in the theater and has played some classic roles to critical acclaim. Her Broadway credits include Twelfth Night, playing the character, Viola and Life X Three. Other theater credits are Taming of the Shrew, Been Taken, Much Ado About Nothing playing the part of Beatrice, The Guy and Methusalem, The Value of Names, and Love Letters.
Helen's talent and diversity have kept her working throughout her career. The Miracle Season, based on an inspirational true story of a West High School girls volleyball team, portrays Helen as the team's coach. She is their guidance and support following the death of the team's star player and encourages them to try and win the state championship. She has starred in numerous movies with her most recent being I See You and Netflix's Candy Jar. She is currently in production on the films The Night Clerk, Delfino's Journey and A Patriot. Her recent television roles include World on Fire and Shots Fired. Her additional television credits include the critically acclaimed HBO miniseries, Empire Falls.
The Florida Coast team was lucky enough to watch the BBC drama, World on Fire before its release in the U.S., where it will premiere on April 5th, 2020 on PBS. It's a World War II drama, telling the veiled stories of normal people from Great Britain, France, Germany, and Poland whose lives were severely disrupted by the war. Hunt plays an American journalist, who finds herself caught up in the war. Her character is driven by delivering the truth to the rest of the world, especially the U.S. Hunt's performance is simply exquisite, believable, and emotionally charged without gushing, leaving the audience intrigued and keen to know her relationships with other characters. This is a must-see mini series with an international cast and top-notch performances.
Hunt also loves to direct with these skills blossoming as this area of her career expands. Her recent directing work includes episodes of The Politician, American Housewife, Feud:Bette and Joan, Life in Pieces, and This Is Us. She has additionally directed an episode of the reboot of the sitcom, Mad About You.
The first six episodes of the reboot, which shows us the ongoing escapades of Paul and Jamie Buchman, began airing on November 20, 2019, with another six episodes appearing December 18, 2019. The original series ran for seven seasons, from 1992-1999, with almost all the episodes taking place in the character's one-bedroom apartment in Greenwich Village in New York City.
Paul Reiser stars with Hunt once again and audiences will be thrilled to hear that the chemistry between these two actors is as strong as ever. The new episodes show the characters as empty-nesters after dropping their unruly daughter Mabel off at college. With a few familiar characters reprising their roles, like Paul's cousin, Ira, and his best friend, Mark, fans will be glued to the screen.
Asking Hunt why they agreed to do a reboot, she didn't hesitate, "After years of saying we'd never do it, we realized that in the lives of these fictional characters, now would be the time their daughter would leave home. This made me feel we'd have rich, funny stories to tell. We wanted to explore that moment where you turn to your partner and realize, 'Oh my God! It's just you and me. Now what?' This made us feel confident we could find 12 fun stories to write."
Hunt sounds enthusiastic about bringing the character, Jaime, back to the screen and explains to us the background of the reprised characters. "They have spent a lot of time, money, and energy raising their daughter. They've depleted much of their bank account sending their kid to a good college. Paul's career is no longer in the young-hopeful stage and is now more in the stay-afloat stage. Jamie, after taking a deep dive into despair and hot-flashes, surfaces to find a new career that brings her lots of joy."
The character development with their history and relationship progression is like a well oiled machine; With each glance and interaction familiar to that of a 20-year marriage. We asked Hunt if she was anything like her onscreen character, Jaime Buchman, "I used to say I'm not like this character. I somehow thought it meant I had accomplished less as an actor if I said she was like me. In truth, she's A LOT like me."
There is an obvious fan base for Mad About You who will watch the reboot out of loyalty and love for the characters. We were interested to know how the younger generation may respond to the new release so we asked Hunt how she thought they may react. "Abby Quinn plays college freshman Mabel Buchman and she's spectacular, so I have a good feeling that an audience her age will get a big kick out of this show."
Between directing, acting, and writing, Hunt is a very busy lady. We asked her what she did when she does have any spare time? "I see my daughter as much as she'll let me. I write. I see movies. I try to enjoy every moment as best I can."
She also helps support the charities close to her heart with one of these charities, Hearing the Ovarian Cancer Whisper (H.O.W.), bringing her to The Flagler Museum in Palm Beach on Monday, January 27, 2020. Helen ended the interview by telling us "I haven't been to Palm Beach before and I'm so excited to be there."
H.O.W. is a small charity with grand ambitions and its support is growing quickly. Started by Jacqueline "Jacquie" Liggett, who was an energetic and dynamic woman. Her days were filled with family, friends, exercise, and volunteer work for her church and many local charities. Jacquie and her veterinarian husband, Jack Liggett, were living a fulfilling life in Palm Beach when she was diagnosed with ovarian cancer in August 2000.
After the initial shock of receiving such devastating news, Jacquie went inside herself to find the strength and determination she would need to start her battle with this disease. She took an active role in her care and researched ovarian cancer so she could be better informed when making treatment decisions.
Jacquie decided that through her struggles, there had to be some benefit for other women. She called together a group of her closest friends to talk about raising funds for ovarian cancer research and education. She said, "I want to do something for other people. Maybe it will help me, maybe it won't, but my work will help others." With the aid of Palm Healthcare Foundation, H.O.W. (Hearing the Ovarian Cancer Whisper) was formed.
Jacquie lived for seven years after her diagnosis. She died in August 2007, however, the organization she founded—H.O.W.—is continuing her mission to help others through research, education, and financial assistance to women with ovarian cancer.
H.O.W. raises money to support basic or translational research in ovarian cancer through the Jacquie Liggett Research Fellowship. Women with ovarian cancer experiencing financial need are helped through the Jacquie Liggett Angel Fund. H.O.W. is dedicated to promoting awareness and recent advances in ovarian cancer by presenting educational programs to women primarily in our area. H.O.W. also provides scholarships to Florida medical students interested in gynecologic oncology by working with a gynecologic oncologist during their elective time in medical school through the Dr. Robert C. Knapp Medical Student Award.
Helen Hunt will be the guest speaker at the charity's 19th Annual Time is of the Essence Luncheon, answering questions from best-selling author, Lee Woodruff, about her stellar career in movies and television and her advocacy regarding women's health. The chairwomen for this luncheon are Mary Cirillo-Goldberg, and Ellen Sosnow, and Honorary Chair is Valerie Goldfein.
Jennifer McGrath, the executive director for H.O.W stated,"We could not be more thrilled to have Helen Hunt as our featured speaker this year. I know our guests will enjoy hearing about her career as well her strong belief of women helping women!"
Tickets to the Time is of the Essence Luncheon are $375 each. For more information or to request an invitation, please call H.O.W. at (561) 406.2109 or visit www.howflorida.org.