Golf's Favorite Artist Could Be Yours Too
Golf's Favorite Artist Could Be Yours Too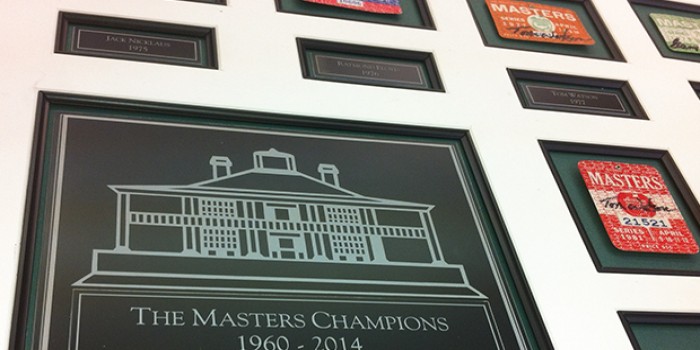 "Pursue what you love, what you are passionate about. Don't let somebody else dictate your life's path." – Jack Nicklaus

JUPITER, FL – March 3, 2017 –The passionate pursuit of excellence. Whether it is custom framing, engraving, hand-drawn portraits, editing damaged photos, curating installations, or researching and archiving historical documents and photos for many of the Golf Clubs in Palm Beach County – the passionate pursuit of excellence defines the career of Lisa Wood, President and Owner of Artistic Dimensions in Jupiter, Florida.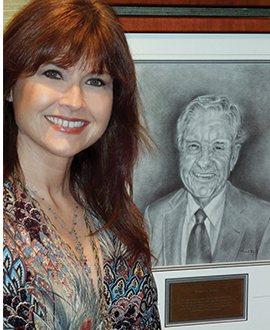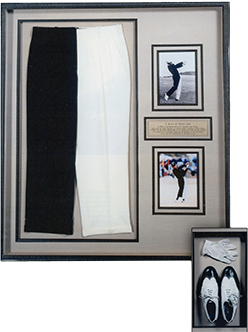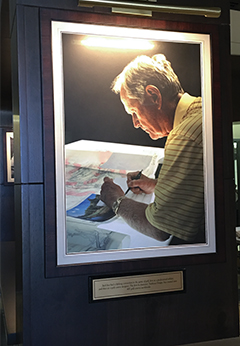 "I have drawn portraits for almost as long as I can remember," says Lisa. "My mother was an artist, so I grew up in an art-filled home. But golf has shaped my professional career from the beginning, in that my first connection with golf was made with the Nicklaus family. I framed a series of pictures from each of Jack Nicklaus' major wins along with engraved plaques displaying each photo's corresponding quote. These were all individually mounted and hung on the walls of Bear Lakes Golf & Country Club in honor of his 55th birthday celebration. Meeting him and the Nicklaus family, and seeing their reactions to what was at the time my first major installation, was amazing. At that moment, I knew my life was about to change. It was as if I had just entered the school of golf and all that I ever wanted to know about the game and the players took all of my attention."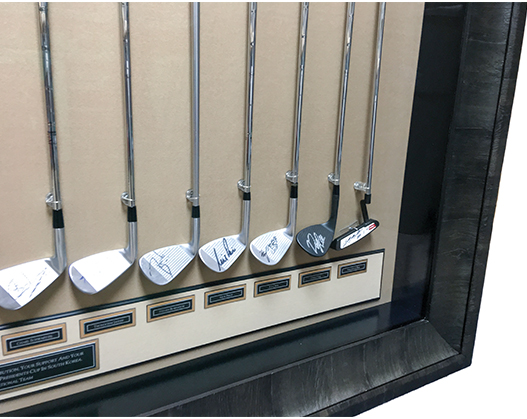 And change it did. Lisa's dedication to excellence – be it in her frames, her hand-drawn portraits, or her pursuit of knowledge – led to an unforeseen career path centered on the art of golf – and the game has led her to many other industries due to the business that takes place on a golf course.
Impressed by her talent, the Nicklaus family took Lisa under their wings, asking her to help decorate their offices and their homes, and later The Nicklaus Children's Hospital, among other things. This further deepened her artistic ties to the world of golf, as she explains, "In 1994, I became involved with the Player family and again found myself surrounded by the rich history of the game of golf and the special connection that it has to so many different walks of life. Its reach is global in scale."
It was through these relationships that Lisa became involved in producing a Wall of Fame to showcase her hand-drawn portraits of various members of the Quail Ridge Golf Club's Society of Seniors (SOS). Founded in 1983, the 1,008-member SOS includes every living U.S. Senior Amateur Champion, former U.S. Amateur, U.S. Mid-Amateur, British Amateur, and British Senior Amateur Champion, as well as 14 current Walker Cup players and captains. The SOS has a proud history at Quail Ridge and Lisa's artistic skills are capturing it as never before. In addition to the portraits, she is presently helping Quail Ridge archive, and subsequently install, the Club's historic artwork and memorabilia, designed to be featured in their new Clubhouse, which is scheduled for a Grand Re-Opening in late summer of 2017.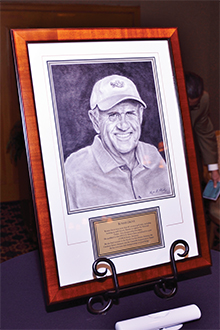 As Kevin Hammer, Quail Ridge's Secretary and Treasurer, says, "Lisa has worked with us to tell our Club's unique history by resurrecting it through a variety of media, including memorabilia from our members. She appreciates the history of the Clubs and realizes that if a Club doesn't work at maintaining it's history, it will be lost. She also realizes that every Club has it's own unique story and she helps tell that story and keeps it alive. She has become an unofficial historian through her work with the Clubs, including Quail Ridge and Seminole, and of course, with the Nicklaus and Player families. Lisa herself is really unique especially in the fact that she is a woman who doesn't play a lot of golf and yet she is probably one of the foremost golf experts in Palm Beach County. She has such passion and a great energy for these projects. People just love working with her because her enthusiasm is engaging. It is just a joy to work with someone with her passion. She makes it fun."
Making it fun is critical when a large part of that documentation includes asking people to sit for long periods or to find the perfect photo of themselves, or asking pertinent questions that lead her customers to consider certain moments that add to the quality of her results in order for her to sketch their portrait. Lisa's connection to and with her subjects is especially evident in the portraits of the Society of Seniors on display at Quail Ridge.
Marc Player, Gary Player's son, and the CEO of the Gary Player Group agrees that working with Lisa transcends "framing projects." Player says, "I have worked with Lisa Wood for over 20 years now and her genuine interest in the significance of what she was framing always took the quality of her work to the next level. Her understanding of the subject further aided her goals as she learned to interpret our style and create special products on time, on budget, and to the highest standards."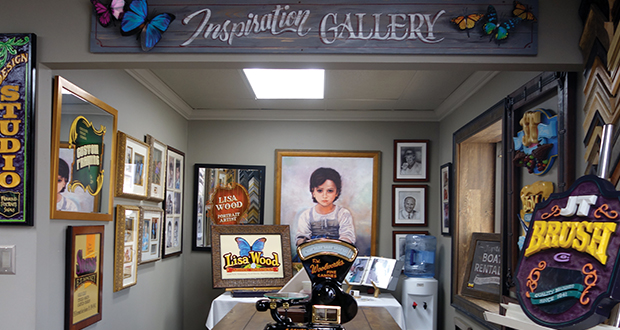 Lisa cites her golf history studies as currently having led her to work with "the wonderful history found at Seminole Golf Club, where I find myself in the depths of an era in golf where the likes of E.F. Hutton and Donald Ross would build and design a golf course that would become one of the most unique Clubs in the nation." She continues, "Living in this area has also led to me producing framed pieces for many other Clubs and golfers here and across the globe. Coincidentally, Mr. Greg Norman (the subject of our cover story) being one of them."
Those framed pieces include portraits so life-like they almost speak, as well as the clubs that won tournaments, ribbons, priceless memories that speak to a lifetime of achievement. "I like to say that I can find a way to frame anything," Lisa says. "The excitement is in the challenge. Each piece that I've framed tells a story – whether it is something that I have drawn or a memento that a client has provided – I learn so much with each piece." Her passion is truly apparent, in her voice and in her work.
For more information, contact Artistic Dimensions: Lisa Wood (561) 745-8806, artgirlinjupiter@aol.com, www.artgirlinjupiter.com

•
Photos courtesy of Lisa Wood

Contact Details
Name: Lisa Wood
Email: Email Us
Phone No: (561) 745-8806
Golf's Favorite Artist Could Be Yours Too