Pieces of Me
Pieces of Me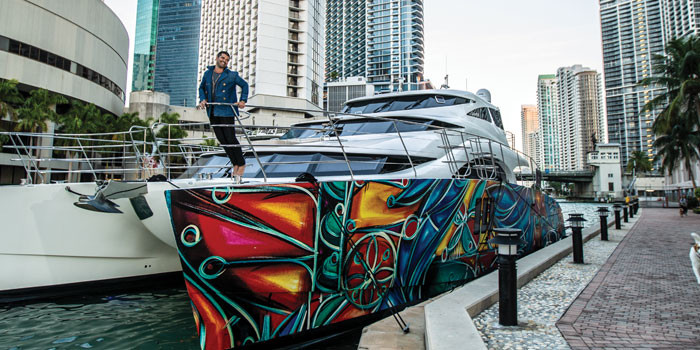 Florida Coast Magazine – Winter Issue 2020 – Celebrating one of the world's most prestigious art events, Sunreef Yachts creatively collaborated with top Miami based artist, Alexander Mijares for Art Basel on December 4th through the 8th in Miami, Florida. The 70 Sunreef Power Catamaran was showcased at Fontainebleau Marina in Miami Beach featuring a vibrantly stunning hull wrap designed by the artist, Mijares. A celebration for this dynamic collaboration began at the Mijares Gallery in Wynwood and it was followed by a private champagne cruise in Brickell Bay aboard the now legendary and spectacular custom-made catamaran which provided the canvas for Pieces of Me. Mijares states, "It is a painting inspired by feeling protected, as if a guardian angel is with me along my journey," and a great journey it's sure to be for anyone cruising on this artistically stunning and bespoke Sunreef Power Catamaran.
Visionary Artist: Alexander Mijares
Alexander Mijares, a Miami-born artist, brings a colorful perspective to all he touches. A self-taught artist of Cuban and Spanish descent, he stays close to his roots and creates pieces which are not only rich in color, but rich in culture. Both Forbes and Elite Daily named Mijares "One of the Top 10 Most Influential Artists" in the US and he was also ranked in the "Top Up-and-Coming South Florida Visual Artist" by the Miami Herald and CBS along with numerous other accolades in major magazine publications across the globe. He has been recognized nationally and internationally and he has attracted the attention of some of the most discerning art collectors in the world. His youthful and vivacious talent has been sought out by many celebrities for whom he has created one of a kind pieces.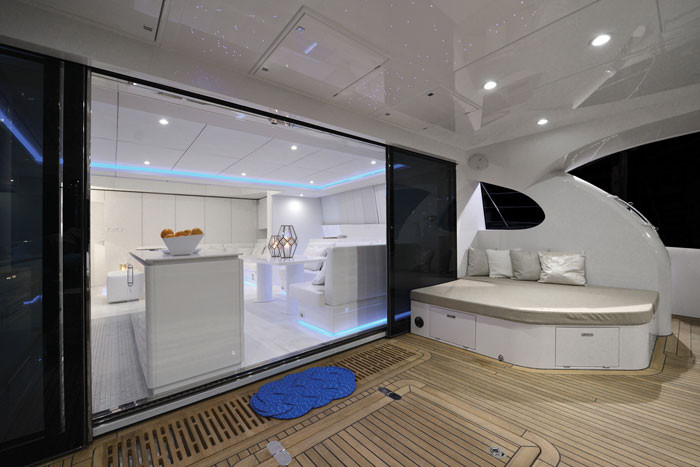 Visionary Yacht Builder: Sunreef Yachts
Considered to be the world's leading designer and manufacturer of custom-made luxury sailing and power multihulls, Sunreef Yachts was established in the port city of Gdansk, Poland. The company's founder and CEO, Frances Lapp is the driving force and creative genius behind the luxury shipyard. The team is comprised of naval architects, engineers, and interior designers. They possess the knowledge, experience, vision, and technical background necessary to build some of the most unique catamarans and superyacht catamarans in the world. To add to their impressive background, the Sunreef shipyard introduced the yachting world to groundbreaking solutions including the world's first flybridge on a luxury catamaran, the first double deck power catamaran with oceanic range, the first double deck sailing catamaran, the first carbon built catamaran-superyacht, and the first folding mast on a catamaran-superyacht. Sunreef Yachts has sales offices located in Poland, Dubai, Montenegro, and Miami, Florida.
When two creative visionaries combined their talents, it was no surprise the quest for a unique custom built vessel caused a great deal of excitement at this year's Art Basel.



Pieces of Me