Palm Beach Chic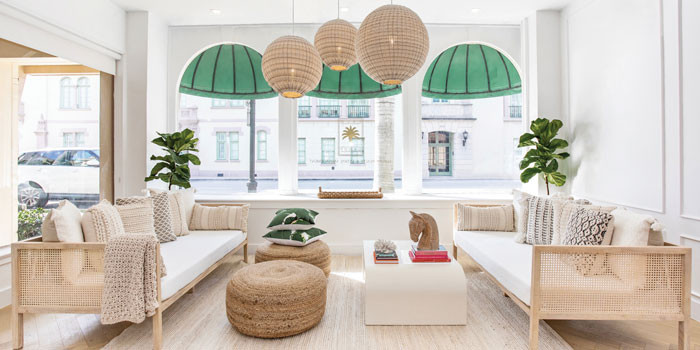 Florida Coast Magazine – Winter Issue 2020 – The Palm Group, Palm Beach's newest resident of County Road, opened its doors this season to coastal casual design inspired by the picturesque island itself. Brimming with natural light and neutral palettes, this luxury real estate office dressed floor to ceiling with chic and iconic island staples, creates a relaxing yet refined retreat for their clients.
BANANA LEAF PRINTS Throw pillows are an easy, inexpensive, and noncommittal approach to adding color and intrigue to a space. This dapper Dorothy Draper banana leaf design is available as wallpaper or fabric, to transform any room into an island oasis. Seen at landmark destinations like The Beverly Hills Hotel, The Greenbrier, and The Colony Hotel, this vivid print is quintessential Palm Beach. Carleton Varney, Brazilliance Throw Pillow Cover, $139, www.carletonvarney.com
WHEATHERED WICKER AND RATTAN Serena and Lily, also coming to County Road this winter, captures the coastal essence of the island by blending classic pieces and textures with modern design. Blonde oak woods, warm woven rattan, and sunbleached wicker comprise their serene coastal collection. For a more dramatic effect, cluster and stagger light pendants of varying heights and sizes. Serena and Lily, $249-$498, P a c i f i c a O u t d o o r P e n d a n t , www.serenaandlily.com
INTRIGUING COFFEE TABLE BOOKS Coffee table books integrate color, create height and a base for stacking accessories, add interest and conversation for guests, and entertainment for all. When choosing books, look for topics that are relevant, colors that are cohesive with the decor, and sizes that fit the space. Assouline, In The Spirit of Palm Beach, Palm Beach: An Architectural Heritage

HAND KNOTTED HEIRLOOMS In addition to a personal and tailored customer experience, Heir Looms Vintage Rugs delivers a unique aesthetic and story with each of their hand-knotted rugs. As much of a cultural artifact as a decorative accent, these masterful rugs bring character, charm, and decades of history to every room they adorn. Heir Loom Vintage Rugs, Vintage Turkish Herki Rug, Price Varies by Piece, www.heirlooms.co
Who is Leah Logue? As a second generation South Floridian, Leah Logue was born and raised in Palm Beach County, growing up on Florida sunshine and vitamin sea. Those South Florida roots influenced her "Pop of Coastal" design aesthetic, merging modern decor with coastal accents. After graduating from The University of Florida with a Bachelor of Arts Degree, she began designing and renovating projects throughout the Southeast, and is currently the owner and lead designer of Logue Decorators. With an extensive knowledge of construction coupled with a vetted team of craftsman, she began "flipping" real estate, and has a myriad of properties under her metaphorical tool belt. From Key West to West Indies designs, follow her journey online @lifeinlogue.