Joan Thomson: Waterfront Properties Matriarch Spotlight
Joan Thomson: Waterfront Properties Matriarch Spotlight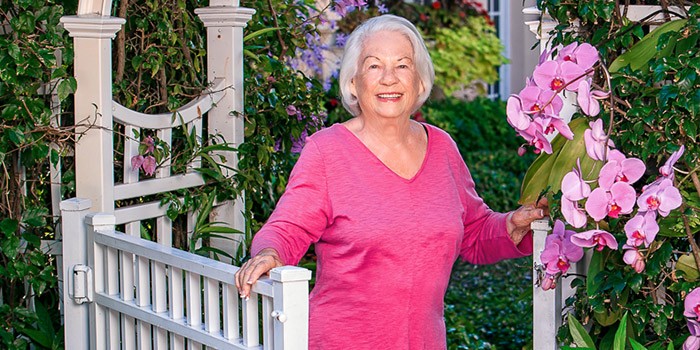 JUPITER, FL – May 3, 2018 – Whether her childhood garden, a powerhouse female-owned business, or the expertise of the agents she now mentors, cultivating organic growth has always been Joan Thomson's thing.

When the Founder and matriarch of South Florida real estate juggernaut Waterfront Properties was ten years old, she helped her dad plant vegetables. Joan sold any extra produce in the neighborhood and was allowed to keep the profits. This would be the first of several inspired entrepreneurial moves on her part.
Having taught school for a time, one of her best moves was obtaining her real estate license in 1969, at age 37. Her seemingly unrelated teaching experience played a pivotal role in Joan's early success, and in shaping Waterfront Properties' approach to luxury real estate sales. Joan says thinking like a teacher led her to "do real estate in a different and quite profitable way."
Just as she did when teaching, Joan focused on mastering the subject matter. "I didn't want to show properties in unfamiliar areas, so I focused exclusively on north county waterfront. I studied it until I knew it." Her best move was renaming the company Waterfront Properties, leaving no doubt about her commitment. Becoming even more hyper-specialized, from 1970 to 2010, Joan concentrated exclusively on Jupiter Island estates.
As Waterfront Properties grew and hired new agents, they too specialized in specific geographic areas and communities. Known throughout the industry as "farming," this term harkens back to Joan's earliest days gardening with her father. "The seeds are our knowledge of the markets and their properties. The more we grow that knowledge, the better equipped we are to support sellers and buyers." You reap what you sow.
Today, Waterfront Properties employs nearly 100 agents, working from strategically located offices in Stuart, Jupiter, North Palm Beach, Palm Beach and Delray Beach, Florida. About 20% of these agents remain hyper-specialized in territories from Boca Raton to Stuart. Waterfront's masterful use of Internet technology allows agents direct contact with thousands of prospective buyers, necessitating dozens of professional agents – undistracted by the demands of a dedicated territory – to follow up on the sheer volume of buyer leads Waterfront receives on a near hourly basis. This balancing of resources to meet all the needs of buyers and sellers formed the core of what has become known as the "Waterfront Way."
Joan's son Rob Thomson joined the company in the mid 80s. Joan credits Rob's gifts as a teacher and marketer as being key to Waterfront's rise. "He's great at training and thinking outside the box." The 'box' is the set of rules the real estate industry has doggedly stood by out of loyalty to "tradition." Rob doesn't do things the way they've always been done.
In 2010, Joan stepped away from Waterfront to care for Rob's father during his fight with cancer. She turned over the day-to-day management of the company to Rob and, in 2017, made him the sole owner.
Now at 86, and relieved of the responsibilities of daily oversight, Joan is "down" to about 50 hours a week after decades of 70-and-80-hour workweeks. She's putting her newfound time to good use. In many ways she's back where she began, teaching. She's also freeing up Rob, allowing him to concentrate on marketing and technology.
Working with agents on contracts and negotiations for years, recently Joan began closely mentoring about a dozen agents. "It would be a shame not to share the knowledge I gained over 40 years in the business," she said. "Rob does an incredible job supplying our agents with the tools to be successful. I try to help them fine-tune their contract negotiating skills and all the other aspects of working through the transaction. This helps Rob – he doesn't need to do it – but it really helps me, too. I enjoy doing it."
She should. Joan Thomson is helping people grow.

---
See the Business Behind the Story

Over the past thirty years, Waterfront Properties has built a dedicated service organization committed to assisting you when you are selling or buying on the water or in club communities.
Jupiter, Florida, United States | 561.746.7272, email us
Joan Thomson: Waterfront Properties Matriarch Spotlight