Palm Beach International Boat Show Charitable Campaign with Bennett Auto Supply Raises More Than $35,000
Palm Beach International Boat Show Charitable Campaign with Bennett Auto Supply Raises More Than $35,000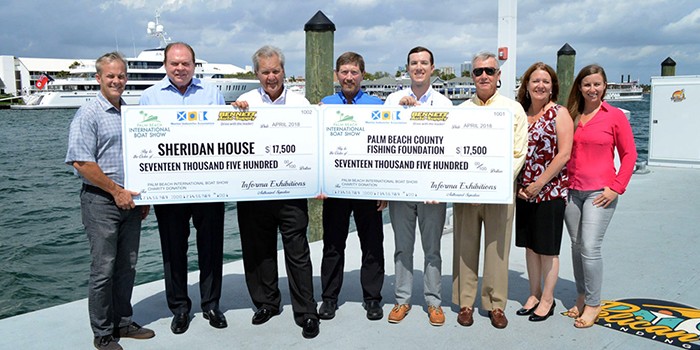 WEST PALM BEACH, FL – May 4, 2018 – Fans of the Palm Beach International Boat Show raised more than $35,000 for the Palm Beach County Fishing Foundation and Sheridan House Family Ministries through a charitable campaign in collaboration with Bennett Auto Supply, Informa Exhibitions and the Marine Industries Association of Palm Beach County.
Fans who purchased a $24 boat show ticket during the month of March at any local Bennett Auto Supply received a second ticket free, with all proceeds donated to the two charities. Each organization received a total of $17,514.
"Knowing that the Palm Beach International Boat Show is successful thanks to the support of our local community, it's important to us that we serve as community stewards and do our part to make South Florida a better place," said Mary Bender, vice president of marketing at Informa, the company that manages and produces the boat show. "We are extremely grateful for our partnership with Bennett Auto Supply and the MIAPBC in supporting two very worthwhile organizations."
The Palm Beach County Fishing Foundation is the charitable arm of the West Palm Beach Fishing Club, an organization that dates back to 1934. For the past 28 years, the Foundation has focused on educational and conservation initiatives, including marine biology scholarships, educational seminars, and advocating for fair and sustainable fishery management practices and habitat protection. The Foundation also coordinates blue water fishing excursions for veterans, donates rods and reels and other fishing gear to local youth-serving organizations, and annually hosts a special event - Kids' Fishing Day - that introduces hundreds of at-risk and special needs children to boating, fishing and marine conservation.
Founded in 1968, Sheridan House Family Ministries is a faith-based organization dedicated to serving the needs of children and families. The charity's programs include marriage and family seminars, services and support for single mothers, a counseling center, a residential program for middle-school aged children, and the website ParentingOnPurpose.com.
Bennett Auto Supply has partnered with the Marine Industries Association of Palm Beach County, which owns and presents the boat show, and Informa and its predecessor, Show Management, on charitable initiatives since 2008.
Contact Details
Name: Daniel Grant
Email: Email Us
Phone No: 954-776-1999
Palm Beach International Boat Show Charitable Campaign with Bennett Auto Supply Raises More Than $35,000