Emily Pantelides: A Storyteller Through and Through
Emily Pantelides: A Storyteller Through and Through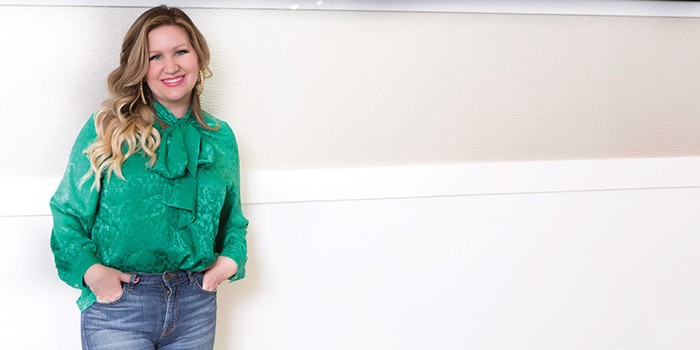 JUPITER, FL – April 30, 2018 – The essence of a great communicator is to be able to convey news, ideas, and stories in a swift and eloquent manner­—this evenly applies to those who deliver this information from the front lines and those who stand behind the scenes.
If someone had told Emily Pantelides 15 years ago that instead of reporting news stories on camera, she'd be helping prominent townspeople and companies have their story heard from out of the public's view, she would've given them a puzzled look. But after a long, decorated passage as a broadcaster for various stations, including our local WPEC-TV Channel 12, that's precisely the direction Emily took. Now, she heads up a successful public relations firm, Pantelides PR, which was recently voted in the "Top 16 PR Firms in West Palm Beach" by Expertise this year, and Emily was recently voted Young Professional of the Year by the Palm Beach Chamber of Commerce. She still focuses her energy on telling stories, although now they are delivered from a different angle.
"You make plans and God laughs at you," remarks Emily. "But somehow, I found a niche for myself."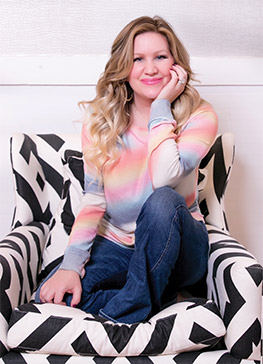 A God-loving, animal enthusiast with a passion for the communications field, Emily grew up far away from these shores near the birthplace of the Olympics: Athens, Greece. Ever since she can remember, she had a singular vision: To move to the U.S. and to become the best darn journalist around. At 17, she took that leap alongside her sister and her mother and landed in Tampa, Florida. From there, each move she made was based on inching closer to her goal.
"I was going to be an investigative reporter, there was no question in the matter," says Emily. "So I lied about my age to get an internship at a news station when I was in high school. When I was in college (at University of Florida), I said I had graduated when I hadn't just to get another internship! I did that just out of being incredibly focused on becoming what I wanted to be, and once I started working, I thought it was going to be what I did for my entire life."
After graduating with a BA in Broadcast Journalism and joining the workforce, Emily bounced around quite a bit. She worked as a reporter and news anchor at TV stations in Augusta, Georgia, Roanoke, Virginia, and Jacksonville, Florida before relocating to Palm Beach County, a place that "finally felt like home," according to Emily.
Eventually, reality struck. Emily wanted to start a family and felt that the hectic journalism life that made her start her day at 2:30 a.m. put up a bit of a roadblock to that end, so she devised a way to combine her expertise with the connections she had made along her 12-year news reporting career, which lead to the opening of her consulting firm in 2014. She is now a mother of two children and two rescue dogs—and she currently manages two offices, one in Jupiter (the hub) and one in West Palm Beach.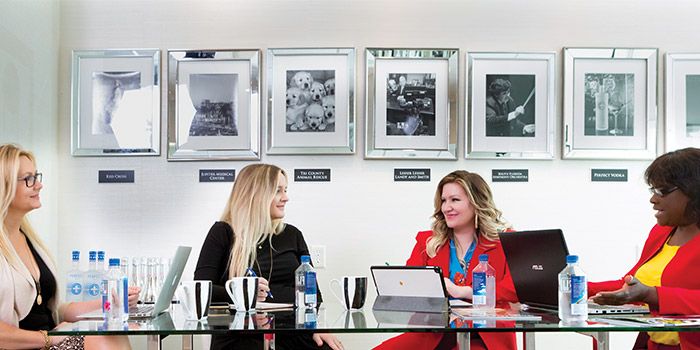 Emily's PR team focuses on finding ways to tell their customers' stories and tie them to events
"I fill a void in the community that other firms don't," frankly notes Emily. "I built a reputation as a reporter, so I have a direct connection to the media. I understand what journalists want out of a story, and that's why I've been successful. Clients come to us because we can offer an insider perspective."
Her impressive client list, which includes Jupiter Medical Center, Tri-County Animal Rescue, and Lesser Lesser Landy and Smith, validates this statement. But for Emily, it's not about catering to a certain profile, it's about showcasing the benevolence about each person and business that puts their faith in her and her team.
"It's so important to me that the public gets educated on the good things that our clients are doing for the community," points out Emily. "I'm constantly thinking of different channels and events where I can expose that."
While she utilizes her position and platform to help others, Emily is also intent on giving back. She currently serves on the board of directors for non-profit groups such as Jupiter Police Foundation, Quantum House, March of Dimes, and Boys and Girls Clubs, lending her time and proficiency. Emily also served as the chair for Big Dog Ranch's 2014 and 2015 signature event Wine Women & Shoes, where she helped raise more than $750,000 for animal welfare. In 2016, Emily chaired the ARC's Cowboy Ball to raise money for children and adults with developmental disabilities and she also chaired Quantum House's annual Sugar Plum Dreams Holiday Brunch in 2016 and 2017. In 2017, Emily chaired Habitat for Humanity's annual gala and helped the non-profit raise the most money in their gala history.
"I understand what journalists want out of a story, and that's why I've been successful."

Although her focus is mainly set on growing Pantelides PR and pushing the news for her clients, Emily didn't stray too far from the media and the cameras. She currently hosts two segments on Channel 12: Extraordinary People, which honors individuals that impact the community, and Spotlight On Business, which highlights thriving businesses in the area.
"I still love journalism and a part of me will always feel like a journalist," admits Emily. "But what I do now full-time is deeply fulfilling to me: I get to help people tell their story and I get to help people craft their message that is true of who they are and what they stand for. When that happens and I see it represented on TV, in a news article, or even through an event that we helped put together, it's almost as if there's nothing else."
For more information, visit www.pantelidespr.com.

Emily Pantelides: A Storyteller Through and Through