A Doggone Good Time
A Doggone Good Time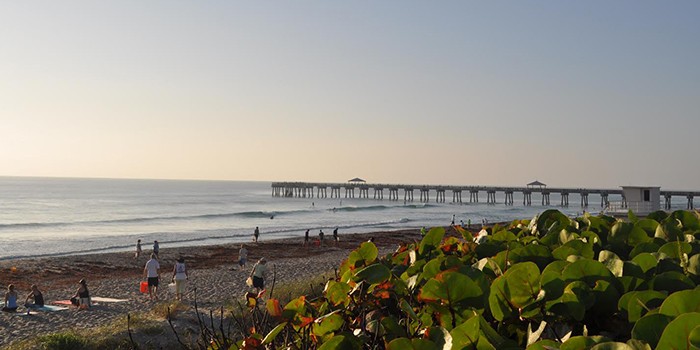 JUPITER, FL – May 1, 2018 – The Friends of Jupiter Beach (FJB) Food & Wine Festival is back! The annual event is a fundraising opportunity for the organization that will see patrons, businesses, and sponsors from over 37 zip codes in attendance. As FJB strives to support and maintain Jupiter's beaches through the efforts of volunteers, advocacy, and education in order to keep them clean and dog-friendly, 100 percent of the money raised at this event will go back to the organization to ensure the continuation of their diligent work.
This year's Food & Wine Festival will take place on May 19, 2018 from 2 p.m. to 5 p.m. (VIP opens at 1:30 p.m.) at the Plaza Down Under on the Riverwalk beneath the Indiantown Road Bridge and will be fun for the entire family—including their four-legged members (on leashes, of course). Over 30 local purveyors will be participating in this year's event, and will offer numerous delectable selections of food, wine, and beverages that are sure to vivify all taste buds in attendance. In addition to the wining and dining, The Samantha Russel Band will be serenading the crowds with live music beginning at 1:30 p.m.
For the first time ever, the participating restaurants will compete for the "People's Choice Festival Favorite" Cup for the Best Dish, which will be decided by attendees' votes. Award plaques will be given to the people's choice for the Best Wine and Best Beverage, in addition to the "Mayor and Councilmen's Choice" for Best Dish, which will be decided by the votes of Jupiter's Mayor, Todd Wodraska, and fellow councilmen. Voting will end at 4:30 p.m.
Karen Gray, executive director of FJB states, "The local restaurants are not only tying their name to the cause, but they will receive bragging rights around the County for winning the best dish from Jupiter's favorite food and wine festival."
The exclusive event will be selling 800 tickets, so be sure to purchase yours from their website until May 19th at 5 p.m. before they're all gone. General admission is $45 ($65 at the door) and VIP is $100. Be sure to come out and support FJB and their efforts that keep our scenic Jupiter beaches healthy while occupied by our beloved pups!
For more information on Friends of Jupiter Beach's Food and Wine Festival, go to www.fjbfoodandwine.org.

A Doggone Good Time