Touchdown for Jupiter's New Restaurants
Touchdown for Jupiter's New Restaurants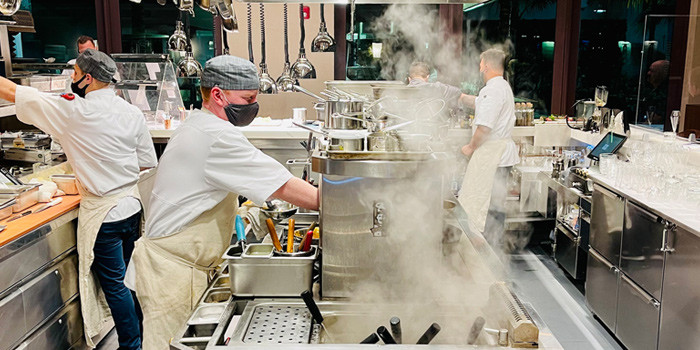 JUPITER, FL – February 4, 2021 – Restaurant enthusiasts are always on the lookout for what's new and what's hot. Not wanting to disappoint our hungry readers, and being just a tad excited, InFlorida.com headed to Charlie and Joe's to find out if this new culinary complex was everything, we dreamed it would be.
Named after football icon, Joe Namath and successful developer Charles Modica, the three restaurants and one seafood market complex is situated opposite the historic Jupiter lighthouse on Love Street, Jupiter, FL.
Our first stop was Lucky Shuck Oyster Bar & Taphouse, where we were greeted with an abundance of friendly "Hellos," we immediately felt at ease, even when wearing a mask. Walking past the central bar, we were shown to our seats by Stephen Asprinio, a renowned, gastronomic and beverage consultant. Asprinio has numerous accolades under his culinary belt, including helping with the success of nearby restaurant 1000 North and its impressive menu. He has also been a top finalist on Bravo's "Top Chef" and later appeared on "Top Chef's All Stars." Helping create the individual characteristics of Charlie and Joe's three restaurants, Asprinio has spun his magic once again. His understanding of matching flavors with the perfect atmosphere is phenomenal and his knowledge of wine and spirits is also impressive.
Asprinio graciously departed to let us enjoy our tasting menu. First, we tried the Lobster & Shrimp Dy-No-Mite. This three-bite dish was an explosion of flavors, from the fresh lobster to a kick of spice and then a crunch of a lightly fried bed of red quinoa. This delight was accompanied by a La Stéphanie, a refreshing Cachaça and fruit cocktail with hints of lavender.
There were numerous dishes we tasted, each one as delicious as the next. The vegetarian among us voted the Crispy Cauliflower & Grits their favorite for the presentation and the mouth-watering taste of crispy fried cauliflower in a garlic butter bean ragu with hints of sweet and sour and a refreshing mandarin- pea green salad. There was also a die-hard meat eater in our group and the staff at Lucky Shuck's Kitchen were quick to accommodate delivering a tender delectable brisket.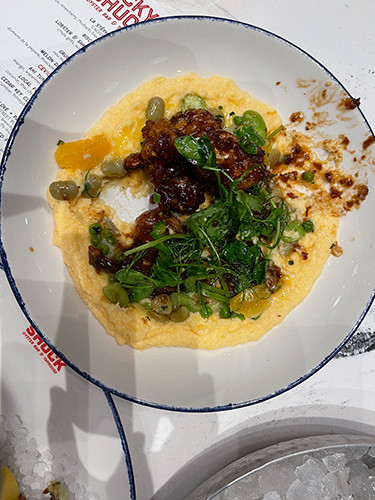 Lucky Shuck - Crispy Cauliflower & Grits
Executive chef Tim Nickey, previously of Komodo in Miami and the Sub-Culture group's Kapow restaurants in Boca and West Palm, came over to talk to us about the dishes. Nickey's enthusiasm for the food was infectious, with his talent and passion for food seeping through into the dishes we tired. The general manager, Tara Dodson was very helpful answering all of our questions with ease.
Next, we visited Beacon. Entering the restaurant, the atmosphere shifted to one of a high-end establishment, minus the snob factor. It too felt relaxed and welcoming even with the protective plexiglass dividers at the bar which overlooked the kitchen. We sat at this bar and watched the action unfold before us like a finely rehearsed waltz. The chefs and staff moved around the kitchen amongst the steam, fire and pans like they had been working together for years, not weeks.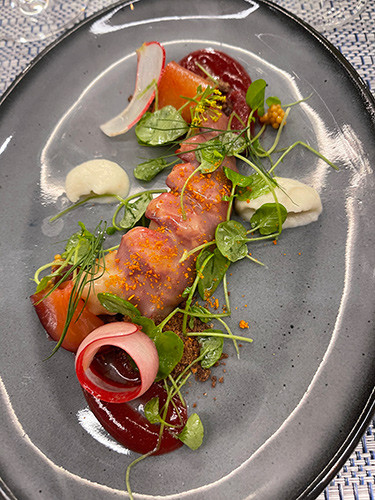 Lobster tail dish at Beacon. Prices were reasonable - Enough to know you are paying for quality but not enough to break into a sweat.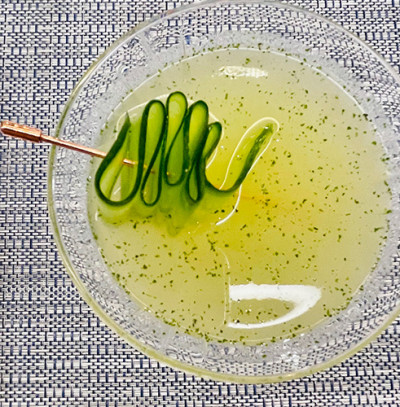 Beacon Portside Cocktail
The general manager, Danielle Coffaro, was supervising this well-orchestrated affair, making sure the staff and the guests were all happy. The Beacon is a very exciting introduction to Jupiter, encapsuling the vibe and tastes of modern cities like Tokyo, London, and Paris and bringing them to the South Florida coast. The food is adventurous with outstanding dishes like brown butter glazed Maine lobster tail in plum, white onion, pumpernickel and mustard seed. Our absolute favorite dish was the charred Spanish octopus with smoked potato, Castelfranco, black garlic, olive and tomato conserva.

Chef Jordan Lerman has a flair for inventive cuisine spending over two years as a chef at the Boca Raton Resort and Club and previously owning his own restaurant. As executive chef to Love Street's Beacon and Topside (the roof top bar above Beacon), his artistic flair and creative talent for delicious and beautiful food has been put into effect. Talking to members of the kitchen staff like Mark, a British chef who had worked in kitchens across the US until he found his paradise and ideal kitchen in Jupiter, FL and lead bartender "Goose" who is originally from Belgium, there really is a sense multi-culturalism in the food, the staff and the vibe.
"Goose" introduced us to a fabulous gin-based cocktail named Portside. The gin, cucumber, elderflower and meyer lemon combination, with the use of a nitro muddling technique (where liquid nitrogen is used to better encapsulate the flavors of the cocktail), all perfectly complemented the seafood we devoured. The overall consensus was the Beacon is definitely a place to take someone you want to impress, just as equally as pulling up a chair to the bar and enjoying a cocktail while chatting to one of the many interesting members of staff.
The last stop on our visit was The Tacklebox, Jupiter Seafood & Supply Company which had a more of a flip-flops and shorts feel about the place. Again, the selection did not disappoint. With an assortment of wine, beer, bottled mixed cocktails and soft drinks, visitors can either enjoy casual meal at the counter or stock for their boat outing with the fresh selection of seafood on offer.
Charlie and Joe's restaurants all have the magical ingredients for success so watch for the official opening. They achieve a top score from the InFlorida.com team, and it's another touchdown for the fabulous restaurants along the Jupiter Inlet.
---
See the Business Behind the Story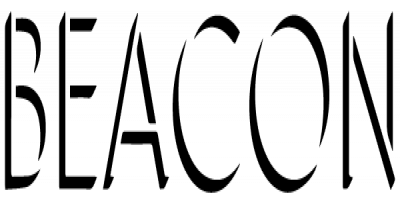 Contemporary American Grille with a perfect view of the Jupiter Lighthouse.
Jupiter, Florida, United States | 561-532-3280, email us
Touchdown for Jupiter's New Restaurants