Are You Ready for Some Football? Pre-Order the Big Game Pack from Tommy Bahama Restaurant
Are You Ready for Some Football? Pre-Order the Big Game Pack from Tommy Bahama Restaurant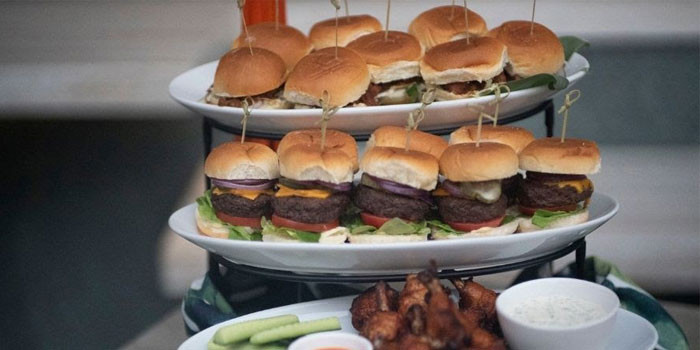 Jupiter, FL – January 26, 2021 – This February, Tommy Bahama is celebrating football's big day and Valentine's Day with special meals packs to go and signature cocktails!
Super Sunday: Looking forward to enjoying the big game and not worrying about the food? Tommy Bahamamakes that easy to do with a special take-out Big Game Pack available at all Tommy Bahama Restaurant & Barand Tommy Bahama Marlin Bar locations. The Big Game Pack is available through online ordering for pick-up or delivery and includes everything you need for a spirited and tasty Super Sunday!
The Big Game Pack includes:
Duo of Dips - Fire Roasted Salsa, Guacamole, House-Made Chips
Hurricane Tots - Hurikake, Soy Glaze, Sriracha Aïoli
All-American Cheesburger/Kahula Pork Sliders - Hawaiian Rolls, Garlic Aïoli, House-Made Dill Pickles, LTO
Mango Habanero Chicken Lollipops - Herb Buttermilk Dressing, Cucumber Batons
Cajun Panko Crusted Mac-N-Cheese
Island Slaw
Key Lime Tarts - Macadamia Nut Shortbread Crust, Lime Zest
Big Game Pack - $99, serves 4 to 6. Orders must be placed by February 4th. Pick-up on Saturday, February 6th 11am-3pm or Sunday, February 7th 11am to two hours prior to start of game, local time.
Celebrate the Love! Valentine's Day is a whole weekend this year...and Tommy Bahama is offering up a few different ways to celebrate your love all weekend long! Kick off the romance with a Valentine's Weekend Pre-Fix Menu that will be available at all Tommy Bahama Restaurant & Bar locations.
Valentine's Weekend Pre-Fix Menu
Starters: Choice of (1)
Island Shrimp & Crab Cocktail - Spicy Tomato Broth, Avocado, Tajin, House-Made Chips
Roasted Beet Salad - Local Baby Greens, Candied Walnuts, Mandarin Oranges, Local Honey, Goat Cheese, Citrus Mango Vinaigrette

World Famous Coconut Shrimp - Papaya-Mango Chutney

Entrée:
Ribeye "Filet" for Two - Sherry Demi-Glace, Garlic Butter

Twice Baked Potato | Aged White Cheddar, Pecan Smoked Bacon, Chives Grilled

Grilled Asparagus

Marinated King Trumpet Mushrooms
Dessert:
Triple Chocolate Cake - Four Layers, Chocolate Ganache, Mocha Mousse
Valentine's Weekend Pre-Fix Dinner - $125 serves 2. Available at Tommy Bahama Restaurant & Bar Thursday, February 11 – Sunday, February 14th
Valentine's Blush Cocktail - Looking for a romantic cocktail to compliment your meal? Tommy Bahama's handcrafted Valentine's Blush Cocktail combines Hendricks Gin, Ruby Red Grapefruit Juice and St. Germain in a cool pink cocktail that's a fresh alternative to champagne.
Valentine's Blush Recipe
Ingredients List:
1 oz. Hendricks Gin
2 oz. Ruby Red Grapefruit Juice
.5 oz. St. Germain
.5 oz. Tarragon Simple Syrup (*see recipe below)
1 oz. Soda
Instructions: In a mixing glass, add all ingredients, then ice and shake to mix. Strain into Tall Collins glass over fresh ice.
Tarragon Simple Syrup
Ingredients List:
1 cup Sugar
1 cup Water
2 sprigs Fresh Tarragon
Instructions: Mix sugar and water together, bring to a boil, stir and take off heat. Add tarragon and let cool for at least 30 minutes. Remove tarragon before portioning.
For more information, visit Tommybahama.com.
Are You Ready for Some Football? Pre-Order the Big Game Pack from Tommy Bahama Restaurant