Three as a Bird
JUPITER, FL – October 14, 2022 – The affluent seaside town of Jupiter, Florida has an abundance of restaurants, as one might expect for a place dotted with folk on the Forbes Top 100 list, so why does this town need another? The simple answer is Jupiter's population is expanding faster than my waistline, after hours sitting behind my desk without exercise. Joking aside, we need more variety in this small seaside town, and that my friends is where the 3 Amigos come into play.
Business partners Scott Frielich of Subculture Group, Angelo Abbenante of Lynora's and Cleve Mash of Clematis Social worked with executive chef Tim Nickey to make this fresh and modern Asian cuisine restaurant everything they dreamed it would be. Blackbird, as the new restaurant is named, is symbol of connecting us humans to the universe and the spiritual life. Before even stepping into this new restaurant, it gave me hope of food that this food is on a higher gastronomic level.
For those of you with a short attention span, I will cut to the chase. Blackbird was excellent, with a flow of scrumptiousness in every mouthful. Being a pescatarian, I'm always a little nervous to try new places. However, Blackbird truly sang with its veggie and pescatarian options while also pleasing my carnivorous partner. The decor is stunning, with a large Buddha resembling one of the originals in Kamakura, Japan. Also there was a blossom tree and walls decorated in modern Asian inspired décor. This restaurant was like stepping into a work of art.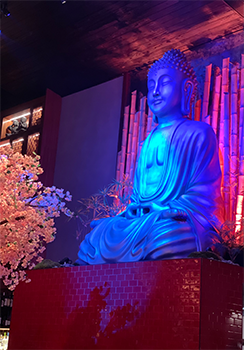 Nickey's understanding of Pan-Asian fare gives this inventive menu a new and exciting edge on traditional dishes. My tasting partner for the evening is used to dining at some of the best restaurants in the world, and she commented on her sweet and sour pork with chunks of pineapple and dragon fruit saying, "The pork is so tender with the sweet and sour having an extra zing to it.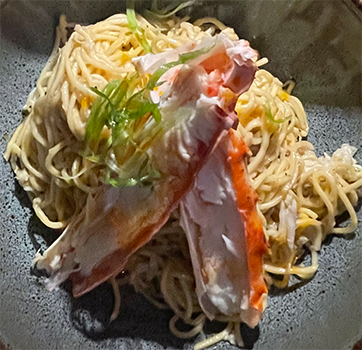 Garlic King Crab Noodles
I can't fault this dish, it really is unique, and delicious." With these words, I was eager to dive right into my garlic king crab noodles. All have to say is, "Divine!" The lo mein noodles were cooked to perfection with a scrumptious garlic infused sauce. Being a pescatarian, I asked our attentive waitress if the chef could make these noodles without the meat based XO sauce and it was not an issue. I also loved the fact the chef was not stingy on the king crab and the lump crab. We then tried the tuna poke crispy rice with scallion and wasabi tobiko, and it was equally delicious as our previous dishes. The crispy rice was light, and the tuna had a delicate taste complemented with a slight spicy, yet tangy sauce.
If like me, you love a well-crafted cocktail, Blackbird does not disappoint. I was originally going to try a few options but my 'Street of Bangkok', with Kraken black spiced rum, homemade thai tea and boba was so darn yummy, I stuck with that one (or two).
I hasten to add that these flavorsome cocktails are long, packed full of flavor and a generous supply of alcohol. I swear I heard that blackbird singing to me as I downed every drop.
If you like Asian food and want to try something unique and truly delicious with an inspired edge and a thrilling setting, then the Blackbird is for you.
Something to contemplate at the end of this review:

'O Blackbird! sing me something well
While all the neighbors shoot thee round
I keep smooth plats of fruitful ground
Where thou may'st warble, eat and dwell.'
– Alfred Tennyson
In short, this Blackbird sings well, and flocks will gather in its nest and enjoy everything it has to offer.
Blackbird is located at 1511 N. Old Dixie Highway, Jupiter, FL 33469.
For more information, please visit
Follow on social media at @blackbirdjupiter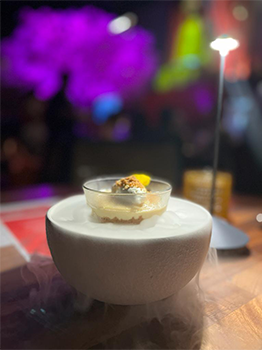 Key Lime Pie