Racing to Success
Racing to Success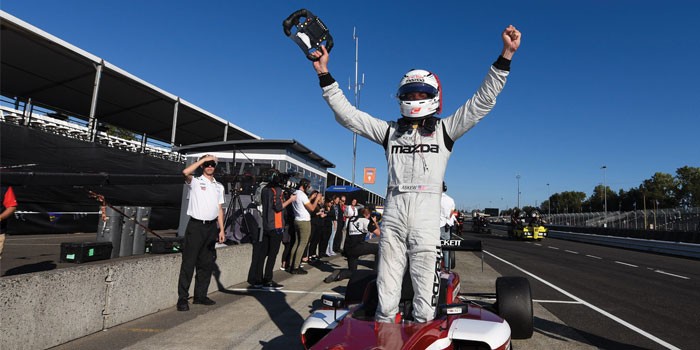 When entering the room, a young man graciously stands up to say hello. Resembling a Hollywood racecar driver from the glory days, like Steve McQueen or Paul Newman, he has an old school charm, quality and uniqueness that is hard to find in today's culture. The conversation soon steers towards racing and a fire ignites in his eyes with a slight shift in his persona. Could this unassuming guy have a hidden hunger and determination that shifts gear when the green flag waves? How does this young talent from Tequesta, Florida pave a way to checkered flags and why should we all stand up and cheer him on?
Racing doesn't run in Oliver's family, so discovering the sport was accidental. He first noticed a "need for speed" whilst renting a go-kart at the Palm Beach International Raceway for his eighth birthday. These expeditions started out as a fun hobby, but they soon developed into something more when Oliver's father bought him his own kart. His father loved to maintain it, making sure that everything was tight and in working order. Oliver recalls, "It was like a father-son-type hobby. I like to drive fast and my dad likes to fix stuff up."
It soon became obvious that Oliver had a talent for driving, so he began entering regional and national competitions. By the time he turned eleven, the races became more frequent, but his father became concerned. How would they be able to financially support their son? Motorsport can be extremely expensive and to compete and practice at a high level takes a significant amount of financial support.
That's when a team from Ocala Florida, called Ocala Gran Prix, spotted Oliver's talent and fully sponsored him for four years. Oliver smiles, "It's rare in karting to be sponsored, but the Ocala team are very supportive of young drivers. If it wasn't for them, I wouldn't be in this positon now."
Oliver is very humble and appreciates the people who have noticed and supported his talent. "My story is a little different from a lot who enter the racing world. I don't come from a privileged background. My dad was an air-traffic controller and my mom has Lupus, so she stayed home to raise my sister and me. My family are all huge supporters of my racing and also value and appreciate the chance I've been given."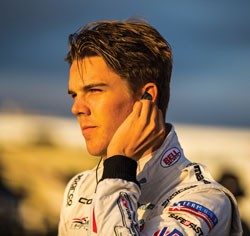 If wanting to support or follow Oliver's career, please visit his social media pages: Instagram: @oliveraskew / Twitter: @Oliver_ Askew / www.oliveraskew.com
Oliver has recently signed with a professional agency, Spire Sport & Entertainment in Charlotte, North Carolina. He enthusiastically states, "We have a lot of great people who are now helping propel my career. My car racing profession started at the end of 2016. I won the Team USA Scholarship, and I traveled to England where I raced at Silverstone and we won again. That translated into an invite to the Team USA Scholarship shootout at Laguna Seca, where I also won that race and it resulted in a full season paid by Mazda Motorsports and the Mazda Road to Indy in 2017."
The next step for Oliver would be to enter Indy Lights. He beams, "I started following IndyCar back in 2010, watching drivers like the late Dan Wheldon, who trained for IndyCar on my kart team. He was a huge idol of mine and now here I am on the path to Indy. One day I want to be on a top team and win the Indy 500."
Winning numerous races, Oliver has been spotted by the likes of Andretti Autosport for a potential drive for the upcoming 2019 season. J-F Thormann, Andretti's President, and Michael Andretti have been fans of Oliver's since his USF 2000 days in 2017. Large established teams like Andretti keep tabs on young talent, and Oliver recently had the chance to meet them. He was also invited to his first ever Indy Lights test at the Indianapolis Motor Speedway, where he turned heads by outpacing the rookie class and achieving second fastest overall speed for the weekend.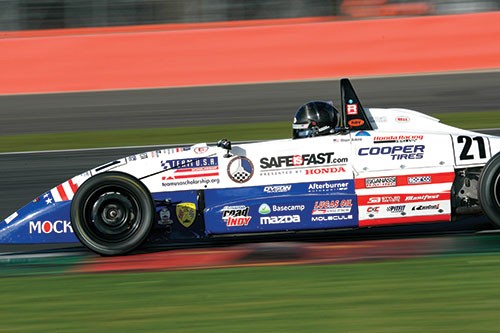 IndyCar racing is a pinnacle of motorsport, with the organizers trying to find a balance of thrill, safety and putting on a good show. The high speeds and downforce make this particular motorsport very exciting. Oliver is friends with successful drivers like Juan Pablo Montoya and contemplates, "He has been an inspiration as well as a help, showing me the ropes. I can also relate to current Indy drivers, like Josef Newgarden, Scott Dixon and Spencer Pigot, who have all taken a similar path to me."
Quizzing Oliver about his home town, he sits up and says, "I have traveled to a lot of places around the world thanks to racing, but Jupiter is paradise. I am so lucky to live where I do and I love the people here. On my days off the track, I like to go surfing, boating, or even visit a coffee shop. I am thankful for the local Jupiter support l have received from Index Invest and Wavelength Images."
Oliver unquestionably has a winning aura about him, some may say an x-factor. He modestly declares, "Racecar drivers all have a little crazy in them, and I happen to have that too."
Crazy or not, Oliver has talent and an attitude that will take him far. The residents of Jupiter should be proud, so be sure to cheer Oliver on. Just don't go waving a green flag when you see him driving around town; 'that switch' may flip and we don't want to see that kind of speed on A1A! •

Racing to Success