A Day in the Life of a Polo Trainer
A Day in the Life of a Polo Trainer

Polo conjures up images of horses, mallets, ladies in large hats, and flowing dresses. It has an air of champagne swigging, chilling out with royalty, and stomping out the divots. Dating back to 600 BC, the Persians are thought to have invented what is now known as one of the oldest team sports in the world. Played on horseback, the objective of the game is to score goals against an opposing team. Players score by driving a small, white, plastic or wooden ball into the opposing team's goal using a long-handled mallet.
Joseph George Gates, better known as Gates Gridley, is the resident instructor and gladiator manager at The International Polo Club in Wellington, Florida. The IPC, as its commonly referred to, is one of the most respected, well-equipped polo facilities in the world. So why should people who have never attempted the game get into the saddle, and why a trust fund or title is not required to play this thrilling sport?
Gates's father was involved with horses his whole life, playing polo as well as jumping race horses. This had a major influence on Gates and his siblings' future careers. "When I was a kid we were on horses by the time we could walk. I have an older brother who plays polo and my sister runs a jumping barn, Grey Horse Farms, which is based in The Hamptons in the summer and Wellington in the winter. We all love horses."
Owners of the IPC Mark Bellissimo and his wife Katherine, who bought the club two and a half years ago, are very keen to stipulate that polo is not just for the privileged, it's for everyone. Gates enthusiastically states, "I played soccer, basketball, and lacrosse, and as far as skill and stamina goes, polo is definitely the toughest sport I have every played. Peel back the layers of stereotypes and it's an amazing sport, a complete adrenaline rush, and a great opportunity for teamwork and networking."
Gates, like many who try and fall in love with the game, is keen to share his enthusiasm. "Everyone I have known who has tried it has been hooked from the outset. People in this sport are so welcoming, it's such a social activity. Everyone knows each other and we have BBQs after the games or go out for a beer. It's a lifestyle, not just a sport."
Quizzing Gates on his typical day as a trainer, he elaborates: "I work personally with my Argentinian brother in-law, Ignacio Cabrera. We get to the barn early in the morning and depending on the day of the week, whether games or lessons, we exercise the horses. We always make sure the lessons are early in the morning and late in the afternoon, so we don't have the heat of the day to battle with. On average we have between four and five lessons a day, to fit most people's schedules."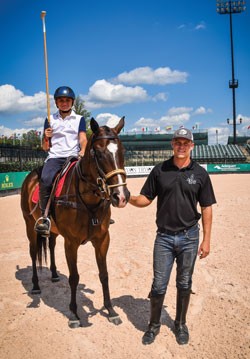 "Polo really is a unique sport; you only ever hear of people getting into it, and rarely getting out of it." – Polo Trainer, Gates Gridley. On a typical day, he is down on the ground with student riders directing them on their technique for an average of four or five lessons.
Being able to have a lesson at the same place the professionals play, at the highest level, is truly an honor. Gates is excited when he says, "You will often see the professionals practicing, you have players like Rodrigo Andrade or Nico Pieres riding around, it's a really cool atmosphere."
Each lesson lasts one hour, and both private and group lessons are available. The club has 22 experienced ponies and they can take care of novices or experienced players. Even if you have your own horse, you may bring them for the lesson.
The club also has a horse simulator, a framed structure shaped like a horse, with five riding speeds from slow to an all out gallop. It even responds to the reigns when pulling back on them. "It's a great tool for novice riders," declares Gates. "It's like going to a batting cage for baseball or driving range for golf, it's great practice. You don't have to worry about steering the horse. I am on the ground, so I can direct the riders on their technique. It really helps to shorten the learning curve. After spending thirty minutes on the simulator, you will get on a pony and focus on riding."
The mallet is also introduced on the first lesson, so it gives the novice an overall sensation that they have started to learn the game. Gates eagerly explains, "We have capacity to take a player from first lesson on a horse, to picking up the mallet and playing polo. We have also transitioned horse jumping riders to play polo, and by the end of the season they are often playing in tournaments. It's amazing that horse jumpers will have a lesson in polo, start to play and realize what an amazing and skilled sport it is. Even if they are not playing professionally, they have a greater respect for polo. It's rare to see a cross-over in equestrian disciplines, so this is a great feature we offer too." »
Owners, Mark and Katherine came up with idea of Gladiator Polo when they wanted to think of a way to create a spectator version of polo, which could really be understood by the general public. In detail, they wanted to appeal to the non-equestrian crowd, attracting them to the equestrian sport, not just polo.
RATES for IPC this year
---
One Lesson:
$225 per hour

Ten Lessons:
$2,000

Group of four or more people:
$100 per person

Introductory lesson:
$100 per hour
Gates states, "Traditional polo comes across as more social and has an exclusive air to it, where as Gladiator Polo is in a smaller arena, so spectators can see the action up close and the expressions on the horse's and player's faces. It's exciting to see the intricate and specialized moves happening right in front of them rather than 100 yards away."
Gladiator Polo is an all-pro discipline and not for beginners. It is, however, a tool to get the younger generation into the sport and by attracting and training the youth, they may aspire to one day be a gladiator. Last year alone, there was a healthy sum of $500,000 in prize money too, which is an added incentive for anyone wanting to reach gladiator status.
The IPC also have ambitions to start a women's gladiator team. As Gates expresses, "They too love the speed, the exhilaration, the sportsmanship. Women's polo is the fastest growing demographic of the sport. There has been a huge serge led by women polo players like Sunny Hale and Gillian Johnson, as well as young competitors like Hope Arellano, encouraging women and girls into the sport.
Gates announces some exciting news happening at the IPC, "This winter, we have something really amazing: Gladiator Polo tournaments will be free general admission. The owners of the club are very adamant about deterring the idea that equestrian sport is only for the elite."
Whether you are a beginner, a pro, or a spectator, the International Polo Club has something for everyone.
Why not take the family to a Sunday afternoon polo game? With an average of 3,000 people a weekend, this is an extremely popular event, which does not require club membership. There are several tickets options from a box, to a VIP pass and pavilion brunch. Gates empathizes, "The IPC and polo are an amazing experience. We also offer club membership, a pool, and two incredible restaurants. There really is something to suit everyone's budget."
After meeting top trainer Gates Gridley and hearing his enthusiasm for polo, along with the sport's excitement, technique, and social involvement, booking a class is as easy as saying ."Chukka the mallet and the bocha, I'm off to play polo!" •

A Day in the Life of a Polo Trainer