Local Artist Ilana Lilienthal Appreciates That Not Everything is Black and White
Local Artist Ilana Lilienthal Appreciates That Not Everything is Black and White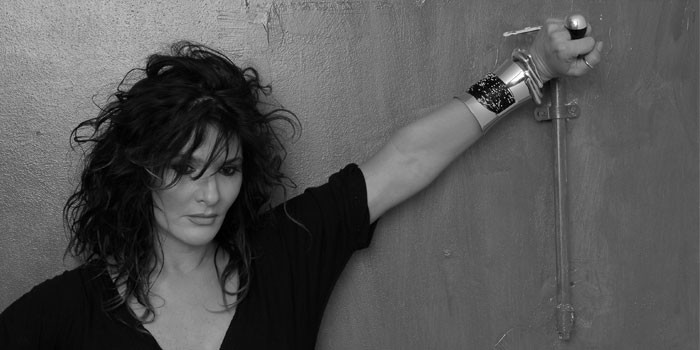 Upon meeting Ilana Lilienthal, her sheer energy, creativity, and historical references not only impress, but they will leave one wanting more. Lilienthal is an artist, a philanthropist, a visionary and the greatest part of all is she is situated right here in Jupiter, FL.
Lilienthal has worked in spaces and galleries around the globe and travels to where the canvas, installation or sculpture calls to her. Painting since the tender age of two, where she first recalls her definitive moment on realizing she had some kind of skill, "My grandfather framed a piece I painted when I was very young. He even named it Quiz of the Night, and I still have it somewhere."
Growing up between, Israel, Germany, and the USA, she has a number of cultural references to personally draw from, including mingling in aristocratic and royal circles. Chatting with Lilienthal, there is no doubt that all cultures, especially those with religious or historic context are a big influence to her. "As a child, my father took me to Italy and we wandered around many museums, historic site,s and churches. I am fascinated with the Middle Ages and with Christian Iconography."
When Lilienthal reached her twenties, she became particularly attracted to modern art, predominantly with unfinished lines and street art. Describing the interest as, "When my world started to change, I changed with it. There will always be a strong historic base to my work—for example, the golden line of any capacity ,much like they had in the Renaissance period. I enjoy incorporating this into the modern world."
When quizzing Lilienthal on her favorite artist, she replies, "I don't have favorite artists. Each good artist has something unique that calls my eye. Each thought takes a place in my mind. The wider the menu is, the more interesting the influence on me, and therefore my work."
Her diverse and layered art style instigated a lot of excitement during the latest Art Basel Miami, with collectors and art enthusiasts impressed with her technique. Combining street art, culture and religion with acrylic, she utilizes canvas on canvas, paper, charcoal and pencils, all of which marry in a distinctive and fresh way. Lilienthal recently published a book with a taste of her current work called, The Sound of a Brush Stroke, which is available to purchase through her gallery.
Ilana Lilienthal's gallery will soon be holding a Black & White show at her art studio in Tequesta. It will feature a series of black and white works from her collection, as well as several other artists, some of whom include Eri Kato and Gianfranco Tomassetti. Lilienthal explains, "It's a challenge to get a colorful work only from two colors and I always love a challenge."
The opening night (invite only) will be February 21st, with the public show running from February 22nd through March 3rd. For one lucky reader, there will be a chance to attend the opening night party and receive a wonderful print. For a chance to win this fabulous prize, follow Florida Coast Magazine's Facebook page (@floridacoastmagazine) and look for the giveaway details in January. •
Lilienthal Gallery 365 Tequesta Dr, Jupiter FL 33469 | (305) 606-1180 | (561) 252-9781


---
See the Business Behind the Story

Jupiter, Florida, United States | email us
Local Artist Ilana Lilienthal Appreciates That Not Everything is Black and White