Win VIP Passes to Celebrate Bryan Cranston & Aaron Paul's Dos Hombres Tequila at Art Basel
Win VIP Passes to Celebrate Bryan Cranston & Aaron Paul's Dos Hombres Tequila at Art Basel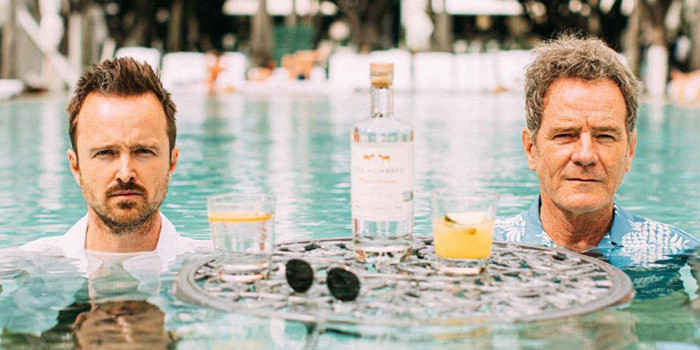 MIAMI, FL – November 24, 2021 – Dos Hombres Mezcal is pleased to present the Bacchanale Basel party on the Saturday night of Art Basel, at The Bonnier Gallery on Dec. 4th (pictured here are Bryan Cranston and Aaron Paul of Breaking Bad, they are the two creators of Dos Hombres Mezcal). Dos Hombres is the hot new Mezcal brand created by Aaron Paul and Bryan Cranston of Breaking Bad. This event, Bacchanale Basel, is not open to the public but 30 lucky winners can enter this online contest to win two VIP passes. The giveaway's three contest questions are below . . .
On the Saturday night of Art Basel Miami 2021, scoring a spot on the VIP guest list for this by-invitation-only party won't be easy -- but the first 30 people who DM to @thebonniergallery or to facebook.com/thebonniergallery the right answers to these three questions below will break through and win two VIP passes to this exclusive party:
The slang term "breaking bad" in the South means to do what?
Who are the "dos hombres" (the two artists) featured in this year's breakout new exhibition at The Bonnier Gallery during Art Basel?
What is the title of Richard Höglund's new painting that inspired the name of this party?
Art Basel Season at The Bonnier Gallery
Minyades: Richard Höglund's Breakthrough Paintings Excavate the Darkness
Drenched in Dragon's Blood. Dusted with pulverized bone and marble. Scored in silverpoint. Richard Höglund's new series of paintings for the exhibition Minyades are dark excavations that come through to the other side of the pandemic. Debuting at The Bonnier Gallery during Miami Art Week, the show is entitled Minyades, opens Dec. 2 through Feb. 28, and is curated by Grant Bonnier. This story-rich show took a year for Bonnier and Höglund to painstakingly conceptualize together. The result is raising the bar for the eagerly anticipated return of Art Basel to Miami.
RECEPTION FREE & OPEN TO THE PUBLIC: Meet the artist at the public opening reception at The Bonnier Gallery, on Thursday evening, December 2 at 7:00 p.m.
The Bonnier Gallery will also exhibit at the Art Miami satellite fair (Nov. 30 ─ Dec. 5) with a principal focus on minimalist and conceptual works that engage with language.

About Richard Höglund
Born in 1982, Richard Höglund studied art at the School of the Museum of Fine Arts and semiology at MIT in Boston, USA. He holds a MFA (DNSEP, 2008) obtained at the Haute école des arts du Rhin, in Strasbourg, France. In 2013, Höglund was selected by Tacita Dean to participate in her workshop at the Fundación Botín in Santander. His paintings are considerations of History and Language. The Dallas Museum of Art recently acquired Höglund's monumental painting, XIII STATION: MNEMOSYNON (History Painting VI: Via Crucis), for its permanent collection.
Solo exhibitions and projects include:
2021 Minyades, The Bonnier Gallery, Miami (US); 2021 Vine Pictures, Ronchini Gallery, London (UK); 2020 Vénus piquée par un buisson de roses, Vine Pictures, Galerie Flore, Brussels (BE); The Bonnier Gallery, Miami USA (2019); Custot Gallery, Dubai, UAE (2016); Ronchini Gallery, London (2016); Skaftfell, Seyðisfjörður, Iceland (2015); Tête, Berlin, Germany (2012); Dimensions Variable, Miami, USA (2012); Mamco, Geneva, Switzerland (2010); Nina Johnson, Miami, USA (2009); Le Salon du Dessin Contemporain, Paris, France (2008); La Chaufferie, Strasbourg, France (2006).
Group exhibitions include:
Rachofsky Collection, Dallas, US (2021); The Bonnier Gallery, Miami, US (2018); Custot Gallery, Dubai, UAE (2017); Villa Iris, Santander, Spain (2013); Bob Rauschenburg Gallery, Fort Myers, USA (2013); New World School of the Arts, Miami, US (2011); Bakehouse Art Complex, Miami, USA (2010); Musée de l'Oeuvre Notre Dame, Strasbourg, France (2007); National Art Gallery, Sofia, Bulgaria (2007); La Bellevilloise, Paris (2006).
The Bonnier Gallery is located at 3408 N.W. 7th Avenue in Allapattah, Miami's burgeoning new arts district. Open Tuesday through Saturday, 11:00 a.m.‒ 6:00 p.m.
Win VIP Passes to Celebrate Bryan Cranston & Aaron Paul's Dos Hombres Tequila at Art Basel