Jason Newsted: The Past Is On The Wall
Jason Newsted: The Past Is On The Wall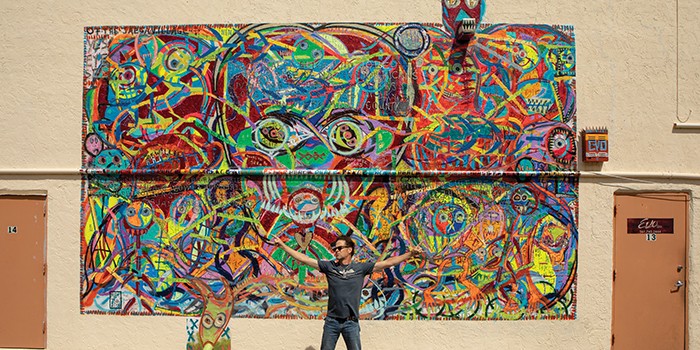 JUPITER, FL – June 27, 2018 – "It's a manifestation of those who lived here before us." That's how former Metallica bassist and now acclaimed painter, Jason Newsted, describes his recently completed wall art in the back of Evo Italian restaurant in Tequesta. The mural is an ode to the Native American tribes that once inhabited the Atlantic Coast of Palm Beach County, namely the Ais, Tekesta, Calusa, Jaega, Jobe, and Jaece tribes. Newsted points out that although these tribes were hunter-gatherer types, the abundant marine life and surrounding ecosystem provided them with enough food that farming wasn't necessary, which enabled these tribes to focus on art, music, and culture. These tribes would congregate from time to time and carry out ritualistic ceremonies that involved hundreds of dancers and singers donning bright-colored outfits—and the mural is Newsted's interpretation of such ceremonies.
"When you think about it, we're still doing that today—we're still getting together with friends, dressing up, and singing in the sunshine celebrating life," Newsted says.
The 12' x 22' mural was unveiled to the public this past April 11th to a positive response from council members and dignitaries. Newsted now aims to not only craft different murals in Jupiter-Tequesta as time goes by, but also bring in high-caliber artists from near and far to contribute to his movement for beautification and creative placemaking in the area.
"I think it's very healthy for our community to be open minded about public art and to realize that it can make our incredibly beautiful place even better," he concludes.

Jason Newsted: The Past Is On The Wall