Chasing Dreams
Chasing Dreams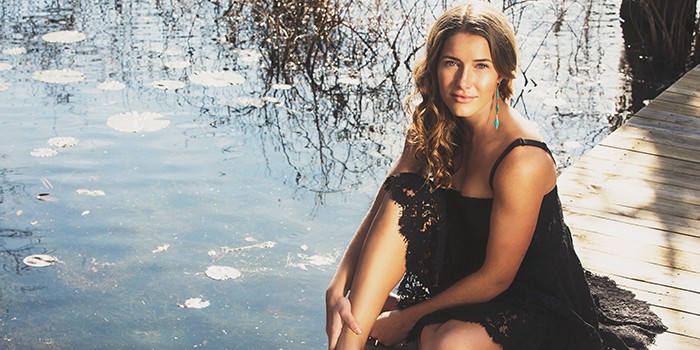 WEST PALM BEACH, FL – June 27, 2018 – She's one of Billboard's "15 Country Artists to Watch in 2018," named one of Rolling Stone's "10 Country Artists You Need to Know," had her song "Tough Guys" spend five weeks at #1 on CMT.com's 12 Pack Countdown, performed live on NBC's Today Show, and is one of Palm Beach County's very own residents. Get to know the 27-year-old brown haired, blue eyed singer/songwriter and Sirius XM radio host, Caroline Jones.
Although she plays the acoustic and electric guitar, dobro, banjo, harmonica, and piano, for Caroline, it all began with her passion for reading and writing. Referring to herself as an existential child, she would write short stories and poetry, which she explains was her portal to music. At the age of nine, she asked her parents for singing lessons, and when she realized that she could put her words to a melody, that was the moment she knew she had found her passion and life's work.
Growing up in New York, young Caroline began training classically in opera and jazz by Andy Anselmo, founder of Singer's Forum and dubbed "Teacher to the Stars," and went on to study creative writing and philosophy in college at New York University. During that time, she was on a bill where she had the opportunity to perform at Carnegie Hall, singing two songs that for Caroline was "such an honor to be a part of."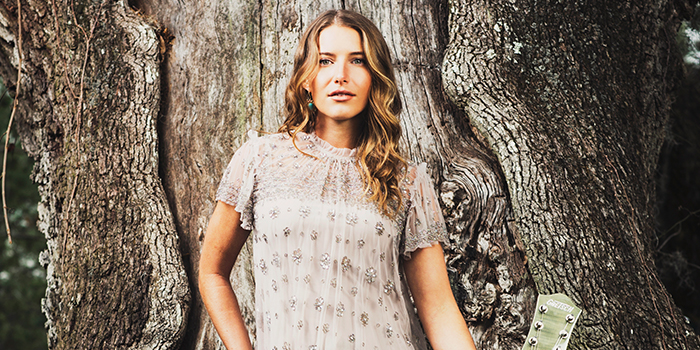 Crafting her talent through steady growth and evolution, Caroline believes that she was not discovered at one certain point, but that through hard work and making opportunities for herself while developing connections with other artists and producers is what got her to her big break. This moment came back in November when she performed a live duet with Jimmy Buffett at the Trying To Reason hurricane relief benefit concert in Tallahassee, Florida, where she joined Kenny Chesney, Toby Keith, and Jake Owen.
That same year, the talented artist went on to play two separate tours, one with Zac Brown Band, and the other with Jimmy Buffett and the Eagles playing in iconic venues such as Coors Field in Colorado, Sun Life Stadium in New York, and the Hollywood Bowl in California. In 2018, Caroline went on tour with Jimmy Buffett and the Parrot Heads from this past April to June, and was also featured in two shows on the Tim McGraw and Faith Hill tour. Now, she is currently touring North America with Zac Brown Band and One Republic on select dates in July, August, and September.
"I have been very blessed to have mentors such as Zac Brown and Jimmy Buffett. It is really a dream come true because I have been a fan of them for a long time not only as artists, but as people. Both of them do a lot to inspire people with their music and also inspire through their philanthropic, lifestyle, and other business endeavors. I couldn't ask for a better journey," expresses Caroline.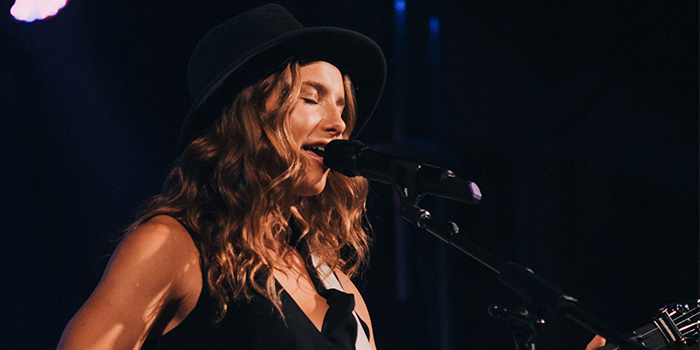 Touring with big name artists already, Caroline says she would love to tour with Keith Urban or Thomas Rhett in the future.
While she is not touring with said mentors, she goes on a nationwide initiative tour of her own called "The Heart is Smart," which is a music curriculum and school tour that inspires and uplifts students. Displaying her musical prowess, Caroline performs and conducts workshops where she teaches songwriting, entrepreneurship, and vocal performance at schools and universities such as Exeter, Hotchkiss, Andover, University of Virginia, and more.

"The idea is to raise people up and inspire them with your authenticity and with the purest expression of your heart. That elation, that joy, that connection…to me, that's what being an artist is," says Caroline. »
The musician also hosts a monthly radio show (the first Sunday of every month at 10 pm ET) on Sirius XM's The Coffee House Channel 14 called Art & Soul, where she sits down with musicians from around the world to delve into the art of their crafts and lives, and even joins them in intimate acoustic performances.
After creating such a strong musical and personal relationship with fellow Palm Beacher and Margaritaville singer, Jimmy Buffett, Caroline partnered up with Buffett's label, Mail Boat Records. She recently co-produced her first album called Bare Feet with Grammy and Academy-award winning producer Ric Wake that was released on March 30, 2018.
"On this record, I wrote every one of the songs and I played most of the instruments on the tracks. Being involved in the creative process is so fulfilling to me and is a passion of mine," explains Caroline. "I am really rooted in the power and eloquence of a lyric and telling a story that makes up country music. Songs on the album such as 'Tough Guys', 'Bare Feet', and 'Sunshine' are all about how to navigate being in a world with a lot of social pressures and opinions, and there are also songs that I talk about love and being yourself in an introspective way. I want the album to bring authenticity and joy to listeners."
Writing and recording the entire album in West Palm Beach while pulling inspiration from nature, experiences in life, and the ocean, Caroline finds that the area has a special type of laid-back energy that is genuine and it is where she has found her "tribe." She has performed in Palm Beach, Fort Lauderdale, and Miami, and now "sees why Jimmy Buffett has that lifestyle down here and after living here for three years, does not plan on leaving anytime soon!"
Caroline's music and new album Bare Feet can be found on iTunes, Spotify, Apple Music, Google Music, Amazon, YouTube, and on her website.

Chasing Dreams