In The Eye Of The Storm
In The Eye Of The Storm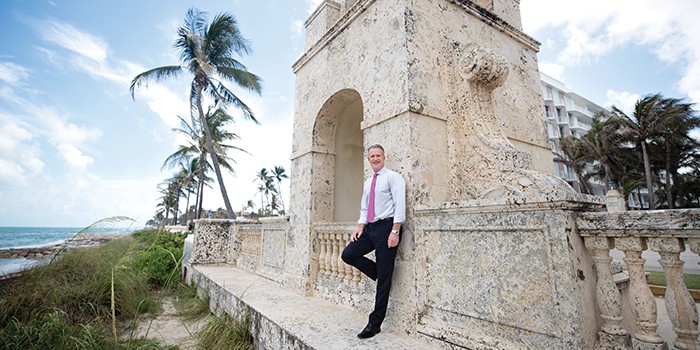 WEST PALM BEACH, FL – June 27, 2018 – Life is no different than the weather. Not only is it unpredictable, but it shows us a new perspective of the world every day." – Suzy Kassem
South Florida living comprises a laid-back lifestyle revolved around picture-perfect landscapes and almost year-round summer weather. Although the latter trait is alluring, it doesn't always invoke pleasant connotations—and we who live here know this all too well. In what seems like a balancing act of nature, our hot and humid tropical atmospheric conditions regularly flip-flop from clear, sunny skies to heavy rainfalls, and, of course, hurricanes. These fickle, ever-changing weather patterns dictate just how many Floridians map out their day, which is why keeping up with daily and weekly reports is of the essence, especially now, as we move through the Atlantic hurricane season.
In Palm Beach County, multitudinous residents depend on WPTV Storm Team 5 and FOX 29's Chief Meteorologist Steve Weagle to stay ahead of the weather. Why? Because Steve's fascination with tropical weather is matched by his dedication to predict and deliver the most accurate report possible that folks can relate to—something he's been doing for the past 20 years.
"I help plan people's days by knowing what the impact of the weather might be," Steve claims. "Instead of reading off a map, I like to let people know that they'll need an extra jacket or an umbrella before heading out the door, or that they should drive slow on the highway because it's windy, etc. Practicality goes a long way."
Steve is also regarded as a leader in hurricane coverage, as many of his viewers heed his thorough tips on how to prepare for our most common natural disaster and stay updated with his around-the-clock T.V. and social media broadcast reports during the storms. And by around-the-clock, I mean exactly that. Last year, during Hurricane Irma, he claims to have been on-and-off the air for 40 hours straight. When Hurricane Frances rolled through in 2004, he reported live for almost 67 hours straight.
From the studio to your living room. Steve is the type of meteorologist that feels more like a close friend who knows a lot about the weather that you invite in daily.
A SEASON OF UNCERTAINTY
Equipped with its own Doppler radar (which produces velocity data of the storms at a distance), along with state-of-the-art weather equipment and both American and European Global Forecast System (GFS) computer models, the NewsChannel 5 station sets Steve and his team—Meteorologists Felicia Combs, James Wieland, Glenn Glazer, and Steve Villanueva —up for success. And another active season may be in the forecast for them.
As this article is being produced (May 2018), Steve points out that this 2018 hurricane season is brimming with uncertainty —even more so than in recent years. The reason behind that is because both of their GFS forecast computer models have not been able to determine from ocean surface temperatures whether there will be an El Niño (warm, above-average sea temperatures) or La Niña (below-average sea surface temperatures) weather patterns. Steve explains that with an El Niño, strong west winds that typically dissolve hurricanes in the Atlantic would be present, providing a quiet season, while La Niña doesn't provide as strong of a wind shear, which enables cyclones to surge forward and strengthen in the Atlantic, thereby igniting a busy season.
"It's never happened where the models show two possibilities that are so divergent," Steve observes.
IN THE EYE
Steve's admiration of hurricane storms began in 1975 when he was 10 years old living in Nova Scotia, Canada. It was during this time that Hurricane Blanche, which formed in the Bahamas and, thus, was part of the Atlantic hurricane season, made landfall near Shelburne as a Category 1 with winds of 130 km/h. Steve vividly recalls when the eye of the hurricane passed through his grandmother's house, where he was staying, and going outside to witness the enthralling calm that preceded the chaos. Having wanting to be an astronomer while growing up, he highlights this experience as an influential turning point that eventually shifted his path to meteorology.
"The fact that you can go through a heavy storm throughout the day, and all of a sudden it turns sunny and nice out for about an hour before the backside of the hurricane rolls in was simply bewildering to me," Steve notes.
After graduating from the University of New Brunswick with a Science Degree in Math/Physics, Steve pursued his true passion and obtained a Post Graduate Meteorology degree from Dalhousie University in Nova Scotia. He worked as a meteorologist for both the CTV Television Network and the Canadian Weather Service prior to making his move to South Florida in 1998. He knew about South Florida's weather market given its recurring hurricane activity, but he also understood that moving here meant immersing himself into a lifestyle of boating, beaches, and outdoor activities that wholeheartedly agreed with him. He's been here ever since—and he officially became an American citizen in 2014.
On his connection with his viewers, Steve says, "It came with time. I remember when I first started, I had a thick Canadian accent and I take it people weren't so sure about me then. But I've been blessed to see this incredible community warm up to me. It feels like a very personal experience—the thought of being in many people's living rooms—it's almost like they are inviting me into their homes as a friend to share the latest weather information, and I truly feel and appreciate that."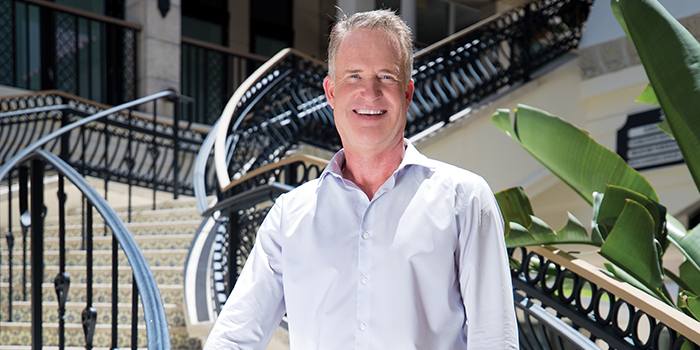 STORM CERTIFIED
Steve's efforts have long been recognized by his peers. Throughout his years reporting severe weather in South Florida, he earned the Certified Broadcast Meteorologist (CBM) Seal from the American Meteorological Society, which is the highest award a television meteorologist can receive. He has also received the Dick Fletcher Media Award for outstanding efforts to educate and inform the public about hurricanes and hurricane preparedness, response, and recovery in the state of Florida. Steve notes that these recognitions have come by in part for what he feels is a personal responsibility: The safety of South Floridians. Adhering to that sense of responsibility, Steve has guided viewers through life-threatening hurricanes such as Hurricane Irene, Frances, Jeanne, Wilma, Matthew, and Irma.
"I try to put myself in the place of someone at home who's going through the storm," Steve remarks. "If I say that the wind is going at 120 miles per hour, I imagine what that's like and what I would do for myself and my family if I was going through that scenario. The most important thing is to learn from each storm and see how we can approach the next one in a better, less chaotic way."
As far as advice goes, Steve says that it is always important to have a plan, whether it's a Tropical Storm or a Category 5 storm. He says that the first thing to do is to find out whether a person's home sits in an evacuation area, which Steve emphasizes can be found out today. Next, to know where to go in case a hurricane becomes a threat; to stay with relatives in a safe environment and to not be hasty to drive off to Orlando or Tampa, since hurricanes, in their own enigmatic characterization, tend to change course. In addition to this, Steve points out that having a checklist of supplies that might be needed during the aftermath of the storm is highly recommended.
"Run from the water and hide from the wind—get away from the coast and get inside a secure building," Steve adds. "Everything else is secondary."
As one can imagine, there has been no shortage of anecdotal incidents during Steve's career. He says it is common for himself and fellow newscasters to arrive at the station with sleeping bags, toothbrushes, and bags filled with clothes as they prepare to hunker down for the hurricane's duration and report the news. One incident that definitely stands out in Steve's mind occurred during 2004's Hurricane Frances, which proved to be a destructive cyclone for South Florida, Central Florida, and the Florida Panhandle. Steve was in the middle of doing a live shot on one of the balconies of the station when he heard a loud noise coming from inside. Upon finishing the segment and re-entering the station, he stood in shock to see there was a large hole in the roof of one of the studios inside the station and water that had pooled on the surface was coming down like a waterfall.
"The whole building was getting inundated with water; we started to get electrical fires; people were panicking; so the boss came to me and said 'We may not have any choice but to shut down,'" recalls Steve. "I asked him to please keep me and three more guys so that we could keep going!"
Thankfully, the situation was contained within 45 minutes. In addition to hurricane incidents, Steve was actually one of the first reporters to track a tornado that tore through Palm Beach County in August 2003. The tornado formed in Jupiter, right near the Lighthouse on Indiantown Road, and went south to Palm Beach Gardens and then crossed US 1 briefly and back east again to dissipate by the Coca-Cola distribution factory in Riviera Beach. Steve says that by the time the tornado fully disappeared, he and his team had been tracking it for almost 11 hours.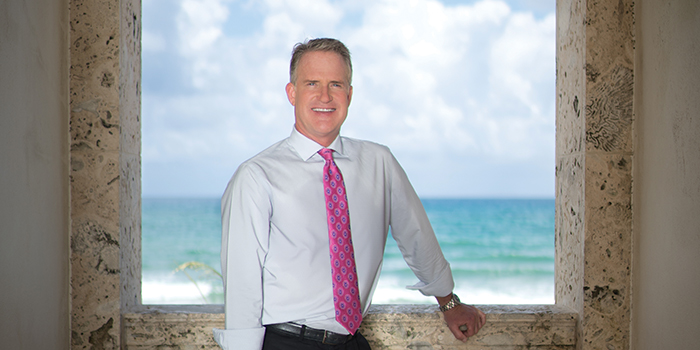 BEYOND THE GREEN ROOM
But chasing hurricanes and tornadoes and tracking severe weather is merely one way Steve helps out the community. Since he first became a full-time resident of South Florida, Steve has been spearheading the annual "Ride for the Red Cross," which is a 125-mile, five-day bike ride that spans Indian River, St. Lucie, Martin, and Palm Beach County, starting at Sebastian and ending at Boca Raton. The ride's purpose is to raise critical funds throughout the four counties to support the Red Cross in their efforts to bring pre- and post-hurricane relief, as well as educate locals on hurricane season preparation. This year's ride, which took place at the beginning of hurricane season, marked the 19th consecutive year of the event and, as per usual, Steve broadcasted live at selected stops during this trek. He is a regular sighting at eco-related community events at The River Center in Jupiter, and he is currently working with the Jupiter Inlet Lighthouse & Museum to be a spokesperson for the restoration of the Weather Bureau Station and Signal Station that was destroyed in the 1928 Okeechobee hurricane. Steve also jumps at the chance to give talks at various schools in the region whenever possible and he doesn't shy away from anyone who comes up to him with a question.
"It just means they're watching," he says with a smile.
While the duties of a professional weatherman offer many thrills, Steve prefers a quiet and relaxed home life in Tequesta alongside his wife, Karen. Although his day-to-day contributions continue to impact a great majority of the members in the South Florida coast, Steve believes in forward-thinking for the betterment of his cause so that he can continue to play his part in the protection of lives.
"I want to figure out how people will get their weather in the future and get there faster," notes Steve. "Mobile reports are already big, but as much as weather apps are useful, I believe there will always be a need for a person that the public believes in. Even though technology is always changing, much like the weather, I'm hoping to continue being that guy."

In The Eye Of The Storm