CBS12 Welcomes Matt Lincoln & Ashley Glass to the Morning News Team
CBS12 Welcomes Matt Lincoln & Ashley Glass to the Morning News Team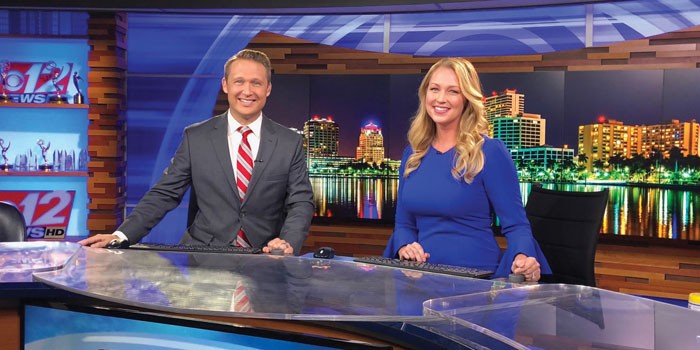 Matt Lincoln


While Matt Lincoln joined the CBS12 News This Morning team in August, he has been a familiar face to our local audience for more than five years. Since 2013, Matt has been the one to turn to for local sports coverage and he has built up a significant fan base. As Sports Director at CBS12 News, he frequently got to meet and award many local high school athletes' accomplishments with the Athlete of the Week certificate. His work extended past local too, broadcasting live from events like The Honda Classic and The Masters.
After graduating from Syracuse University with a degree in Broadcast Journalism, Matt began his now 15-year broadcasting career working at a local station in northeast Louisiana. He was working at this station when the devastation of Hurricane Katrina hit in 2005, and this moment created a lasting impact for him, and the tenacity of the community has always stuck with him. "I got to meet a lot of people who had lost everything in that storm," he recalls. "I volunteered at local shelters during that time and will never forget how those people carried on with their lives, even after their colossal loss."
Matt has always believed that his role in the community extends far beyond the camera, and he always finds ways to be a valuable part of the community dedicating many hours to charity work. He is chairman of Clinics Can Help, a charity that takes recycled hospital equipment and gives it to local people who need it in their homes. He is also a supporter of Best Buddies, a charity that helps pair challenged youth with helpful, caring classmates.
When Matt's not in the studio or on location, you can find him on the golf course. Playing and covering sports has its perks. He beams when he talks about the time he, "won a lottery among the media members covering The Masters, and I was one of the few who got to play on the Augusta National Golf Club course on the Monday following the tournament." Matt also loves running—participating in at least one half-marathon a year.
Growing up in Lakeville, Massachusetts, the headquarters for Ocean Spray Inc., Matt attributes happy memories of his own childhood to his determination to think up new and exciting adventures for his adorable three-year old twins.
Chatting with Matt, it's obvious his devotion to family runs deep. This is never more evident than when he tells the story of the day his children were born. "I was covering a college basketball game when my wife's water broke, eight weeks before her due date. Theo and Scarlett spent five weeks in the NICU after that. My happiest day was when they arrived home."
With Matt in the newsroom, viewers can rest assured they have a trustworthy professional who cares and has proven his dedication to family life, work, sports, and the community we all love.
Connect with Matt Facebook & Twitter: @MattLincolnTV

Ashley Glass
There is a buzz in the newsroom as Ashley Glass takes her seat next to Matt Lincoln as co-anchor on CBS12 News This Morning. Ashley shares her own excitement, declaring, "Morning television is special. It's an important job to get people up and out the door with the news they need to start their day. I consider it an honor to be welcomed into people's homes as the sun rises."
Ashley's great sense of humor and enthusiasm were crucial to her establishing a career in broadcasting. Looking back, Ashley shows just how important these traits were. As she recalls her first attempts to land a job in broadcasting, she cannot help but laugh. She had just graduated from the University of Florida when she saw a weather job opening. "I was so eager to get work that I managed to land an audition for the job, all the while knowing I was extremely under qualified," she remarks. "Unsurprisingly, the audition was terrible and I was not offered the job."
This was just the beginning for Ashley; even though the director recognized she was not a fit for the weather team, he recognized the pizazz that has made her so popular among our audiences. "It was a miracle," she says. "The director offered me a general assignment reporter position, which in turn kickstarted my career." Now, the same person who gave her that first break, News Director Adam Henning is the same person who hired her as the newest member the CBS12 News team.
There have been several highlights in Ashley's 14-year career, most notably the time she flew with the U.S. Navy Blue Angels. Ashley smiles and her eyes light up as she recalls this experience, calling it, "An exhilarating 45-minute ride through the sky. It was a fitting assignment because my father is a retired U.S. Navy Pilot. I still remember the proud look on his face as he waved at me from the runway."
A mother of two young girls, Ashley loves bringing them to public and national parks to explore the world around them and meet new friends. "You can usually find my girls shooting down a slide or swinging in what they refer to as 'big kid swings.' At this point, I spend so much time scoping out new parks, I've become a 'park connoisseur,'" she jokes.
When Ashley is not chasing that perfect park, she loves to support various charities and organizations. She proudly professes her commitment to our military and veterans community, something she holds near and dear thanks to the service of her father and grandfathers. "I've MC'd for the Jackson in Action 83 Military Moms Baby Shower for many years in Tampa, and I do anything I can to support the military," she explains. Ashley also supports the National Pediatric Cancer Foundation's Hands Across the Bay and Feeding Tampa Bay.
Ashley already has plans for giving back to our community here in Palm Beach County. "My cousin Clair is a special needs young adult and I've seen the joy the Special Olympics has brought to her life for many years, so I'd absolutely love to get involved with Palm Beach County Special Olympics Florida."
Ashley has been getting to know the CBS12 News team and says they are terrific. "I'm lucky that there are some familiar faces, so it already feels like home. My co-anchor, Matt Lincoln, is an outstanding family man and broadcaster. I'm excited to work with him and the entire team."
Connect with Ashley Facebook & Twitter: @AshleyGTV •

CBS12 Welcomes Matt Lincoln & Ashley Glass to the Morning News Team