A Leading Lady
A Leading Lady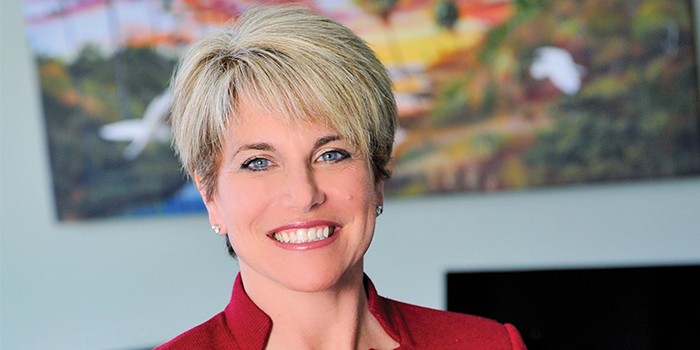 PALM BEACH GARDENS, FL – April 30, 2018 – Impactful. Determined. Genuine. These are the first words that come to mind when describing the President and CEO of the Palm Beach North Chamber of Commerce (PBNCC), Beth Kigel. For someone who is on the board of as many prestigious local, state, and national organizations as she is, all while being able to be a super mom attending each of her sons' sporting or academic events over her many years of serving the public sector, she finds a successful balance.
The theme I ascertained most while Beth revealed her journey through her widely successful career, is the way she truly cares for her community. With each step she has taken to get to where she is today, she has been driven to hold multiple respected roles in the business and public sectors and consistently strives to improve residents' lives, which will become very clear as you read on.
Originally from Jacksonville, Florida, Beth graduated from the University of Florida with a degree in Finance and then went on to receive her MBA at the University of Central Florida. After graduation, she lived in Virginia and multiple cities across Florida before permanently relocating to Palm Beach County (PBC) in 2005. She explains that, while in PBC, she owned and managed a business called BK Strategies LLC, a business specializing in government relations and business consulting.
"In 2012 while doing my government relations and lobbying work, I was asked if I would be interested in leading the Northern Palm Beach County Chamber of Commerce. With my diverse background consisting of finance and accounting, business development, quality assurance, sales management, government relations, and more. This was an opportunity to fuse my experience into one role and give back to my local community while being there for my children, Paul and Jonathan," explains Beth.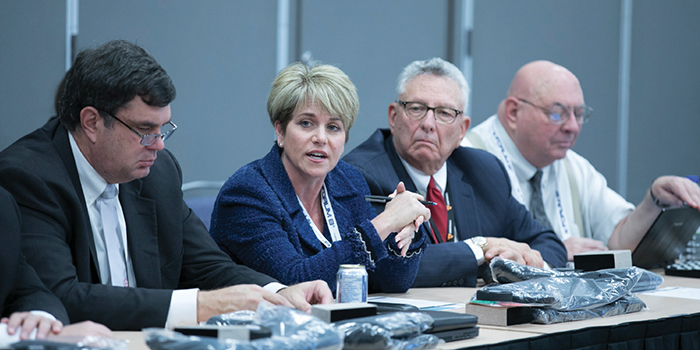 Board of Directors Meeting, World Congress on Intelligent Transportation Systems in Montreal, Canada

On July 1, 2012, Beth began her tenure as the President and CEO of the Northern Palm Beach County Chamber of Commerce, now the PBNCC, which she describes as "a public service organization that does big things and works hard for the community and region." For those who may not know, the PBNCC is a non-profit organization covering 230 square miles comprising of 10 municipalities and unincorporated areas in our region and home to more than 196,000 residents. The PBNCC has a Board of Directors and nearly 1,000 members representing a diverse mix of large and small businesses, governments, as well as education and civic organizations within PBC and beyond.
When asked what her primary goal as the President and CEO of the PBNCC is, Beth explains that it is to ensure that Palm Beach North's strategic plan, which defines the vision and goals for the Chamber for the next five years, is fulfilled. But what does this strategic plan, launched in June 2017, consist of?
A Shared Purpose: To foster a partnership of private, public, education, and civic organizations working together to ensure Palm Beach North is Florida's "Prosperity Coast," with four strategic imperatives that include a prosperous economy, a high quality of life, a smart and connected region, and regional leadership. To achieve this Shared Purpose, community leaders, members, and partners are working together daily, according to Beth.
In order to accomplish these strategic imperatives, Beth and the PBNCC have already made headway on many key projects within our community. These include the launch of a Logistics Initiative, a workforce initiative to meet the needs of key logistics industry employers through education and training programs for Palm Beach North residents. There is much momentum in Florida for Logistics, and it involves employment opportunities for those seeking trade certifications, as well as those seeking degree-based occupations.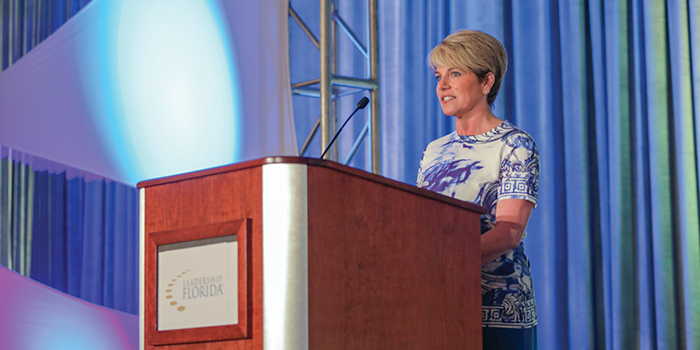 As the Chair of Leadership Florida, Beth makes her first remarks at an event at the Breakers in Palm Beach
The PBNCC, through its Economic Development Committee, has prioritized other initiatives.
One includes finding innovative ways to provide affordable housing for Palm Beach North's teachers, nurses, firefighters, police, and residents in surrounding areas through the launch of their new Essential Services Housing task force. The PBNCC has already collaborated with the Town of Lake Park and PBC's Housing Leadership Council on an opportunity for an Innovation Grant to be provided by U.S. Housing and Urban Development. Also, the Smart and Connected Region task force is being formed to make smart city concepts available to the public through utilizing technology and the "internet of things" to provide access to healthcare, transportation, government services, education, etc.
"Everything I do is interrelated. In January 2012, just prior to my start at the Chamber, I was appointed by Governor Rick Scott to be on the Florida Transportation Commission and was reappointed in 2016," notes Beth. "I look to achieve goals that are all about economic development, global competiveness, quality of life, and job creation. Those are a great passion of mine, and combining the knowledge and resources allows me to work with our stakeholders to help our communities grow."
Other than having the prestigious roles of President and CEO of the PBNCC and Florida Transportation Commissioner, Beth holds numerous prominent positions - These include being on the Board of Directors for the World Congress on Intelligent Transportation Systems, the Board of Directors of the Florida Chamber of Commerce, the FAU Freight Mobility Research Institute's Advisory Board, and the Advisory Board of the Miami Mobility Fast-Track Institute.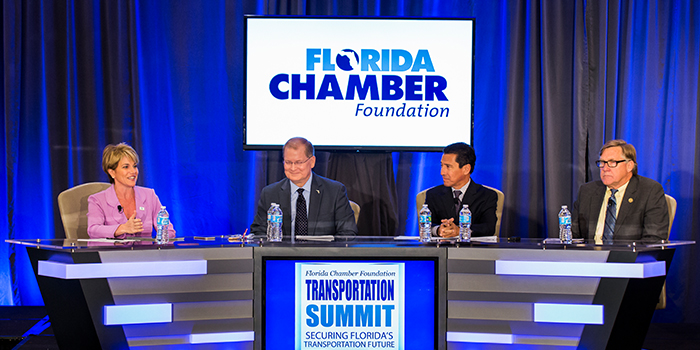 Beth is pictured moderating a panel at the Florida Chamber of Commerce Foundation's Annual Transportation Summit
Her most notable role to date was her recently appointed position as the Chair of Leadership Florida, a non-profit organization whose mission is to engage a strong and diverse group of Florida leaders, enhance their understanding of elements that are critical to the state, and inspire them to make an even greater positive impact for Florida and the communities. This is a role she "is extremely honored to have."
"If you really care about giving back to the community and you know where the momentum is throughout Florida, you can make these pairings and do really good things for the people of Palm Beach North," states Beth. "Living an economic development dream is to be involved in all of these areas and to be able to bring the right people together for successful outcomes. That's what I love and will continue to do for our local communities and the State of Florida."
For more information on the Palm Beach North Chamber of Commerce, go to www.pbnchamber.com.

A Leading Lady