When Opportunity Knocks, Jupiter's Own Kathy Petrillo Answers for the Kids
When Opportunity Knocks, Jupiter's Own Kathy Petrillo Answers for the Kids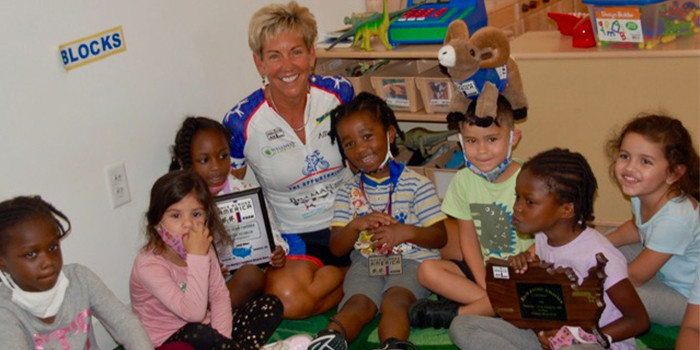 Jupiter, FL – October 7, 2021 – It's no surprise that 2016's Florida Senior Games Athlete of the Year, Kathy Petrillo is the first woman to shatter and set a new world record at the Race Across America (RAAM) in the age 60-69 mixed category. On top of that, her cycling team, The Opportunists raised over $100,000 for the Opportunity Early Childhood Education & Family Center in West Palm Beach.
The race begins in Oceanside, California and ends in Annapolis, Maryland crossing 12 states. The record to beat was 7 days and 11 hours. The Opportunists smoked that record in 6 days and 13 hours, cycling for 3,069 miles. The dynamic team of 4: Kathy Petrillo, Chris Huffman, Matt Shippee and Michel Chabot rode their bikes in pairs, each riding for 12 hour shifts. The pairs have vans that follow the racers. The other two racers have their own van and they follow the same routine going across the country. In all, the team has three support vans, an RV and a support team of 14 people who help out as needed.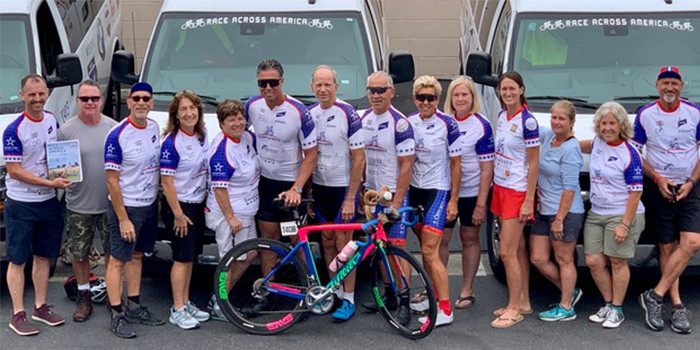 RAAM Team
We asked Kathy what was more challenging, the mental or physical toll the race took on her. She explained what it was like to be on her bike from 2 a.m. to 2 p.m., headphones in, music pushing her forward, focussed on the goal, the kids.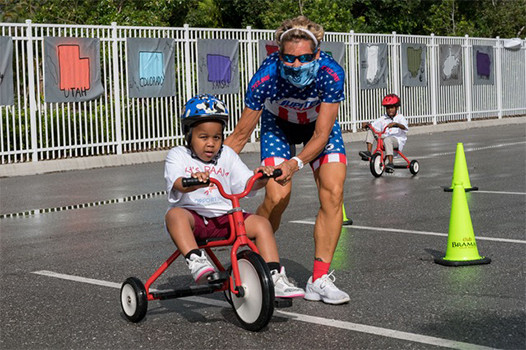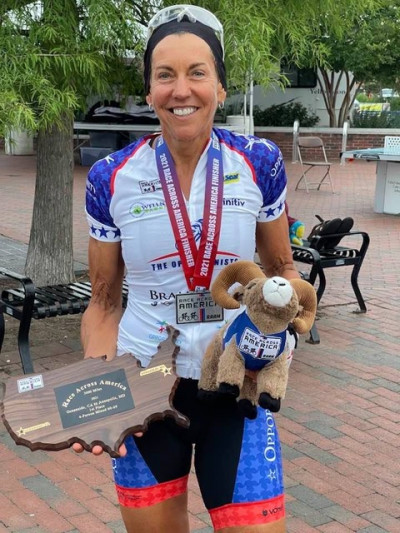 After the race, Kathy gave her body some much needed rest, something she says is very important, especially after 6.5 days of riding a bike across the country. She was ready to see the smiling faces of the kids from Opportunity Early Childhood Education & Family Center.
In 2020, the Race Across America was cancelled. In response, Opportunity created the Kid's RAAM. The RAAM was something the kids at Opportunity followed and rooted for, so why not give them the chance to be champions as well? The Kid's RAAM was held in the parking lot of Opportunity where they got to experience the same excitement their idols experienced in the Race Across America. The team also prepared the children as they would prepare for a big race: training, nutrition, race strategy, race support, where to eat, how to rest, etc.
A new beloved mascot would soon be introduced to the children at Opportunity, RAAMsey the Ram. The children loved him, and during the 2021 Race Across America (RAAM), Kathy proudly secured RAAMsey to the front of her bike and they crossed the finish line together.
The Kid's RAAM is back on October 15! There will be a Volunteer & Supporter Recognition Breakfast, followed by the Kid's RAAM, and lastly, the RAAM Corporate Challenge, where two members of each organization will race against each other on the Kid's RAAM track in Opportunity's parking lot on tricycles.
Click here for more details about Opportunity Early Childhood Education & Family Center's Grand Celebration!
Click here to volunteer and/or donate!
If you'd like to RSVP for the breakfast, please contact lstella@opportunitypbc.org or 561-712-9221 x215.

About Race Across America (RAAM)
For 36 years RAAM has been challenging ultracyclists from around the globe to push their physical and mental limits to the farthest reaches. Starting in Oceanside, under one of the longest piers in California, RAAM spans over 3000 miles, climbs 175,000 feet, crosses 12 states and finishes at City Dock in Annapolis, Maryland, the east coast sailing mecca. The route travels west to east, traversing three major mountain ranges (Sierra, Rocky and Appalachian), crosses four of America's longest rivers (Colorado, Mississippi, Missouri and Ohio) and the Great Plains. Also, passing through such iconic American landmarks as the Mojave and Sonoran Deserts, Monument Valley, Great Plains and Gettysburg.
About Kathy Petrillo
As a certified nutrition and wellness consultant, realtor, and educator, she has created a business of her own called "Wellness Warrior," through which she consults with physicians, individuals, and corporations regarding health and wellness nutrition. She has also created a cycling kit called Jupiter Cycling that includes riding shorts and shirt with a Jupiter Lighthouse–inspired logo printed on each piece. Kathy has her Master's Degree focussed in Special Education & Psychology. She was named 2016 Florida Senior Games Athlete of the Year, and is a nationally ranked U.S.A. cyclist.
About Opportunity Early Childhood Education & Family Center/Kid's Race Across America (RAAM)
Opportunity Early Childhood Education & Family Center is one of Palm Beach's oldest charities and has been a United Way agency since its inception. Our primary focus is to serve the children of working families through the delivery of high quality early childhood education which benefits our entire community. For more information, visit opportunitypbc.org.
Kid's RAAM was created by Opportunity in response to the cancellation of the 2020 Race Across America (RAAM). RAAM is one of the most respected and longest running ultra-endurance events in the world. RAAM is seen as a pinnacle of athletic achievement not only in cycling circles but the greater sporting community as well.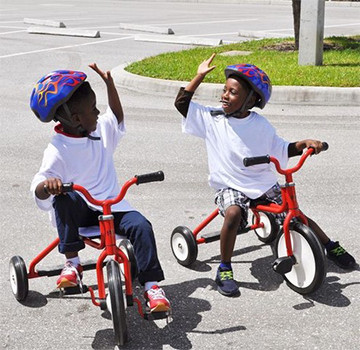 When Opportunity Knocks, Jupiter's Own Kathy Petrillo Answers for the Kids