Tiina Smith's Exhibition Opens at Saks Palm Beach
Tiina Smith's Exhibition Opens at Saks Palm Beach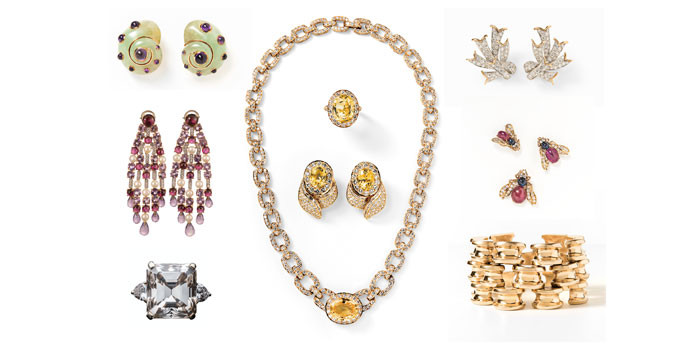 NEW YORK, NY – March 9, 2020 – Tiina Smith Jewelry launches their second exhibition with Saks Fifth Avenue in their Palm Beach, Florida location. This continues the brand's partnership with the luxury retailer following a successful debut at The Vault, Saks' new fine jewelry floor at their Fifth Avenue flagship.
Saks Fifth Avenue Palm Beach will carry Tiina Smith's curated collection of rare vintage jewelry from the master jewelers of the 20th and 21st centuries, including Van Cleef & Arpels, Verdura, Moussaieff, Michele della Valle, Tiffany & Co. and more. Highlights include a 1970s VCA carved onyx and diamond suite and a 1940s-era Retro gold bracelet from Tiffany & Co.
"I am excited to bring my rare finds to Palm Beach, home to some of the most legendary jewelry collectors in history. I look forward to meeting fellow jewelry enthusiasts and introducing them to our exquisite vintage pieces," says Tiina Smith.

"We are thrilled to welcome Tiina Smith Jewelry to Saks Fifth Avenue Palm Beach," said Marta Nowakowski, Vice President and Divisional Merchandise Manager of Jewelry at Saks. "Tiina has an incredible eye and we know our clients will love her sophisticated and well curated estate jewelry."
Tiina's jewelry will be available from March 10, 2020 through April 5, 2020 at Saks Fifth Avenue, 172 Worth Avenue, Palm Beach. To view Tiina's complete inventory of vintage fine jewelry, visit www.tiinasmithjewelry.com.
ABOUT TIINA SMITH
Based in Boston and New York, Tiina Smith has built an exceptional jewelry collection that features unique, one-of-a-kind and the best examples by master jewelers including Van Cleef & Arpels, Tiffany & Co., Cartier, Bulgari, Boucheron, Chopard, Harry Winston, Graff, David Webb, Buccellati and others. Long-term relationships with the finest jewelry houses, private sources, auctioneers and makers around the world allow her to locate rare pieces that clients are not likely to find elsewhere. With degrees from Harvard College, Harvard Business School and the Gemological Institute of America, she is well-trained to research relevant history and provenance and to compare and assess similar pieces in order to select the best option and thereby provide tremendous value to her clients. A sought-after jewelry expert, she has been featured in publications including Harper's Bazaar, WWD, JCK, Boston Common Magazine and The Boston Globe.
ABOUT SAKS FIFTH AVENUE
As a leading shopping destination for the all-channel luxury experience, Saks Fifth Avenue is renowned for its coveted edit of American and international designer collections as well as its storied history of creating breakthrough, experiential environments. Its exemplary client service has made Saks a global authority in the category, a focus since the brand's inception in 1924. As part of the HBC brand portfolio, Saks operates in 43 cities across the globe, its online experience―saks.com, and its mobile experience ― Saks App.
Contact Details
Name: Lividini & Co.
Email: Email Us
Phone No: 212.252.8881
Tiina Smith's Exhibition Opens at Saks Palm Beach