Paint the Town Pink for Breast Cancer
Paint the Town Pink for Breast Cancer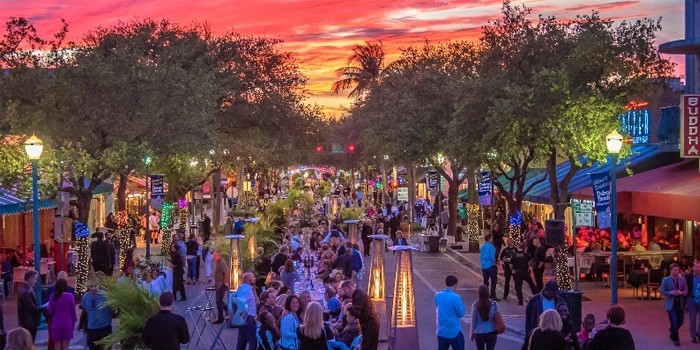 JUPITER, FL – October 25, 2017 – On October 26, 2017, West Palm Beach will be one of three South Florida cities to host the first ever "Downtowns Go Pink" in support of Susan G. Komen South Florida® and National Breast Cancer Awareness Month. The Clematis Street fountain will light the night in pink, and restaurants and bars will offer special discounts and a portion of sales to support Komen's local life-saving breast cancer programs and research to find a cure.
Komen has partnered with West Palm Beach's Downtown Development Authority to engage a variety of establishments who will offer Clematis Street by Night revelers a fun evening out on the town including:
• Avocado Grill—$2 donated from the purchase of every signature breast cancer cocktail
• Leila—10% of the evening's sales donated to Komen
• Kapow—$1 donated from the purchase of every signature breast cancer cocktail
• Dorrian's – Proceeds from the sale of their Berry Awareness cocktail will support Komen's efforts
More restaurants and bars are joining every day. For the latest information about participating establishments, or to learn more about Downtowns Go Pink in Delray Beach and Stuart, visit www.komensouthflorida.org/events/gopink or email info@komensouthflorida.org.
About Susan G. Komen and Komen South Florida
Susan G. Komen is the world's largest breast cancer organization, funding more breast cancer research than any other nonprofit while providing real-time help to those facing the disease. Komen was founded by Nancy G. Brinker, who promised her sister, Susan G. Komen, that she would end the disease that claimed Suzy's life. Komen South Florida is working to better the lives of those facing breast cancer in the local community. Through events like the Komen South Florida Race for the Cure®, Komen South Florida has invested over $14 million in community breast health programs in Palm Beach, Martin, and St. Lucie counties and has helped contribute to the more than $920 million invested globally in research.
Contact Details
Name: Jennifer Martinez
Email: Email Us
Phone No: (561) 301-4998
Paint the Town Pink for Breast Cancer