Holiday Wander at The Gardens Mall
Holiday Wander at The Gardens Mall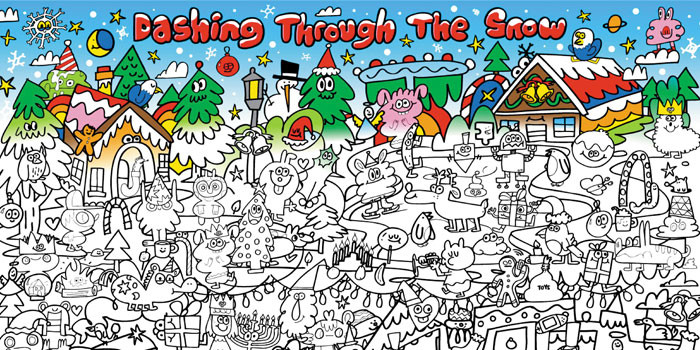 Palm Beach Gardens, FL - November 25, 2020 - Celebrate all the wonder of the season at Holiday Wander in The Gardens Mall. Immerse yourself in interactive holiday scenes, make-and-take crafts, and a custom coloring book mural. Holiday Wander opens on Saturday, November 28 on the lower level near Saks Fifth Avenue.
Picture yourself in the midst of candy cane swirls, taking in Santa's view from up on the rooftop, or inside a giant snow globe. It's an extravaganza of Instagram moments! Holiday Wander will also feature a color-in holiday mural created exclusively for The Gardens Mall by world-renowned "Doodle" illustrator Jon Burgerman. Floor decals will help guests maintain their distance as they stroll through the interactive exhibit.
"We want our guests to be able to celebrate the holidays safely, while still enjoying all the magic of the season. Holiday Wander puts visitors in the heart of the festivities and allows them to capture photos, ensuring the experience is truly memorable," said Whitney Pettis Jester, Director of Marketing and Merchant Relations at The Gardens Mall.
Once inside Holiday Wander, kids will have a chance to get crafty. They can decorate capes, journals, totes, and pencil cases to commemorate their visit. Admission into Holiday Wander is $10, with an additional $10 fee for the crafts. All proceeds benefit The Arc of Palm Beach County, which serves children and adults with developmental disabilities.
Holiday Wander will be open through Christmas Eve, Wednesday through Saturday, from 12 p.m. to 8 p.m., and Sunday during all mall hours.
Contact Details
Name: Shelli Lockhart
Email: Email Us
Holiday Wander at The Gardens Mall