Great-Taste Gifts: Receive a $50 Bonus Card when you Purchase a $500 Gift Card from III Forks Steakhouse
Great-Taste Gifts: Receive a $50 Bonus Card when you Purchase a $500 Gift Card from III Forks Steakhouse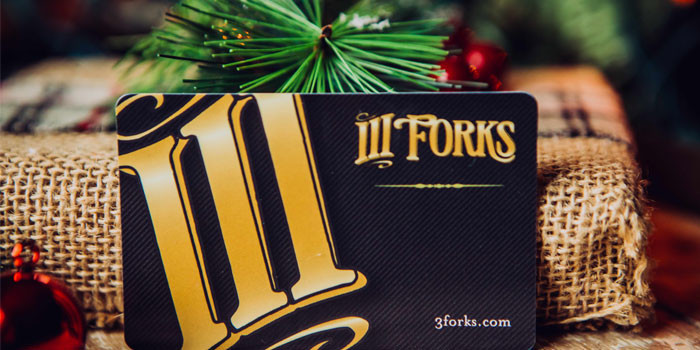 Palm Beach Gardens, FL – November 11, 2020 - The holidays embody the humble act of giving and receiving so trade the challenging gift searches for an epicurean experience that rewards both the gifted and the giver.
With every $500 dining card you purchase from III Forks Steakhouse, you will automatically receive a $50 bonus card (valid January 1-December 31, 2021).
Available for curbside and in-restaurant pick-up now through December 23, these extravagant stocking stuffers are also available for purchase online from November 24-30, 2020.
Craving more delicious perks from one of the country's most celebrated beef houses? Enroll in III Forks' popular E-Club or Text Club and receive a complimentary Beef Croustades appetizer along with regular updates about exclusive offers, special events, and more delivered exclusively to your Inbox or cell phone.
III Forks Steakhouse is located at 4645 PGA Blvd., Palm Beach Gardens. For more information, call (561) 630-3660 or visit 3forks.com.
Contact Details
Name: Buzz Agency
Email: Email Us
Great-Taste Gifts: Receive a $50 Bonus Card when you Purchase a $500 Gift Card from III Forks Steakhouse