Christmas at Gaylord Palms is Now Open
Christmas at Gaylord Palms is Now Open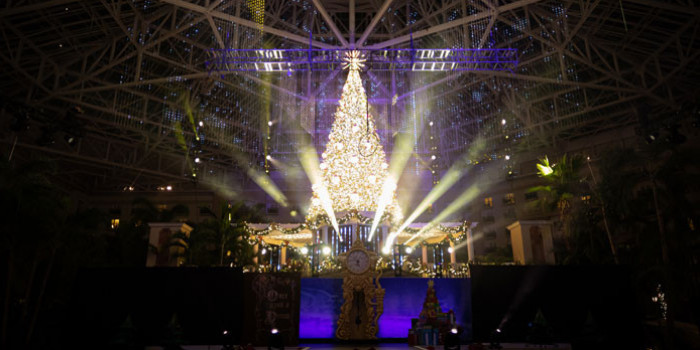 KISSIMMEE, FL. - November 18, 2020 – Christmas at Gaylord Palms is now open, offering more than 15 festive activities for guests and locals to enjoy, including dazzling live performances, a festive breakfast with the Grinch, gingerbread decorating and more. Plus, brand-new to this year's event is I Love Christmas Movies, an immersive, walk-through experience featuring scenes from five beloved Christmas films, and Snow Factory, a snowy play space with ice tubing and an interactive snowball area. Christmas at Gaylord Palmsruns from November 13, 2020 through January 3, 2021.
Debuting at this year's Christmas at Gaylord Palms is its marquee event: I Love Christmas Movies. This interactive, multi-sensory experience was developed in collaboration with Warner Bros. Consumer Products and allows guests to step into the movies they know and love, including THE POLAR EXPRESS™, A CHRISTMAS STORY™, ELF™, NATIONAL LAMPOON'S CHRISTMAS VACATION™, and THE YEAR WITHOUT A SANTA CLAUS™. Designed with social distancing in mind, guests will navigate the 17,000 square foot exhibit and enjoy more than 13 scenes complete with replicas of film props, audio clips and more.
Another all-new experience this year is Snow Factory, a mechanized snowy play space with multiple attractions, including Snow Flow Mountain, where guests can slide through factory conveyor belts that have frozen solid and ride on tubes down a thrilling plummet slide or hilly ice coaster. Plus, the Snowball Build and Blast allows guests to build and toss real snowballs to boost the power of snowmaking machines.The full lineup of Christmas activities includes so much Christmas fun. With 4.5 acres of indoor airy atriums decorated with millions of twinkling holiday lights, a towering Christmas tree in the St. Augustine atrium and thousands of shimmering ornaments, there is holiday magic to be found for guests of all ages, including:

Special holiday dining at the newly renovated Villa de Flora on Thanksgiving, Christmas and New Year's Eve.
Live performances on the St. Augustine Stage, including the dazzling Cirque Dreams Unwrapped featuring stunning feats of showmanship performed on stage and in the air. Plus, holiday spirits will soar during The Greatest Story, a multicultural, musical journey celebrating the story of Christ.
A fun and festive breakfast with the mean, green one himself at The Grinch Character Breakfast at Villa de Flora.
An interactive experience that will show kids what it takes to become one of Santa's helpers during the Elf Training Academy.
A one-of-a-kind light show in the St. Augustine atrium sky that will bring the fun of decorating the Christmas tree to life in the #LIT Light Show.
A fun, sticky and interactive decorating tradition that allows guests to choose from different design options to create either delectable holiday-themed gingerbread cookies or a complete gingerbread house in the Gingerbread Decorating Corner. Plus, after decorating, guests can meet Nutmeg the Gingerbread Man for a heartwarming photo opp.
A meet and greet with the big guy himself in Photos with Santa by DEI. Guests can tell Santa what's on their Christmas lists this year in a redesigned space to creatively capture the moment in a socially-distanced way.
A fun-filled celebration of Christmas traditions old and new with the jolliest hostess of all. Guests can delight in the retelling of the Christmas classic, "Twas The Night Before Christmas," and sing along to their favorite holiday songs during Mrs. Claus' Christmas Traditions.
A holiday-themed scavenger hunt that will help grow The Grinch's heart three sizes and show him the meaning of the season in The Grinch's Wonderful Awful Idea Scavenger Hunt.
A personalized and imaginative experience with Build-A-Bear Workshop®. Guests can experience the Make-Your-Own fun by adding stuffing and taking part in the one-of-a-kind Heart Ceremony. Families can personalize furry friends with outfits, accessories, sounds and scents.
A Sugary Sweet Storytime that will immerse guests into the world of The Nutcracker led by the Sugarplum Fairy herself in this interactive, super sweet, super sugary musical spectacular.
The Journey of Los Tres Reyes Magos live show where guests will join the Three Kings in a musical celebration as they retell the Christmas story and the celebrations surrounding it, including Las Posadas and el Día de los Reyes. Running December 27, 2020 to January 3, 2021.
Plus, starting tomorrow, Relâche Spa will re-open to guests, offering exclusive day treatments and therapies including relaxing massages, facials, body therapies, manicures, pedicures and more. In accordance with Marriott's "Commitment to Clean" program, face masks are required throughout the spa with the exception of facial treatments. For more information on the new, enhanced cleanliness protocols at the spa, click here.
Tickets and Packages
For almost two decades, Gaylord Palms has become legendary for providing magical holiday events and activities for winter visitors to experience, and this year will be no different. Whether staying overnight or visiting for the day, Christmas at Gaylord Palms promises an abundance of exciting, interactive and immersive experiences and activities suitable for all ages.
Due to limited capacity in accordance with Marriott's "Commitment to Clean" program, advance online reservations are required for all ticketed events. Tickets for Christmas at Gaylord Palms and I Love Christmas Movies can be purchased at ChristmasatGaylordPalms.com and ILoveChristmasMoviesExperience.com. Tickets will sell out and guests are encouraged to purchase tickets well in advance.
Overnight Christmas packages including admission into the I Love Christmas Movies immersive pop-up experience are also available. For more information, CLICK HERE.
As the safety of its guests and STARS (employees) is of paramount importance, Christmas at Gaylord Palms has been developed in accordance with Marriott's "Commitment to Clean" program and with enhanced protocols and social distancing measures. Programming will also operate in consideration with the latest local, state and federal legislation.
Contact Details
Name: Gaylord Hotels
Email: Email Us
You May Also Like
Christmas at Gaylord Palms is Now Open