Philanthropy Tank: Diving In
Philanthropy Tank: Diving In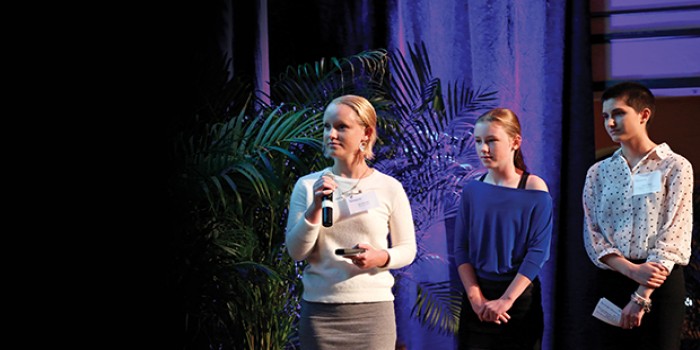 JUPITER, FL – March 8, 2017 – Local leaders empower the next generation to change the community through mentoring and financial support.
Perhaps you've heard of the television program, "Shark Tank," in which entrepreneurs vie for the backing of millionaire-businessmen and women. Did you know that Palm Beach County has our own version, but with a uniquely different spin?
The mission of the Palm Beach Philanthropy Tank is to "Power tomorrow's change leaders, today."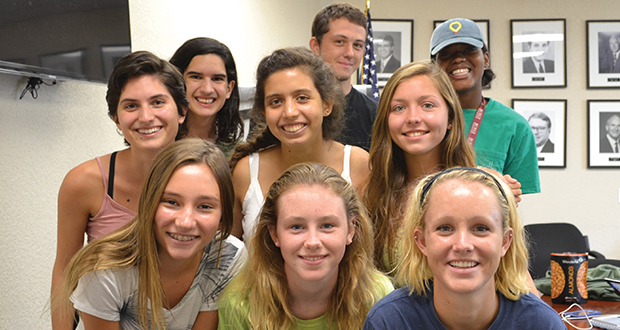 Created by Advisors for Philanthropic Impact (API), the Palm Beach Philanthropy Tank (PBPT) is designed to "provide the youth of Palm Beach County with the opportunity to secure mentoring and funding for their ideas for cutting-edge community betterment projects," states Heidi LeRoy, the Program and Marketing Manager for PBPT. "The program also helps shape the participants' leadership skills."
A program geared toward community improvement and service? No disrespect to the "Shark Tank" program, but this is a program in which everyone wins.
PHILANTHROPY IN A TANK?
How does the Philanthropy Tank program work?
Palm Beach County students enrolled in public, private, and home schools in grades seven through 12 are asked to identify issues confronting the community. They are then challenged to develop and execute initiatives with sustainable solutions to these problems. The criteria on which their initiatives will be selected for the program include community impact, program feasibility, solution creativity, sustainability, and team strength.
The students present their initiatives to a group of four philanthropist-investors – in a setting similar to "Shark Tank." The philanthropists-investors (known as "Dolphins") then fund the students' work, investing in the community projects – with each philanthropist contributing $25,000 to fund the ideas. A total of eight to 12 finalists will receive amounts up to $15,000 for their ideas, as well as the opportunity to be mentored by their sponsoring Dolphin for a year.
"In addition to the financial investment, the Dolphins also invest their time," LeRoy explains. "Through mentoring, they help the students execute their initiatives, while increasing their ability to make meaningful change."
INSPIRATION BEHIND THE INITIATIVE
Although we can probably all agree that ultimately, Philanthropy Tank's biggest winner is the community itself, there were multiple winning teams from the first season, which occurred in 2016.
Alyson Reeves and Sage Albert, FAU High juniors at the time of the program, developed "Go For Green," an initiative designed to prevent drowning among children enrolled at Boca Raton's Peter Blum Family YMCA.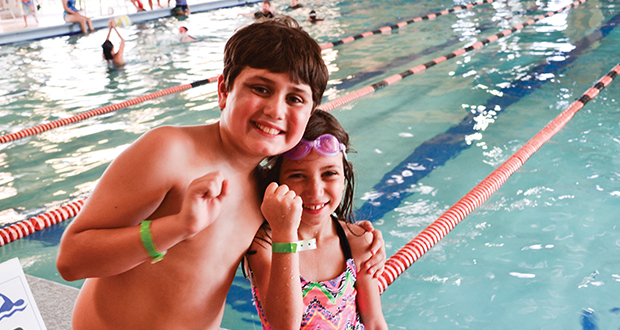 "We are both in the Leadership in Training (LIT) program at the Y," explains Reeves. "This is a five-week, summer leadership program with 150 hours of community service, and we serve as counselors' assistants on the side. Our Counselor, James Rodriguez, challenges us to take on different aspects of each program and Sage noticed that certain kids weren't allowed to play in the pool and certain kids were stuck in a 12-by 25-foot section of 'beach' set-up that is only 12-inches to two-feet deep. The kids can play in this area, but they can't swim, and there are a lot of them stuck there. If they can't swim 25 meters, then they are stuck there."
"We saw these kids just stuck in a small space, watching all the other kids play," Reeves says. "Both Sage and I love the water. All of our happy memories involve water, whether it is at the beach, the water park,or swimming in a pool. We just really enjoy water and we didn't want someone to miss out, or even lose their life doing something we both take for granted."
GOING FOR GREEN
At first, the girls began working with traditional kids, teaching them to swim.
Reeves explains the process behind their program: "Some are more afraid than others. Others are just eager to jump in and show you that they can swim and then they just get really tired and have to grab on to you. We tailor our program to each child. We have one staff member and the way we run it is – we don't want the staff person to be the main person running it. For the first few weeks, we basically allow them to be the head of everything and to teach every lesson. As summer progresses, we want our volunteers – who are between the ages of 12 to 15-years old – to basically get the leadership experience and to teach all the lessons because we have a two-prong aspect: Teach leadership to 12 and 13 year olds and to see them engage with not only traditional kids, but now also special needs kids. We are mentoring them to take over when we go to college."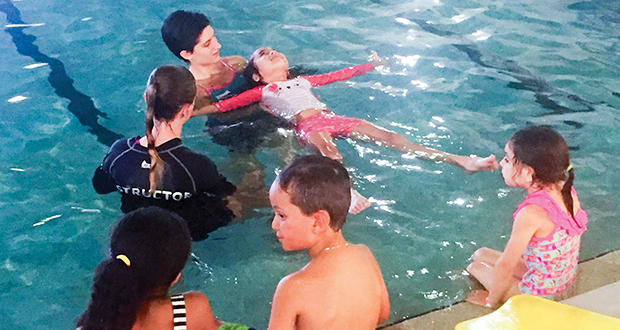 The biggest age group "stuck" in the "no swim" zone is, perhaps not surprisingly, the youngest swimmers. "Five and six year olds are the largest group," Reeves explains, "They can't swim 25 meters because they get tired. We have to work with them on stamina."
Once a child can swim 25 meters, they have proved that they can swim and have earned their Green Band – hence the name of Reeves and Albert's program: Go For Green.
"This is our third summer and our third year with the Y's program," Reeves says. "In the first year, we didn't track the number of kids so strictly, and we know that we run about 103 kids through each year, but that first year we started with about 150 kids.
TO SWIM WITH THE DOLPHINS
In order to prepare for the Philanthropy Tank competition, Reeves and Albert – and the rest of the student teams – worked with the Maltz Jupiter Theatre's Director of Education and with theatre students to complete a series of four workshops in order to learn skills such as giving a presentation, timing, body use, and body language. "We were not too excited about standing on a stage," Reeves says with a chuckle. "But it really helped."
It must have – because the next step was to make a splash – in the pool with the Dolphins.
CITIZEN LEADERS
Eric Becker is the Dolphin who immediately saw the value of Reeves and Albert's Go For Green initiative, and was especially struck by one very singular aspect of the teams' approach. He explains, "I loved what they were doing. The mentorship put it over the top. The fact that they are training the next 'generation' of students to take the program over for them when they graduate and leave for college shows a level of understanding, maturity, and caring that enhanced their passion and commitment. And, I had similar experiences coaching my Cara, so it is a wonderful fit."
"My Cara." So much hangs in those two simple words. Cara, the inspiration behind Becker's own foundation, Karma for Cara (K4C), is Becker's cherished daughter, who he tragically lost to complications from leukemia in 2012. "Cara loved younger kids and to volunteer," Becker continues. "So what Aly and Sage are doing with their initiative is a great fit."
"Karma for Cara was started by a group of Cara's friends while she was in the hospital," he says. "If they wanted to hold a blood drive to raise 40 pints of blood, Cara would say, 'Let's make it 200 so we can help others' and it just took off. After she passed, my wife and our two sons decided that one of the best ways to honor Cara would be to continue her spirit of community involvement, to continue trying to reduce the suffering of cancer patients and their families, and to recognize the individuals that are making a difference in their communities through their service – just like my Cara."
Through Karma for Cara, Becker has given out thousands of dollars in microgrants. "Four times a year we award microgrants to kids with the most inspiring service projects," Becker says. "They are typically $900 to $1,000 a grant, and all for service projects designed by youth under 18 to better their communities. To be a citizen leader, you must be involved in our community."
Recent K4C award recipients have included a young man who donated backpacks filled with school supplies in conjunction with his community's "Meals of Love" program. Another grant recipient was a young girl who started an art program for special needs children. Clearly, the urge to work with young people, and to champion their desires to improve their communities resonates with Becker.
"Yes," he concurs. "When my good friend, Evan Deoul told me about the Philanthropy Tank program, and how similar it is to what we are doing with Karma for Cara, I knew that I had to be a part." [NOTE: Evan Deoul is the Sr. Managing Director of AB Bernstein and the co-chair of Philanthropy Tank along with Michael L. Kohner, Managing Director of Andersen Tax.]
Becker continues, "Aly and Sage presented with such passion and commitment. That they coach all around growth and were looking to the future through mentoring the next generation, and through establishing a partnership with the Y, was so rewarding to see. It has been a pleasure to work with them as they have taken their initiative to the next level."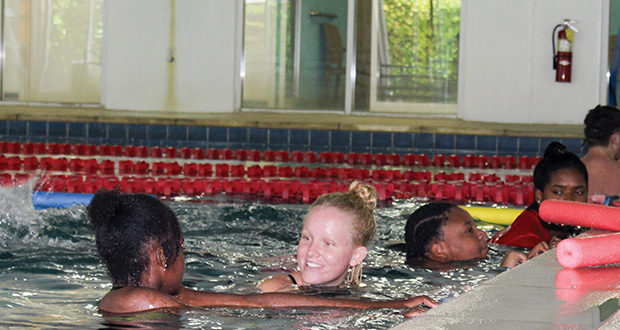 He will be around for the next season of Philanthropy Tank. "Although I gave up my Dolphin Seat because there are too many others asking for the chance to participate, I love the program and would get back up on that stage in a second. BUT, since I should make room for others, in the next season, I will continue to donate and support in an advisory role."
THE DEEP END
With Becker's help, Team Go For Green has expanded their initiative in multiple important ways – in a sense they are now "swimming in the deep end."
"Having Eric as our mentor has made a huge difference in terms of how we are perceived by some adults – even at the Y," says Reeves. "Even though we had well-thought-out ideas and proven results, we weren't always listened to, simply because of our ages. Eric won't let us get walked on. Even mentioning the fact that he is our mentor has helped us progress a lot with the people that we are working with."
In turn, this has allowed them to expand their program to the next level.
Reeves explains, "We started off only teaching traditional kids how to swim. Now, after Philanthropy Tank, this year we will include and incorporate special needs kids and also offer them free swim lessons."
Adding special needs children adds different considerations to the program, which highlights Reeves and Albert's passion for teaching water safety.
"When you are working with a special needs child, you can't let them have too much down time because it can actually put them in a state where they are not progressing. In fact, they can actually deteriorate. To avoid this, we keep them active and engaged and constantly having fun," says Reeves.
Whether they are traditional or special needs, one thing is for certain, if the children are enrolled in the award-winning Go For Green program, they will not only learn to swim, they will also learn the importance of helping others. Perhaps they may even be inspired to begin their own community outreach project. It is from example that philanthropy is learned and with Aly Reeves, Sage Albert, and Eric Becker as role models, the children enrolled in the Go For Green program could not ask for better examples.
THE DOLPHIN FROM JUPITER
Although based in Baltimore, Eric Becker has had a house in Jupiter for 20 years and considers himself a Jupitarian. His enthusiasm is boundless, as he describes Jupiter. "I love Jupiter. Cara loved Jupiter. She loved the beach. My in-laws moved here 20 years or so ago and we made the move shortly after. It's just so relaxed and fun. For instance, on New Year's Day, my wife, my two sons and I spent the day touring Max Planck, which by the way, did you know is the only Max Planck campus outside of Germany? Then, we had dinner at Double Roads and listened to a really great band. It is hard to find another little beach town where you can do something like that."In fact, Becker is so fond of Jupiter that there is even a nod to our famous residents in one of his entrepreneurial business ventures, Caretta Partners. "I love it here so much," he says, "that I even named my business after the turtles. Caretta is the scientific name for Loggerhead Sea Turtles." •
Photos courtesy of Palm Beach Philanthropy Tank, Eric Becker, and Alyson Reeves.

You May Also Like
Philanthropy Tank: Diving In