From Victim to "Trail" Blazer
From Victim to "Trail" Blazer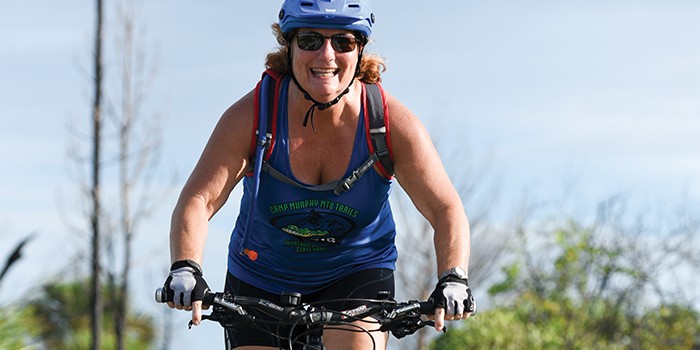 HOBE SOUND, FL – May 3, 2018 – In 2009, Juliana Catalfumo had a near-death experience. It happened when a robber entered her father's shoe repair store where she worked; a struggle ensued, and a bullet tragically struck Juliana's head. Surviving such an incident meant starting from scratch in some ways. She had to re-learn how to read because there was a disconnect between her eyes and her brain, and she also had to manage to live with a distorted sense of balance and equilibrium. It was a long recovery, but after a few years, Juliana was ready to revisit the world.
"It was either lay on the couch and be miserable or go outdoors and try to function as best as I can," explains Juliana.
She found vigor in biking. Upon discovering that she could ride freely if she used a bicycle with full- suspension and good support, she immersed herself in the lifestyle. She rode and volunteered at bike-riding events. It was through one of these events—Take A Kid Mountain Biking Day, held at Jonathan Dickinson State Park (JDSP)— that she met Dorsey Tennant, a mountain biker who builds biking trails. They quickly formed a friendship that turned into a long-standing partnership that continues to this day.
Together, in 2014 they took over Club Scrub, a mountain biking club and a committee of the Friends of JDSP, a nonprofit organization that helps support the park. Dorsey builds the trails and Juliana, as well as dedicated volunteers, help raise the money to build them. They raised over $100,000 through events and increased the membership of Club Scrub from 40 to 2,500 in less than two years. It is majorly through their combined efforts that Club Scrub operates a nine-mile trail in JDSP called The Camp Murphy Off-Road Bicycle Trail.
With Club Scrub, Juliana offers a safe and fun place for bike riders to come together and exercise while enjoying our outdoor scenery
"It's amazing to see the number of bikers that the trail and our group has attracted since I've been involved," says Juliana.
Through Club Scrub, Juliana heads a monthly Ladies-Only bike ride at sunset for all ages and skill levels, and she continues to host events to benefit the organization, the latest of which being the annual Growler Epic MTB Adventure, which was held in April and it consisted of a 20 to 60-mile bike ride that began and ended at Riverbend Park in Jupiter. Above all, Juliana continues to promote the healing power of bike riding and the camaraderie that comes with it on a daily basis, and by doing so, she embodies the thought of how a simple activity can be life-changing.
"Take it from me, bike riding is not only good for the mind—it's good for the soul," says Juliana. "And if I can do it, anyone can; all you need is a helmet and a sense of adventure."
For more information on memberships, volunteering, and sponsorship opportunities, please visit www.clubscrub.org

From Victim to "Trail" Blazer