Cheers, Warriors
Cheers, Warriors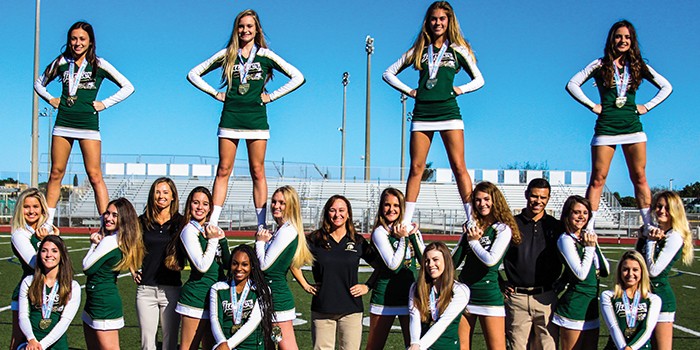 JUPITER, FL – April, 2018 – The Jupiter High School cheerleading team is soaring to new heights as their competition season comes to a close. The team of dedicated young girls recently earned the ranking of 4th in the nation at the National High School Cheerleading Competition in the Division 1 Medium Varsity competition. With routines primarily composed of high-level stunting and tumbling, Jupiter cheer has always been known for having clean performances that score well at competitions. However, there are many other qualities that set this team apart.
When asked what makes her team unique, Coach Kimberley Beine says, "Our skill level and difficulty level, and the fact that the team is a family. Our cheerleaders have a special bond where they support each other and push each other to the same goal."
With the support of this family and the Jupiter community as a whole, the team has strived to perform as best they can and has truly earned their most recent ranking.
The culture and familial bond within the group is something the Jupiter High School Cheerleaders take great pride in every day. They strive to expand this bond past the borders of the team and into the wider Jupiter community as a whole. When not competing, the girls of the cheerleading team give back to the Jupiter community in any way they can. Whether it is by participating in school clubs such as Pause for Paws, helping to host their annual Summer Youth Cheer Camp, or getting involved with foundations such as Chasing a Dream, the cheer team shows their appreciation for the support of the community in every aspects of their lives.
Furthermore, these brilliant and talented young ladies show their love for Jupiter by representing themselves, their school, their town, and their families with grace, class, and outstanding sportsmanship while away at competitions.
The Jupiter High School Warriors cheerleading team never stays still and is always looking towards the future. The team will be holding tryouts this May for next season's team and will be hosting their youth cheer camp this summer, spreading the love of their sport to children ranging in ages from four to 12 years old.

Cheers, Warriors