A Meeting with Palm Beach Gardens' Mayor Maria Marino
A Meeting with Palm Beach Gardens' Mayor Maria Marino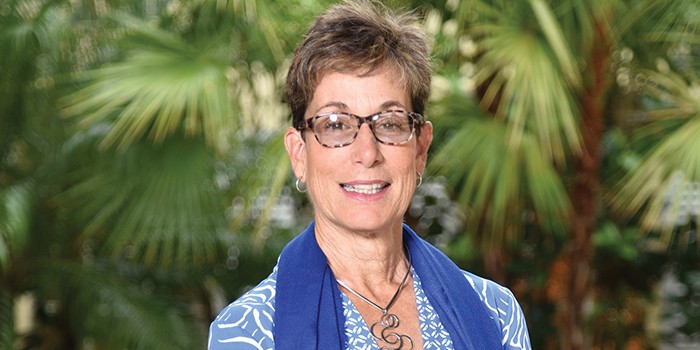 PALM BEACH GARDENS, FL – May 2, 2018 – To enrich the lives of families, Mayor Maria Marino utilizes her backgrounds of playing a professional sport and being competitive in the business world as tools for her civic, philanthropic, and legislative efforts. She is a 30-year resident and the 2017 Woman of the Year for Palm Beach Gardens, and although Mayor Marino is in her first year on the job, she understands what steps to take to maintain and improve our city. She is not only the Mayor; she is a neighbor.
You originally moved to Florida to play golf. What inspired the transition from a professional athlete to legislation?
Maria Marino: Before leaving for a big tournament, I was hitting range balls at PGA National (where I continue to live 30 years later) and just by fluke, dislocated my knee cap. It was at that time my career as a professional golfer was coming to a close, so I moved from playing professionally to using golf as a tool for business. As a longtime business woman and volunteer in the local community, I was fortunate to meet many people who encouraged me to run for City Council. There is no better way to give back toyour community than to be a public servant.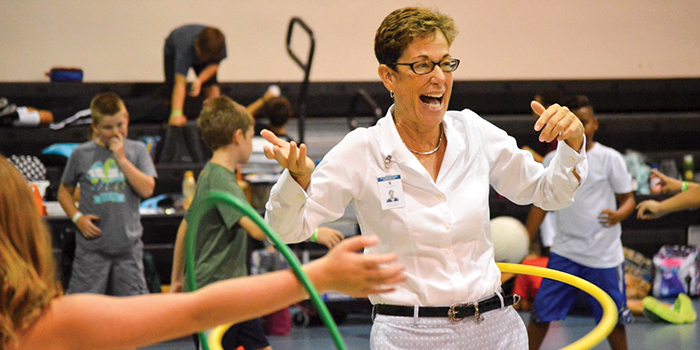 Staying involved with local children and families is one of Maria's primary focuses
What is your focus for 2018?
MM: Families and health are important, and my volunteer time is usually spent focused on foundations that support those initiatives. Representing Palm Beach Gardens on several county and statewide boards keeps me grounded and educated about the future. Mark my words: there will be in driverless vehicles in the not so distant future.
How are you able to balance the roles of Mayor, Executive Director of the Jupiter Children's Foundation (JCF), owner of your own real estate company, Marino Realty Group, and member of the Ladies Professional Golf Associations (LPGA)?
MM: I don't sleep! But seriously, golf has been the common denominator and it is where many people meet and do business. It is also a wonderful way to raise money for many local charities. Balance is achieved when you realize when to say yes and when to say no. The sheer joy of being a representative for the City makes everything easier. I have always said, only do what you enjoy doing. If you don't, you will not do it well.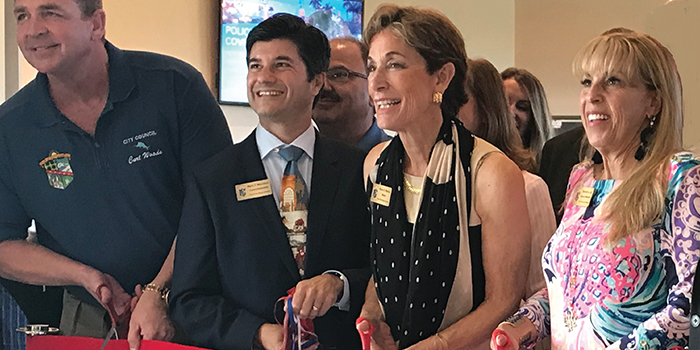 Mayor Marino cuts the ribbon at the grand opening of Palm Beach Gardens' "Public Clubhouse" at Sandhill Crane Golf Course on Northlake Blvd
What do the future plans and improvements for Palm Beach Gardens include?

MM: Major projects in the City include the renovation and expansion of City Hall, the Police Department, Fire Department, and the Public Works/Parks and Rec facility, along with improvements to our baseball fields and a new tennis clubhouse. Recently, the City completed its new golf clubhouse at Sandhill Crane Golf Course that will be known as the "Public's Clubhouse." The City has also signed an inter-local agreement with the county to develop the 80-plus-acre district park located at the intersection of Central Boulevard and 117th Street that will bring much needed multi-purpose fields to the north end of the County. It is so important for children and families to have a safe and healthy environment.

A Meeting with Palm Beach Gardens' Mayor Maria Marino