Wooden Inspiration
Wooden Inspiration

JUPITER, FL – September 14, 2017 – Jeremiah and JoAnn Wright definitely got an "A" in wood shop. Their top-of-the-line wooden designs, specifically tables, can decorate and enhance all types of rooms inside a residence.
For the past five years, the Wrights have been doing most of their woodworking out of their Jupiter home. But now, through word of mouth, they have established a significant customer base, and as the orders keep piling up, Jeremiah and JoAnn aim to expand their reach and delivery.

"I've been creating artifacts using wood for the greater part of my life," notes Jeremiah. "While I was on vacation in Sweden, I saw a table made out of California buckeye wood and I thought to myself, 'I could do that,' so I pursued that thought and put it into action."
To assemble their tables, the Wrights use mostly recycled wooden slabs. Aside from California buckeye, they tend to work with live edge wood that is native to North and South Florida such as camphor, cedar, cypress, and many others. They use these types of wood to create a definite shape that's fit for dining rooms, middle consoles in living rooms, foyers, and studies.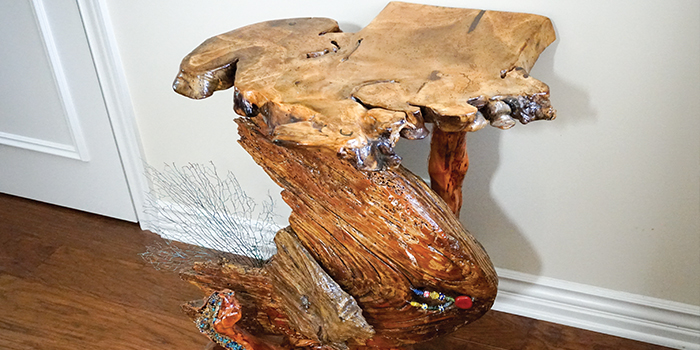 From start to finish, the table-making process can take several months, which is why they like to work on several pieces at a time. The process usually entails cutting out the wood design from the slab and sanding it down, priming the piece, sealing it, and either coating it with wax or two-part epoxy. For certain designs, the Wrights also embed objects such as pictures, gems, shells, crystals, and different color paints into the wood.
"We can lay in anything into the wood that strikes ours and our customers fancy," says JoAnn. "We like to do this because it magnifies the beauty of the wood grain and also protects the wood for many years down the road."
If you're looking for high-quality wood furniture for your home,
be sure to connect with the local
duo that is well-versed
on this type of art.
For more information, visit
www.artisanattics.com.

Wooden Inspiration