Stoked for the Cause
Stoked for the Cause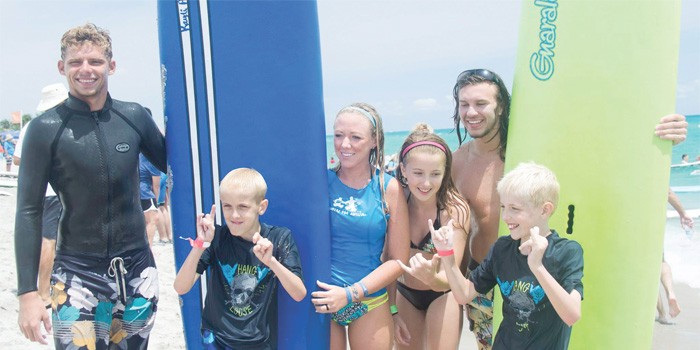 JUPITER, FL – March 2, 2017 –Vitamin D, relaxation, salty dips, the occasional oceanic swell… It's safe to say Floridians are well aware of the perks that a day at the beach offers. Around Jupiter, a day at the beach complete with a surf session near the Juno Beach Pier is fairly commonplace. Surfers, both professional and recreational alike, hailing from the surrounding area do not dare neglect this natural perk and are often seen charging down waves of assorted sizes any day that offshore winds are present.
Yet, there's a special day of the year where a day at Juno Beach can feel even better; when partaking in an event by the beach can render a purely holistic state of mind derived from the joy of others; where the ones on the board might not be the regular faces you see while waiting on the lineup by the Pier on any other day. Nevertheless, on that day, the thrill of riding a wave becomes a glistening beacon of light that produces smiles during a fun outing for those who might need it most; this is what happens during "Surfers for Autism" day.
"Surfers for Autism" (SFA) is an organization that hosts a tour of grand-scale beach festivals taking place all over Florida and Georgia that are put together with the purpose of unlocking the potential of children and young adults with autism and other developmental delays, as well as supporting advocacy for autism issues and scientific research. By introducing children on the autism spectrum to surfing, the members of SFA aim to eliminate stigma through public awareness and education and to unite communities through volunteerism.
"The heart of SFA beats to one drum: Providing these athletes and families a day and an experience they never thought possible," notes SFA Director Dave Rossman. "There is no gawking, no staring, no judging – they can let their guard down and enjoy a beach day."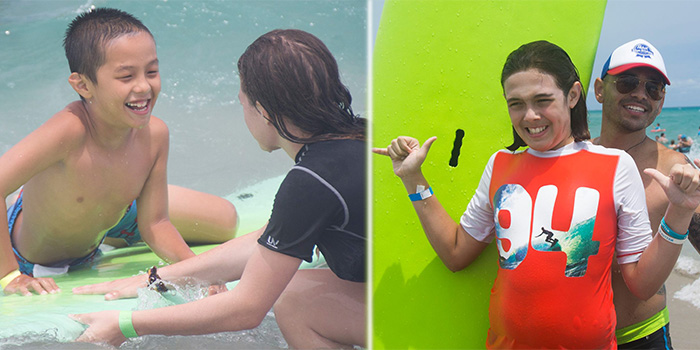 The SFA group was formed in late 2007 by a group of Florida-based surfers after identifying the need to support the cause, and in May, 2008 they hosted the first event in Deerfield Beach. Every year, the festival comes to Juno Beach where folks from Jupiter, Tequesta, Palm Beach Gardens, and West Palm Beach congregate to be a part of this special day. This year, SFA day is slated to take place on May 15 and it is 100 percent-free-of-charge. During the event, the surfers are provided a safe environment in which two-to-four highly skilled and trained instructors help guide participating surfers or participants into riding waves. Aside from instructors, the event provides an opportunity for townspeople to volunteer for a great cause and have an equally fun day to boot. Fundraising is conducted by soliciting local businesses to donate products and services for a raffle and through the sale of event-specific T-shirts. It is through fundraising efforts that SFA is enabled to keep growing their presence and establish a greater number of events in different places every year. Proceeds are also channeled to different autism-associated charities.
RELATED Local Surfer Wins 'Kahuna Award' in Puerto Rico, A Heroic Act , Generation Surf
"We have grown quite a bit," says Rossman. "At our first event, we took a dozen kids in the water with a few dozen volunteers, ate some pizza, and called it a day. The events have now morphed into traveling beach festivals with all kinds of cool stuff. The surfing is obviously the main event, but there are many other things to do and enjoy. There are loads of service providers offering many things; our families often find resources in their community they were unaware of."
The event that will take place on Juno Beach is made possible by the diligent efforts of SFA's president Don Ryan to establish ties with the local community and bringing them "on the board."
Surf shops and participating businesses in the area help spread the word. Then, SFA sends their traveling crew onsite to set everything up and break everything down when the event comes to a close.
"It truly takes a village to get everything together, but we know it's worth it just to see our participating surfers have a blast," says Rossman. "As far as Juno Beach and Jupiter are concerned, we love it here and we love the community engagement that this event brings. The Juno Beach and Jupiter communities revolve around the water; they understand that the ocean heals, and they want to be a part of it. It will always be a stop on the tour."
The event typically runs from 9 a.m. to 4 p.m. – with a lunch break in between noon to 1 p.m. courtesy of food donations from local restaurants – during which 25-minute surf sessions are carried out, in which roughly 200 registered surfers and 300 volunteers participate. SFA welcomes volunteers from 12 years and up to participate and facilitates the process of signing up via their website.
"Seeing the sheer happiness that this event brings to all these children is what makes me volunteer every year," says Callie Commette, who has volunteered at Juno Beach's SFA event for three years running.
Juno Beach will be one of 10 stops of the SFA tour that will run from late April to late October. Even if people cannot physically attend the event, they can still support the organization and movement by going on SFA's website and visiting the online store where they can purchase the same merchandise that is sold at the events and, that way, SFA can keep going, add more locations, and impact more lives. As the wise man once said, "The best surfer in the water is the one having the most fun."

For more information on Surfers for Autism, visit www.surfersforautism.org
FIRST TIME VOLUNTEER INFO:
For more information on how to volunteer for SFA, please visit surfersforautism.org/?page_id_289

Click
HERE
to read the full article on
InJupiter Magazine.
Contact Details
Name: Dave Rossman
Email: Email Us
Stoked for the Cause