PGA Commons – The New Art & Dining District
PGA Commons – The New Art & Dining District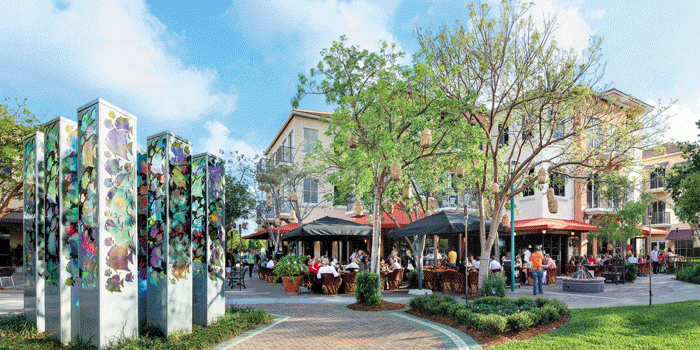 Palm Beach Gardens, FL. - January 9, 2020 - Already a hub for dynamic restaurants and artful spaces, PGA Commons now offers even more experiences in every visit. In 2020, the plaza welcomes Scusi Trattoria and Native Visions Galleries. The new tenants boost the plaza's wealth of galleries and culinary offerings, clearly defining PGA Commons as the art and dining district of Palm Beach County.
"PGA Commons represents the vibrant, outdoorsy, Palm Beach lifestyle," said Jon Channing, the president of Channing Corporation, owner of PGA Commons. "This is a walkable plaza where you can view museum-quality art, dine at a trendy restaurant, and pick out something to wear to a society event."
Scusi Trattoria brings the casual elegance of an Italian coastal town to PGA Commons. The new concept by award-winning chef Laurent Tourondel, offers made-on-site pastas, pizza, small plates, and homemade gelato. Scusi Trattoria, which is now open on the east side of the plaza, complements the variety of dining options available at PGA Commons.
Native Visions Galleries adds a new dimension for art lovers. The gallery, which opened its first location in 1987, exhibits the work of internationally acclaimed wildlife and nature artists. Animals and their habitats come to life in the paintings, drawings, and sculptures. Native Visions Galleries is located across from The Cooper.
A stroll through PGA Commons gives guests access to three distinctly different art galleries, numerous outdoor displays, and six unique restaurants – it's a mile of art, culture, and cuisine. Come, discover the art and dining district at PGA Commons.
Contact Details
Name: Shelli Lockhart
Email: Email Us
Phone No: (561) 844-1778
PGA Commons – The New Art & Dining District