One Of The Good Guys
One Of The Good Guys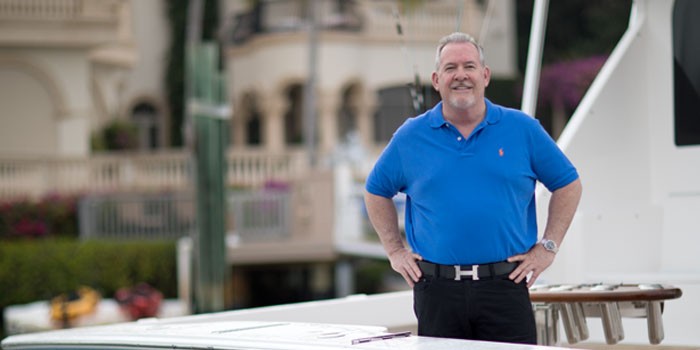 JUPITER, FL – April 30, 2017 – Real estate ace Rob Thomson recounts that he's been in Jupiter since its phone book consisted of a mere sheet of paper.

"It was a tiny town with nice beaches and a lighthouse that not many people knew about," Thomson states from his desk chair. "Now, look at how much Jupiter's grown, and it still has that small town feel!"

Over five decades a resident, Thomson has seen Jupiter go from a modest beachside town into one of the most coveted locations to reside in all of the United States – and he personally had a direct influence on the latter. He heads the real estate enterprises, Waterfront Properties and Club Communities and its sister company, Waterfront Yacht Brokerage, which are the companies directly responsible for the sale and purchase of some of Jupiter's most luxurious high-end homes, as well as the awe-striking yachts that occupy the slips of the docks behind these properties. He is a world-renowned ambassador for Jupiter, and a successful one at that, mainly because of his immense knowledge and deep appreciation of the Jupiter community and its characteristic lifestyle in which he fully immersed himself growing up. Thomson is a real estate mogul, no doubt about it, but that is merely his outer layer. He is a Jupiter lifer; a familiar face at community events; a regular Joe taking his boat out from the Jupiter Inlet to sea on the weekend, exchanging hand waves with local counterparts in nearby vessels; a force to be reckoned with in terms of social media promotion of his beloved town; a gardening/orchid aficionado; and one that revels in the happiness of others via his numerous philanthropic actions and donations. All in all, he is certainly one of the good guys.

But Thomson wasn't always the high-powered entrepreneur he is today; his story, in actuality, is strewn with shades of humility. Sitting with him in his corporate real estate office – one of four with a fifth one in the works on Palm Beach – my gaze is drawn to the myriad framed, enlarged photos, featuring family members, celebrities, entertainers, and pro athletes that cover nearly every inch of the walls. One in particular in the corner of the room grabs my attention: It is a photo of a modest piece of property resembling a shack in the middle of acres of farmland. In front of the property is a sign that reads "Thomson."
"That's where I lived with my family in Delray Beach from when I was three months old, prior to us coming here to Jupiter in 1962," explains Thomson. "It's a part of me. Looking back at that, I wouldn't have it any other way."
Thomson enjoying a morning out on the water with Captain Joe Kelly, Vice President / Broker of Waterfront Yacht Brokerage.
Fast forward to today: Thomson operates a business that reels in high profile clients and takes him halfway around the world for any given time period. But, this is only one aspect of a life that involves many facets. Thomson hasn't forgotten his roots – and certainly hasn't forgotten anyone who lent he and his family a helping hand when he needed it most. In fact, his altruistic way of life that prompts him to divert funds to numerous charitable organizations is simply his way to say thanks to the community that took a front row seat to Thomson's professional and personal growth. And so, Thomson has substantially contributed to organizations such as The Juvenile Diabetes Research Foundation, the American Cancer Society, the Loggerhead Marinelife Center, the Ballen Isles Charities Foundation, the Admirals Cove Cares Charitable Foundation, Mike Schmidt's Winners Circle Charities and others.

When asked about the first charitable activity he ever did, Thomson recalls the specific day with a smile derived from the heart. That day, he donated 120 bicycles to a Christmas toy drive for Riviera Beach's New Macedonia Baptist Church. Although the church was elated about Thomson's contribution, over 270 children in total showed up to the church that day with the hope of obtaining one of the bikes. Thomson affirms, "There was no way I was going to have 150 other children turned away without a bike." Thus, he quickly purchased 150 more bicycles, but because of the short notice and the shortage of bicycles around the area, Thomson could only get the parts of the bikes. So, not giving up until every single child there was happy, Thomson brought in volunteers to assemble the bikes, and in two days he was back at the church with two rental trucks that delivered the remaining bikes to the children.

For the past 13 years, Thomson spearheaded Charities for Children, a program that purveys holiday presents and support to children throughout Palm Beach and Martin counties. Around Christmas, a team set up by Thomson delivers toys to churches and schools – thousands at a time. According to Thomson, up to 30,000 toys were delivered one year. The program also brings joy to children during Easter time with deliveries to the tune of 1,000 Easter baskets to families in need.

"It's my personal way of paying it forward," Thomson says. "I owe so much to this community, it only makes sense that I give back to it."

That is not a light statement. In fact, Thomson does one better. He feels so strongly about giving back that he formed Waterfront Way Foundation, a nonprofit company that serves as a veritable pivot point to channel his various charitable and philanthropic motions. His foundation has been the vehicle from which a series of activities to benefit children and underprivileged families were and continue to be realized. Talk about a big heart.

"The foundation allows us to put charitable monies into one roof and then transition those funds to the organizations that we feel are most in need," Thomson clarifies. "It also can be a vehicle for charitable groups that we associate ourselves with to put together events they'd like to see happen at no cost."
RELATED Chefs Helping Heroes Benefits Renewal Coalition, Stoked for the Cause , A Heroic Act
Several years back, Waterfront Way was instrumental in the assistance of an impoverished 10-year-old boy named Orlando and his mother, who was confined to a wheelchair. Thomson, who kept a close watch on their situation, said that they both lived in a 600-square-foot aged home in West Palm Beach that had a step down in the front, which made it hard for the mother to leave the home. Orlando did all the cooking with the one pan they owned and took care of his mother all the while. Orlando only had a few items of clothing while the mother had only one dress to her name that she had Orlando wash for her on a regular basis. Waterfront Way provided a motorized scooter for the mother; they made possible to have steps added to the front of the home; and a ramp was built for the mother to mobilize herself in and out of the home as she saw fit. They provided Orlando and his mother a vast, new wardrobe line; they obtained a slew of pots and pans for Orlando to cook in; and went a gigantic step further and furnished the mother with a new computer…. and a work-from-home job attached to it. She now makes a steady income from home and Orlando has a bit more time to play outside and, furthermore, "be a kid;" all thanks to the efforts of Thomson and several other colleagues from the Waterfront team, notably Sheri Carter.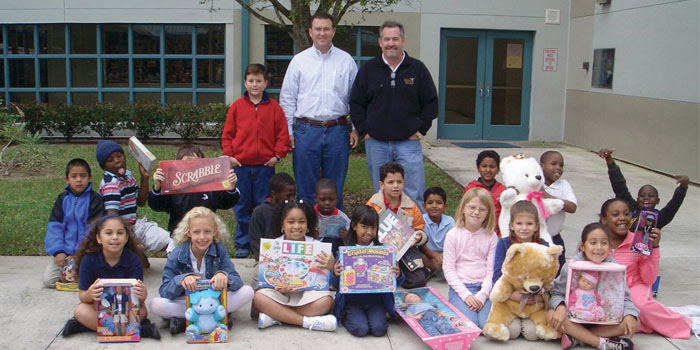 GIVING BACK: Charities for Children, a program that provides presents and support to children throughout Palm Beach and Martin counties, is a motion that Rob Thomson has lead for the past 13 years. Through the program, Thomson donates thousands of toys to underprivileged children during Christmas time.


Thomson also played an important role in the attempt to bring home Austin Stephanos and Perry Cohen, two local boys who were tragically lost at sea nearly two years ago. Thomson created the Facebook group Find Austin & Perry in the hopes of bringing the community together and outreach collaborative participation. In three weeks, the group reached over 374,000 members from Jupiter and all over the world. The group raised over $500,000, which was used to pay for planes, fuel, and pilots. Thomson and his team dedicated 15 hours a day of his day for a month to the search efforts, and they were a major component for what turned out to be the largest and most expensive manhunt in the history of the United States.

"That was a tough time," Thomson utters as tears roll down his cheeks. "I will always consider not getting them home to be my largest failure to date."

Aside from his unwavering commitment to lend a helping hand amidst a tragedy, he wanted to help more so because of an unexpected connection to the happening and one of the victims' relatives. It turns that, as a young boy, Thomson lost his own brother at sea and one of the people who comforted him during his own period of mourning was Betty Divosta – Austin Stephanos' great grandmother.

"She was so good to me as a child during that horrible time that, when this came up, I wanted to do everything in my power to help," says Thomson.

Even though bringing Austin and Perry home tragically turned out to be an unsuccessful mission, it was, to Thomson and the Waterfront team, an amazing display of unity from the community and one of the many instances of why the people of Jupiter are so special.

"The thing that makes Jupiter great? Let's see," Thomson states. "Our natural beauty is terrific: We are bordered by Jonathan Dickinson State Park, the Loxahatchee River, and the Atlantic Ocean. It all keeps us from being too dense and helps us appreciate what surrounds us daily. However, the most special thing about Jupiter is, without a doubt, its people. We are kind, we are welcoming, and we are always willing to offer help to each other. Look at what people did (for Austin and Perry); look at how they came together. It was like a 9/11 moment, for lack of a better reference, for our town. Jupiter came together and the world came around Jupiter. It was really amazing to watch the effort and the caring spirit of the community."

Community involvement isn't a lackluster component in the list of things that can be attributed to Thomson. He also utilizes Facebook to celebrate Jupiter's natural beauty for those who cherish it the most with his group "Jupiter These Days," a place to share photos and latest trends happening around town. The group currently has 4,350 members.

Whether he's selling a luxury waterfront home or taking his six children out for a boat ride; whether he's cultivating beautiful orchids that will join the thousands that have already bloomed in the trees of his garden or if he's shooting a specific photo that he will share with others on social media, one thing is always a certainty with Thomson: There's no place he'd rather be than in Jupiter.

For more information on Rob Thomson and Waterfront Properties, please visit www.waterfront-properties.com.

---
See the Business Behind the Story

Over the past thirty years, Waterfront Properties has built a dedicated service organization committed to assisting you when you are selling or buying on the water or in club communities.
Jupiter, Florida, United States | 561.746.7272, email us
One Of The Good Guys