Virginia M. Spencer Becomes Honorary Chair of 2017 Women in Leadership Awards
Virginia M. Spencer Becomes Honorary Chair of 2017 Women in Leadership Awards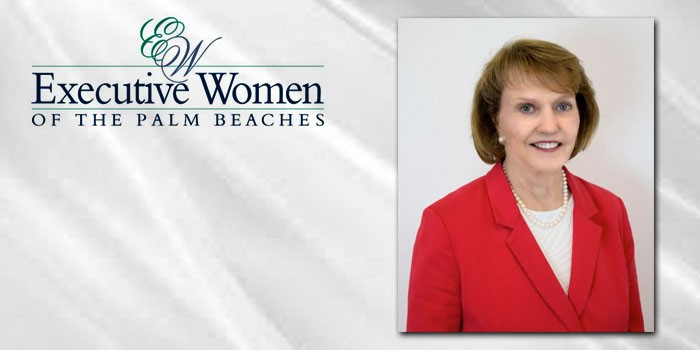 PALM BEACH COUNTY, FL – May 1, 2017 – Longtime advocate of Executive Women of the Palm Beaches, Virginia M. Spencer of Palm Beach Gardens has been named the honorary chair of the 34th Annual Women in Leadership Award (WILA) event.

Scheduled for May 11, WILA will be held at the Cohen Pavilion at the Raymond F. Kravis Center for the Performing Arts in West Palm Beach. The keynote speaker will be Capt. Mark Kelly, Commander of Space Shuttle Endeavour's Final Mission (2011), Space and Aviation Contributor for NBC News/MSNBC and husband to former U.S. Congresswoman Gabrielle Giffords.

A member of EWPB since 1998, Spencer has served as president (2009-2010), and chairman of EWPB Foundation (2012-2014). Her extensive involvement with the EWPB Kwasman awards as co-chair and active committee member resulted in more than $220,000 being donated to programs for girls in Palm Beach County. Spencer has also been active on EWPB's Programs, Membership, and WILA committees.

Professionally, she has been General Manager for Illustrated Properties since 1998. Her real estate career extends over 30 years, including many years in sales and as a Broker for Investment Equity. She was a founding Board Member for Master Brokers, Palm Beach County Chapter; and has served as a Board Member for the Realtor Association of Palm Beach County (2012-13) and as State Director for the Association of Realtors for the past 13 years. Currently, she also serves as Chair of the Top 50 Brokers for Florida.
RELATED
Stoked for the Cause
,
Next Generation Scientists Go M.A.D.
She is the founding member of the Nelle Smith Home for Girls, past president of Junior Women's Club of the North Palm Beaches, and a founding member of Illustrated Properties Charities, which she helped to form in 2005. For the past 10 years, she has given out the Virginia Spencer Award to an agent in the company who shows outstanding community involvement.

Spencer also works with the Girl Scouts of Southeast Florida, where she sits on the Emerald Awards committee. She served on the Girl Scouts Board for 15 years and as Treasurer. As a result of her dedication, she was awarded the Lifetime Service Award.

Additionally, she is a member of the Palm Beach County Business Development Board, a Leadership Palm Beach County alum from the class of 1997, a trustee for the Palm Beach County North Chamber, a board member for Women in Business for the Chamber, an Ambassador for Palm Beach State College, member and former guide for the Flagler Museum, one of the first 100 founding members of IMPACT Palm Beach County, and a Marshall for the Honda Classic for the last 12 years.

The highly distinguished Women in Leadership Awards are presented annually by EWPB in recognition of local women who have sustained outstanding accomplishments and displayed generosity of spirit, commitment to integrity and diversity, and genuine connectedness with others in the community.

The 2017 Honorees include: Jean Wihbey, Ph. D., Provost for Palm Beach State College's Lake Worth campus as the Public Sector Honoree; Nellie L. King, a noted criminal defense attorney as the Private Sector Honoree; Sharon Gill, COO of Gill Law Firm and CEO Of Oasis Compassion Agency as the Volunteer Sector Honoree; and Linda DePiano, Ph.D., CEO of the Jerome Golden Center for Behavoiral Health as the Nonprfot Sector Honoree.

Proceeds benefit the Executive Women of the Palm Beaches Foundation.
Natalie M. Alvarez, Michelle N. DeLong, Amy Morse will serve as co-chairs for the event.
Tickets are $130 for EWPB members; $150 for friends and guests; and $80 for students. Sponsorship opportunities are still available. To learn more or to purchase tickets, please visit
http://www.ewpb.org/wila
.
Virginia M. Spencer Becomes Honorary Chair of 2017 Women in Leadership Awards