Northeast Everglades Trails Association Plans Ocean-to-Lake Trail Challenge
Northeast Everglades Trails Association Plans Ocean-to-Lake Trail Challenge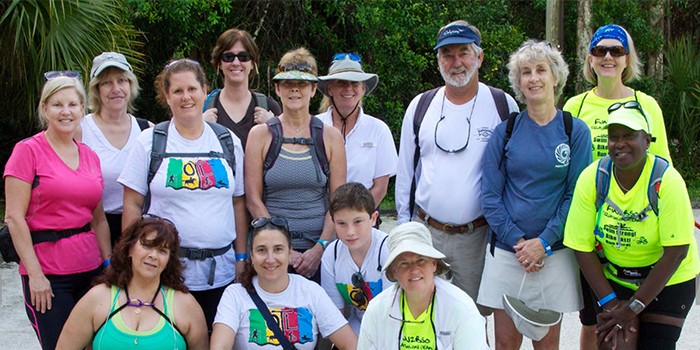 JUPITER, FL – February 19, 2018 — Whether a hiker, cyclist or equestrian in Palm Beach County, each has a maintained trail system that's a piece of Old Florida right in his backyard. The Northeast Everglades Trails Association (NETA), a nonprofit to support regional trail systems and greenways and organize regular activities and annual events for the public to benefit from them, would like to spread the word about the locals' best-kept secret.
"If people love the trails they're going to defend them," said Tim Browning, an avid hiker who was elected president of NETA in 2017. "The trails also receive more advocacy and maintenance as more people use them."
Browning and a new membership director, Anita Griffin, are reenergizing NETA's mission with major initiatives including the Ocean-to-Lake Eco Adventure, which returns after a one-year hiatus on February 23-25, 2018. A dedicated group of volunteers will help participants complete the 2- to 3-day challenge depending on if they're on foot, bike or horse. True to its name for the first time, this year's route reverses past events by beginning in Jonathan Dickinson State Park on the Atlantic Ocean and ending in DuPuis Management Area next to Lake Okeechobee.
"There's always a good turnout of usually more than 100 participants, and we hope to reach or exceed that goal," he said, though canoe and kayak paddlers will have to wait to join the event. "The waterways aren't linked along the route, but it's something we're working on with Environmental Resources Management."
NETA is also collaborating with the Florida Trail Association's Loxahatchee Chapter in Palm Beach County to construct bridges for improved continuity in the region's overall trail system. Since cyclists aren't allowed on the FTA's footpaths, separate biking paths are in development too.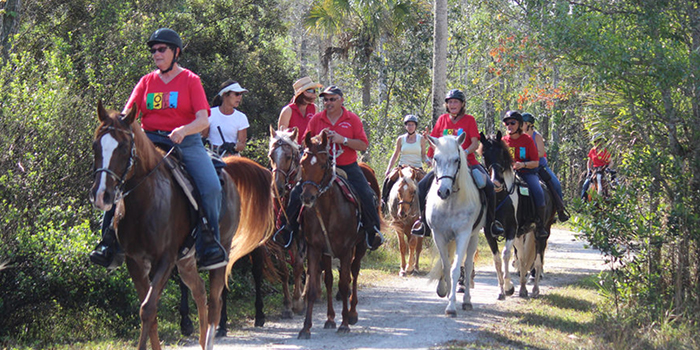 "The goal is to lessen the frictions between hikers and cyclists," said Browning, who tapped Joe Hancock to create the cycling route for 2018's Ocean-to-Lake Eco Adventure. "Joe works for FPL and leads a lot of biking excursions for NETA, so he's very familiar with every part of the county."
Equestrian groups throughout South Florida look forward to the unique course, too, with approximately 20-mile legs each of the three days for a total of 60. Camping for out-of-town and local riders will be available at Jonathan Dickinson State Park on February 22, Jupiter Farms Park on February 23 and J. W. Corbett Wildlife Management Area on February 24. Hikers and bikers join them on February 24-25, and they are welcome to camp as well. Hikers can expect to traverse approximately 12 miles (or an alternate, 4-mile loop) of cypress swamps and pinelands including the Loxahatchee Slough and DuPuis throughout the two days. The 25-mile-loop, off-road cycling route hasn't been finalized. A 25-mile run in DuPuis also debuts on Sunday, February 25. NETA hosts a Sunday luncheon and other festivities for all OTL participants in DuPuis.
"Beyond our longest outing of the year, it's our biggest fundraiser to cover administration costs and other operational fees," said Browning, of the sole ticketed event. "All our other outings are free for members and anyone who subscribes to the newsletter."
Registration fees for hikers and bikers are $10 early/$15 late for February 24; $35 early/$45 late for February 25 (including both long and short hiking routes). Registration for runners is $35 early/$45 late for February 25. Registration for equestrians is $10 early/$15 late for February 23-24, and $35 early/$45 late for February 25.
"Evening excursions are especially popular. We often spot fireflies, which many in-town folks haven't seen in a while. It's really magical out there no matter how or when you experience it."
Contact Details
Name: Jennifer Martinez
Email: Email Us
Phone No: (561) 301-4998
Northeast Everglades Trails Association Plans Ocean-to-Lake Trail Challenge