Luxury Home Builder in Jupiter FL Talks About Building Along the Intracoastal
Luxury Home Builder in Jupiter FL Talks About Building Along the Intracoastal

JUPITER, FL – October 31, 2017 – Onshore Construction & Development has built high-end custom homes for many well-known Jupiter residents, ranging from top-ranked PGA players to Celine Dion. Having built nearly 60 homes spanning from 3,000 to 40,000 square feet, it's likely you have admired their work along the Intracoastal Waterway or the Atlantic Ocean, as well as on many desirable golf courses and private communities spanning from Palm Beach to Jupiter Island and beyond.
The construction industry has been an undeniable passion for CEO and founder Dan Reedy for most of his life. He went to Bradley University, where he earned a degree in Construction Engineering, followed by his Florida General Contracting and Realtors licenses. Immediately after graduation from college, Dan found himself moving to Jupiter where he quickly discovered that his niche was to develop high end residential properties.

Since 1993, Dan has grown his company alongside the development of the Jupiter community. With a wide range of clients, many locals look to Onshore to build their dream homes or remodel and update historic family properties to maintain the authenticity that these homes encompass.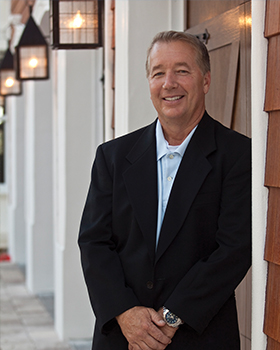 Dan Reedy, CEO and founder of Onshore Construction & Development
"There was not much here when I first moved to Jupiter," explains Dan. "I realized that if I was able to create a business out of honesty, hard work, and integrity, I would be able to become successful and develop our beautiful community."
And that work ethic has proven fruitful in the word-of-mouth fashion that has continued to expand his business for over the past 24 years. "We try to achieve perfection in the homes we build," says Dan. "You have to shoot for the sky in order to achieve the best quality, resulting in homes that will be talked about."
Onshore's portfolio has been built on the fundamentals of hard work, attention to detail, and exceptional customer service that each of his long-term employees acquire through working at the company. "I wouldn't have been able to build this business myself and I am thankful for everyone around me," states Dan.
While Onshore maintains a strong focus on residential development, they look ahead to take on a challenge in the commercial sector in the near future. Evidently, there are no limits for the Onshore team when it comes to building South Florida's infrastructure that is as beautiful as the views that surround it.

---
See the Business Behind the Story

Jupiter, Florida, United States | (561) 744-8331, email us
Luxury Home Builder in Jupiter FL Talks About Building Along the Intracoastal