Jonesing For Donuts
Jonesing For Donuts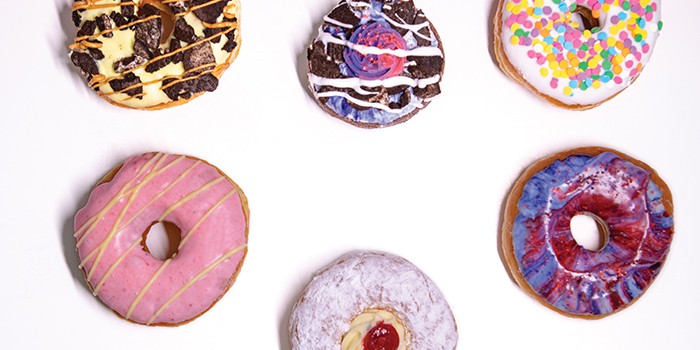 JUPITER, FL – June 27, 2018 – When you first meet Adam and Chrystal Jones, one might never guess that their profession consists of sprinkles and icing. Adam is a large man, with a burly beard and a tattoo sleeve. But when you ask him his favorite part about owning a donut shop, he looks at his wife Chrystal with a big smile on his face. "We love seeing families come in and getting to know them, watching their kids grow up, and see their faces full of excitement when we hand them a donut. No other business gets to do that"
If you live in Jupiter, Jupiter Donuts is most likely one of your early morning breakfast stops or your Saturday morning go-to with the kids. Jupiter Donuts has become a staple of the community in 2018, and now also for residents in cities all over Florida. The founders helped bring back a little nostalgia with each one of their locations, and they currently have a small team of owner-managers that help run the local empire. Chrystal states, "The idea that everyone deserves a fresh donut on any given day was and still is where our passion comes from. This motto drives our passion to provide our community, family and friends with the best possible experience." This is very clear to anyone who walks into any Jupiter Donuts. At each of their locations, they are constantly working to make sure each and every customers feels like family.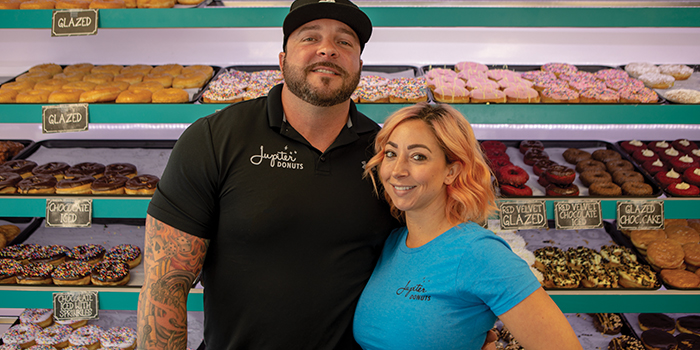 Adam and Chrystal Jones, along with their partners, took over Jupiter Donut Factory and rebranded it to Jupiter Donuts.
Chrystal and Adam met in high school when their respective parents were friends and restaurant business partners at the time. When their parents discontinued working together, Chrystal and Adam didn't really stay in touch. Then, ten years later, they reconnected, got married, and now here they are, running what has become one of our areas most prized local gems. When asked what makes them unique, the couple smiles from ear to ear and excitedly reveals, "It's not just the donuts. It's the customer service! We try to make everyone feel like friends and family. We care a lot about our customers." Chrystal agrees, "It's the excitement of our customers. It's entirely different than the typical restaurant business. We just enjoy making people happy."
Well, the people have proven to the Joneses that they are extremely happy, and it has allowed them to open store after store. After Jupiter, they expanded to Royal Palm Beach, Boynton Beach, North Palm Beach, and Stuart. Just this year, store number six opened in Largo, Tampa Bay, and store number seven op Oakland Park, and store number eight in East Boca and store number nine in Lake Worth aren't too far behind.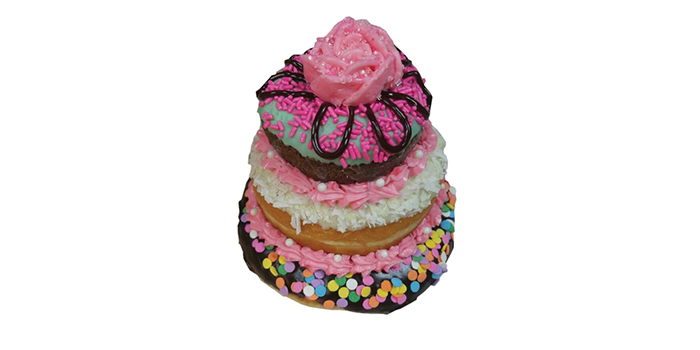 What most people might not know, is that the store on Center St. was actually a donut shop previously: Jupiter Donut Factory (it still retains the same name even though it is Jupiter Donuts' main store). When Adam, Chrystal, and their co-founders took over, they sought to set themselves apart from Jupiter Donut Factory's model by changing their recipes, adding assorted and creative flavors, staying open later, and most importantly—making the donuts bigger! "We want to bring people the freshest products and keep it that way," says Chrystal. So next time you want to treat yourself, be sure to stop by one of their locations and grab a scrumptious taste of Jupiter Donuts' unique offerings. From the multi-colored blissfulness of the Fruity Pebble-topped donuts to the sweet and salty goodness of the maple bacon bars, to our personal favorite flavor, key lime pie, you'll want to try them all!

Jonesing For Donuts