Join The Club
Join The Club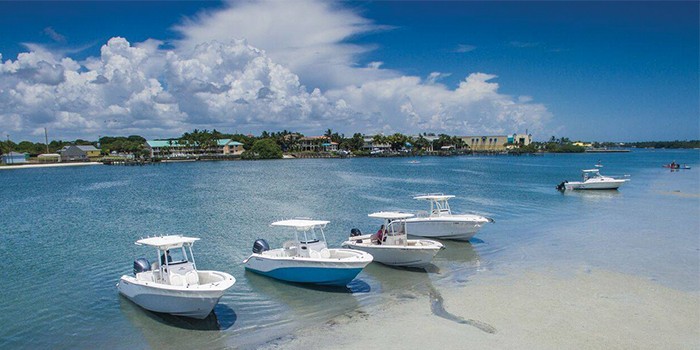 JUPITER, FL – November 1, 2017 – Most avid boaters and ocean goers will tell you that, "The best day of every boat owners life is the day they buy their boat and the day they sell their boat." This holds true as most people can tell you the stress of owning a boat is enough to make one's hair turn gray much too soon. However, an interesting new wave of waterway accessibility has arrived in South Florida and is making quite an entrance. The "boat club" craze has officially hit Florida, and local residents are loving it. A boat club simply means you purchase a membership and pay your fees monthly. Sounds easy enough, right? It actually gets even easier!
This membership means no cleaning, no storing, and no maintenance. You just call to reserve your vessel, and off you go. These memberships are becoming increasingly popular as people realize there is now a way to have all the advantages of owning a boat without any of the disadvantages.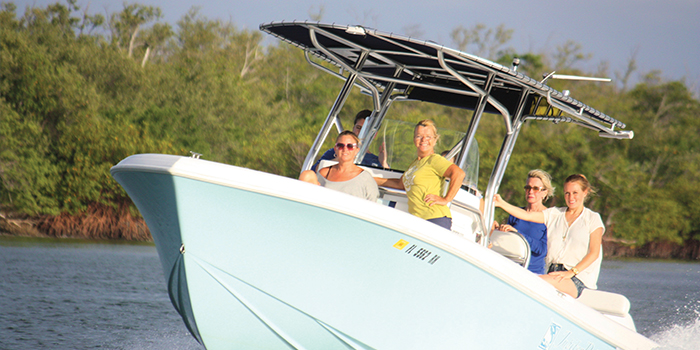 Two resources in particular have blossomed in South Florida recently: The boat club program of Jupiter Pointe Marina, as well as the chain company Freedom Boat Club. Most local residents might be familiar with the Jupiter Pointe Marina and its many amenities such as boat rentals and storage, kids summer camp, paddleboard rentals and parties, and a restaurant and bar with a pool. Now, you can add a boat club to that checklist. With many different membership options, there is sure to be a perfect fit for whatever you are looking for. Jupiter Pointe offers packages that include unlimited rentals year-round, as well as seasonal packages, and more. There are no hassles when it comes to the membership process. This is truly a gem for both residents and seasonal guests who are looking for a way to enjoy the water and spend their time in Jupiter stress-free.
Another option is the popular Freedom Boat Club. Freedom has made its way up the ladder of esteemed companies and has recently made its debut in our area. With over 120 locations in the U.S. and Canada, Freedom allows its members to use their membership wherever they please. Similar to Jupiter Pointe, you'll find this program to be a headache-free process with no added fees other than membership dues. The only difference is that with Freedom, you have the option to use your membership in other states if you are a seasonal or frequent traveler. With locations in Lake Park, West Palm Beach, Vero Beach, Boynton Beach, the Keys, and 12 other locations across the state of Florida, Freedom offers availability no matter where you might find yourself traveling this year.
What might be even more commendable is that both of these clubs offer boater safety classes by licensed professionals, as well as resources to test your literary knowledge of proper boat operation, traffic rules, and safety. Some of these courses even allow members and guests to obtain a safety certification proving their efforts in becoming a more skilled and advantaged boater. Regardless of which membership option you choose, Freedom allows each member to undergo hands-on training while out on the water to ensure that each vessel operator is educated in more ways than one. Aside from the textbook training that a test would implement, they also want to instill confidence in each person who is physically operating each boat. Jupiter Pointe offers many online resources on their website, allowing members to schedule training sessions with licensed captains that will let them receive instruction privately and in a safe environment. Not only will this particular training course touch on the operations of the vessel, but it will also divulge local knowledge. This includes comprehension of the area, as well as becoming familiar with operating a boat in Jupiter and the surrounding waters of Palm Beach County. There are also provided resources on where to boat. With options such as local sandbars, restaurants, and islands, Jupiter Pointe will show members every popular resident hang out Jupiter has to offer.
Whether you are a full-time Jupiter resident or just a seasonal guest in our little slice of paradise, the boat club craze has revolutionized the way people view boat "ownership." Owning a vessel has never been easier, and with multiple clubs dropping anchor all over South Florida, it is surely on its way to becoming the norm. With no hassle, no stress, and no maintenance, owning a boat has truly become worry-free. Both clubs even offer multiple choices when it comes to picking your ride for the day, so your weekends will never be mundane. So, what are you waiting for? Climb on board and enjoy!

Join The Club